SUMMARY
In this post, we summarise a recently published paper of ours that investigates how people respond to moral arguments, and morally demanding statements, such as "You are morally obligated to give to charity" . The paper is forthcoming in the [Journal of Behavioural and Experimental Economics]. (If you want an ungated copy, please get in touch with either Ben or Philipp).
We ran two pre-registered experiments with a total sample size of n=3700 participants.
We compared a control treatment to a moral argument treatment, and we also varied the level of moral demandingness to donate after they read the moral argument. We found that the moral argument increased the frequency and amount of donations. However, increasing the levels of moral demandingness did not translate into higher or lower giving.
BACKGROUND
The central motivation for our paper was the worry that many have expressed, including a number of philosophers (e.g., Kagan, 1989; Unger, 1996; De Lazari-Radek and Singer, 2010) that having highly morally demanding solicitations for charitable giving may result in reduced (not increased) donations. This possibility of a backfire effect had been raised many times in a variety of contexts but had not been tested empirically. In our paper, we attempted to do just that in the context of donations to Give Directly.
EXPERIMENT DESIGN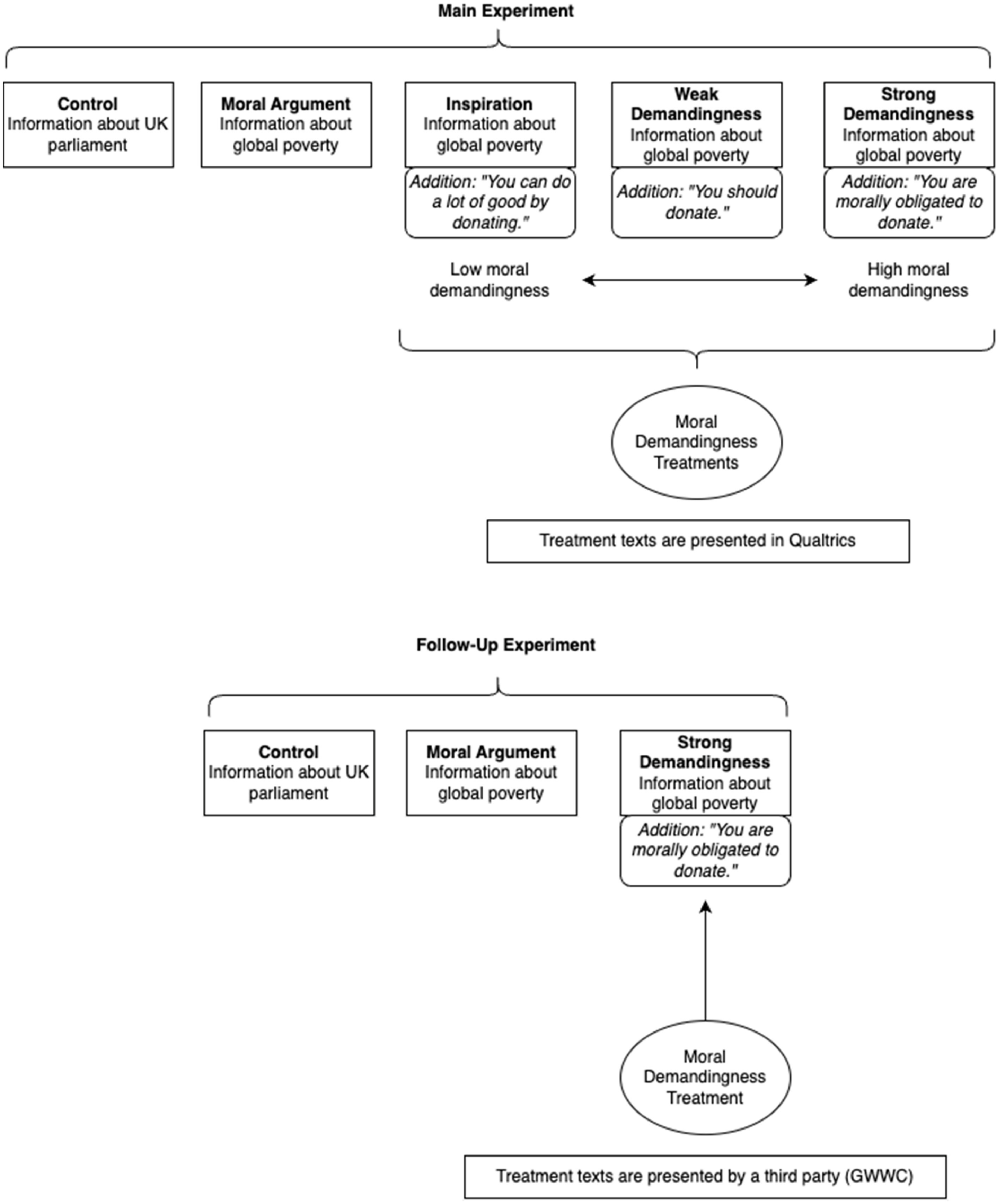 In our first study (n=2500), we had five treatments (control, moral argument, inspiration, weak demandingness, and strong demandingness). In the Control condition, we showed participants unrelated information about some technicalities of UK parliamentary procedure. In the Moral Argument condition, we presented participants with a text about global poverty and the ability of those living in Western countries to help (see figure 2). For the Inspiration, Weak Demandingness, and Strong Demandingness conditions, we used the same text as in the moral argument condition, but added one sentence to each.

Inspiration: For these reasons, you can do a lot of good if you give money to charities-such as GiveDirectly-to alleviate the suffering of people in developing countries at a minimal cost to yourself.

Weak Demandingness: For these reasons, you should give money to charities-such as GiveDirectly-to alleviate the suffering of people in developing countries at a minimal cost to yourself.

Strong Demandingness: For these reasons, you are morally obligated to give money to charities-such as GiveDirectly-to alleviate the suffering of people in developing countries at a minimal cost to yourself.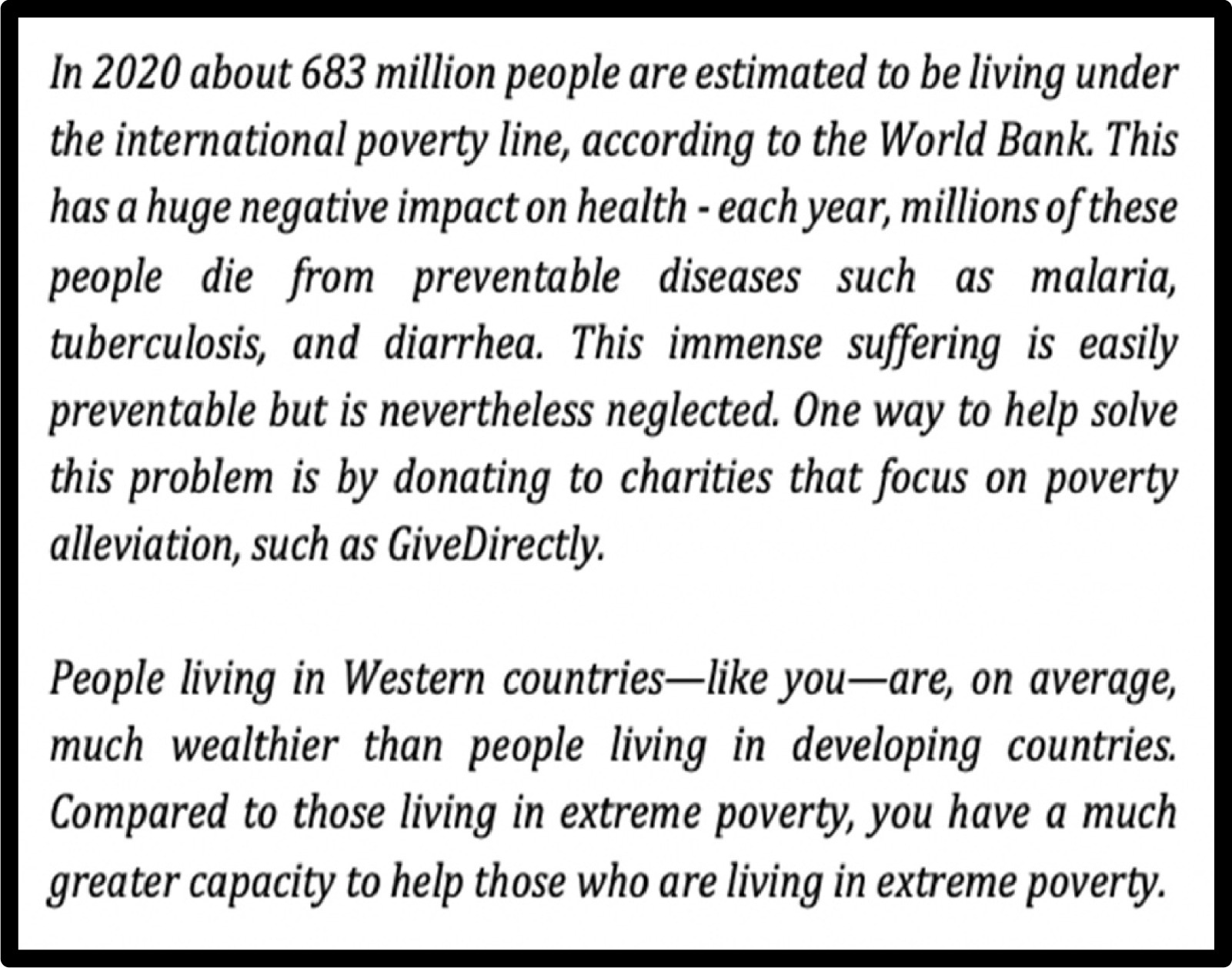 In this study, we were interested in two comparisons. First, we compared the control and the moral argument conditions to look at the effect of moral arguments on charitable giving. Second, we compared the moral argument with each of the three moral demandingness conditions to investigate whether increasing levels of moral demandingness lead to an increase or reduction in charitable giving.

In our second study (n=1200), we narrow down our research question by looking only at the conditions of control, moral argument, and strong demandingness. We test the same two main questions as in our first study. The key difference is that the Moral Argument (and demandingness) was presented to participants via the Giving What We Can Website (see Figure 3). This was done to mitigate experimenter demand effects, as well as to provide a more natural vehicle for the information to be delivered.
In both studies, after reading the randomly allotted text, participants could choose to donate some, none, or all of their earnings (20 ECUs, where 1 ECU=£0.05) to the charity GiveDirectly.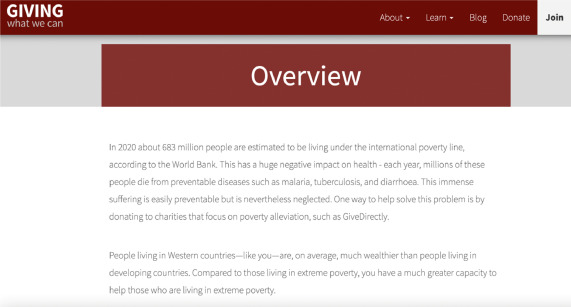 RESULTS
The main results of experiment 1 & 2 are provided in Figures 4 & 5 respectively.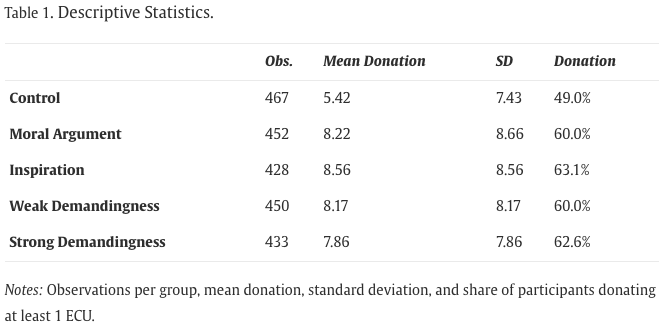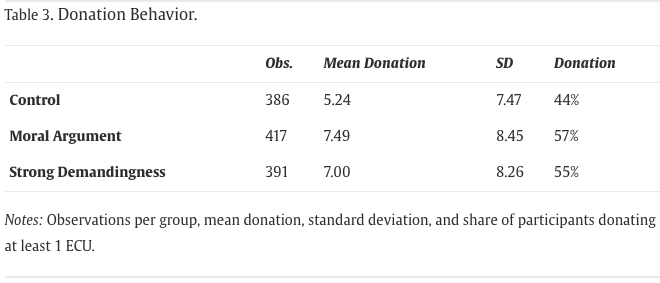 Result 1a: Across both experiments we found that moral arguments increased how likely people were to donate (11 percentage points more in E1 and 12 percentage points more in E2).
Result 1b: Across both experiments we found that moral arguments increased the total amount of money donated (51.7% more in E1 and 42.9% more in E2).
Result 2: We did not find any evidence that inspiration and weak demandingness affected donation behaviour.
Result 3a: Strong demandingness did not have an effect on donation frequency compared to the Moral argument treatment. Our evidence suggests, that the effect of the Strong Demandingness treatment is either null or smaller than a 10% increase or decrease in the frequency of donation compared to the Moral Argument treatment (and 7.5% for Study 2)
Result 3b: We found some weak evidence that Strong Demandingness results in a smaller amount of donations, conditional on a participant choosing to donate in study 1. However, this does not replicate in Experiment 2.
Data on GWWC Pledges (not in the paper)
At the end of the study, participants read a short description of GWWC, where we varied whether the pledge was 1% or 10% of income. The description was as follows:
"Giving What We Can is an organisation that supports people in their commitment to helping others and learning about effective giving. They aim to create a culture where people are inspired to give more, and give more effectively.
Giving What We Can offers the opportunity to sign a pledge to donate 10% of your income to charity."
We then asked participants on a 5p point Likert Scale "How likely are you to take this Giving What We Can Pledge at some point in your life?" [1= Very Unlikely 5=Very Likely]
We found that those in the 1% condition (mean 2.47) were significantly more likely to say they would take the pledge than the 10% condition (mean 2.0) Kruskal-Wallis test, p<0.001.
We also provided a link to GWWC if they wanted to learn more. 55 out of 1094 participants clicked the link. In the 1% condition 34/601 clicked the link and 21/593 in the 10% condition (chi-squared test, p=0.081).
LIMITATIONS
There are a number of limitations to this paper worth noting.
Persistence: We only analysed one donation decision. However, we should care about long term behaviour and whether these effects (or lack of effects) persist in the future.
Small Stakes: Participants earnings were only £1. While this does have real costs for Prolific participants (average earnings is £6-£10 an hour) it may be the case that their behaviour would differ for larger stakes.
Moral Argument watered down demandingness: Given the Moral Argument text was two paragraphs, and the moral demandingness text was 2 sentences. It is possible that the Moral Argument captured most of the participants' attention. It would be interesting to observe how the moral demandingness statements perform with no moral argument.
Heterogeneity in responses: While on average, morally demanding statements did not affect donation behaviour, it could be the case that it affects different types of people in different ways. For example, in E1 we found some differences between males and females (but this did not replicate in E2). However, there may be other traits we didn't measure where heterogeneous effects exist.
ACKNOWLEDGEMENTS
We want to thank Philip Grossman, Benjamin Sachs, Zach Freitas-Groff, Theron Pummer, Lata Ganghadaran, Erte Xiao, Brian Jabarian, Kirby Nielsen, David Rhys Bernard, Joshua Miller, Hayden Wilkinson, Tyler John, Miguel Costa-Gomes, Peter Singer, Toby Handfield, David Reinstein and Nina Xue for helpful comments and suggestions. We also want to thank Luke Freeman for his help and support when he had no obligation to do so. This work was supported by a grant from the Forethought Foundation and the Centre for Effective Altruism as well as additional research funding from Giving What We Can.
REFERENCES
De Lazari-Radek, K., Singer, P., 2010. Secrecy in Consequentialism: A Defence of Esoteric Morality. Ratio, 23 (1), 34-58.
Kagan, S., 1989. The Limits of Morality. New York: Oxford University Press.
Unger, P. K., 1996. Living High and Letting Die: Our Illusion of Innocence. Oxford University Press