Summary
We're excited to announce VIVID - a new EA startup aspiring to increase the effectiveness of any personal growth pursuit, and scale effective self-improvement & reflection.
With an investment of $1.75M from one of the biggest EA funds, we're building a two-sided platform: On one side, a mobile app that helps individuals overcome their internal obstacles. On the other side, a flexible tool for personal-development professionals to implement interventions and create long-lasting impact in the everyday lives of their clients and audience.
Over time, VIVID learns what are the most effective interventions for different topics and people, and aims to make effective self-improvement accessible everywhere.
The app is soon coming out of beta phase, so we're looking for feedback, positive and negative! Our app is available here (both for Android and iOS).
Overview
There is an inherent problem with self-change advice. On the one hand, it has to be generic because it must be applicable to a wide range of subjects and individuals. On the other hand, individuals can't really apply the generic advice as it is - they need to complete the last mile of customization in order to apply it.
This is the point of failure of many good theories and best practices that are found in self-help books, academic articles, and even advice from therapists - they are often lost in adaptation.
There are two possible solutions to this problem. The first is to make customization easier. The second is to assume that we don't need to create all of the possible customized self-change plans that could ever exist, but rather just find the most effective ones for common problems. For instance, find the five most effective plans for the specific context of impostor syndrome within the specific context of EA.
How can we find them? And do so for thousands of other common use cases? This is why we started VIVID.
The VIVID app helps individuals find the most effective ways to remove internal obstacles, by allowing extensive customization and self-testing, and by empowering wellbeing professionals to assist in this process.
With VIVID, individuals continuously self-improve by working on multiple plans - each plan addressing a mindset that underlies an internal obstacle.
One of VIVID's cofounders is Dr. Tal Ben-Shahar - a leading expert in positive psychology, who taught two of Harvard's most popular courses of all time. Ben-Shahar is the author of several worldwide best-selling books, and his upcoming book discusses the methodology of VIVID.
Theory of change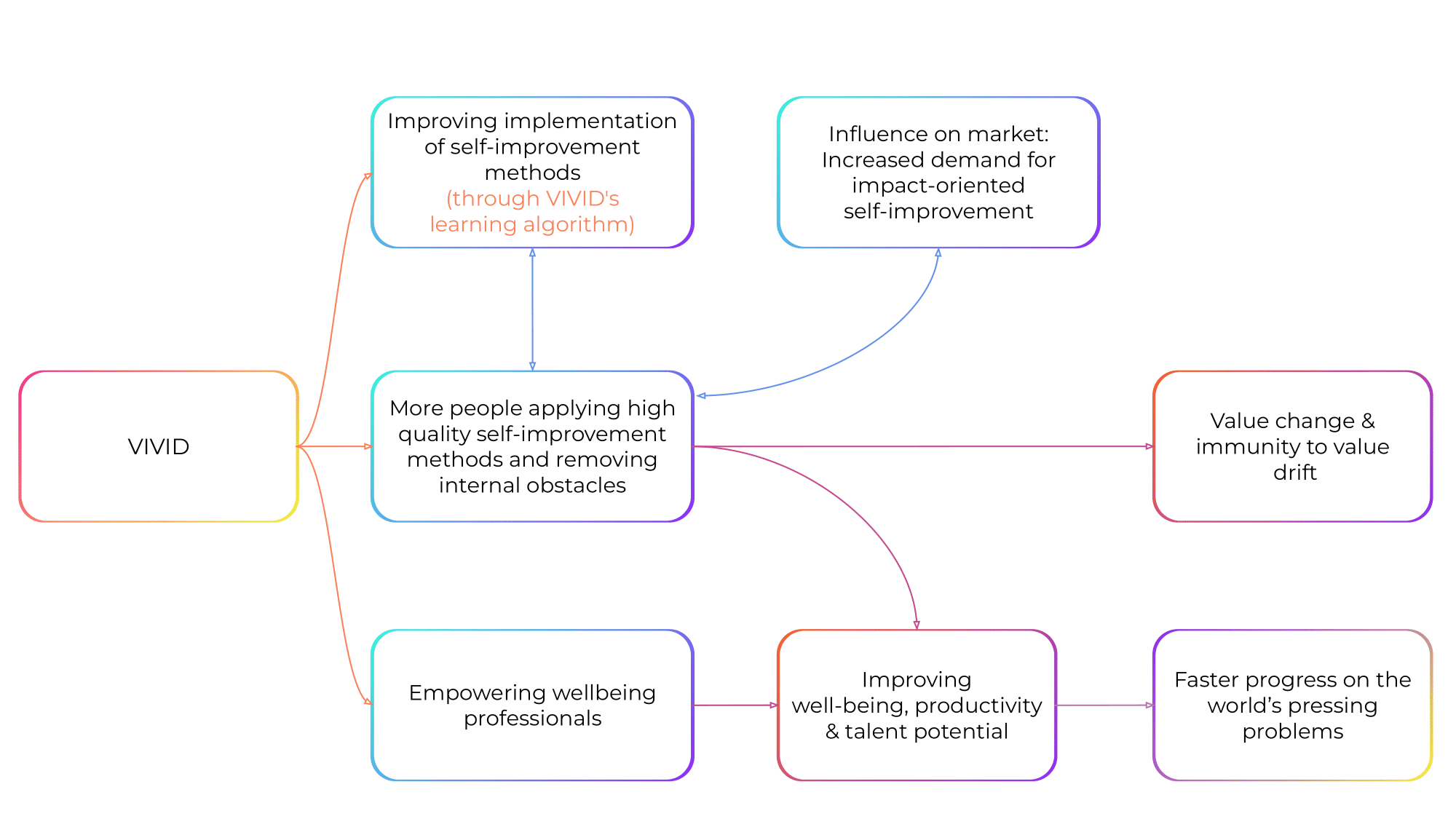 Our theory of change is divided into two main parts:
Short-term: Assist individuals in overcoming internal obstacles. We specifically intend to direct VIVID to high-impact communities like EA or Schmidt Future's fellows. VIVID is meant to grow better at this point over time - the main idea behind its design is that it learns over time which self-change methods are most effective for each category (e.g. self-esteem, guilt, friendship, etc.), and for which user profiles.
Long-term: The a priori chances of projects such as this becoming widespread are low (but we're optimistic!). However, the upsides are stellar. We could:

Figure out an intentional way to radically self-improve: This project provides an intentional way for highly motivated individuals to radically self-improve. In other words, this means that once we have a robust methodology to increase the potential of talent, even if it is likely that such a methodology requires a high amount of effort, individuals with high enough motivation could utilize it to become the best versions of themselves.
Accelerate progress in the fields of wellbeing and personal improvement and align them with large-scale evidence. In other words, we may discover scalable methods to improve wellbeing and individual potential in dozens of common use cases, relevant both to high-income and low-income countries. There are very few interventions that aim to improve wellbeing at scale, which is generally important - but depending on your assumptions regarding the current baseline of wellbeing, it might be even more important.
Broadly promote the value of self-reflection. We believe that this point is of high importance, particularly in terms of mitigating risks associated with value lock-in (this idea is explained in WWOTF, ch. 3, and we will share a more thorough write-up about this soon).
Figure out easier ways to remove internal obstacles: We believe the importance of internal obstacles increases as individuals have fewer physical and social restrictions.
Even in futures that are based on virtual realities, internal obstacles will still be significant to individual decisions and, therefore, collective decisions.
Moreover, the wider the range of individuals' choices, the more weight that internal obstacles will have on the decision results. That is because the existence of restrictions and obligations in modern society requires individuals to face their internal obstacles. Yet, in a world with basic universal income and an option to spend time in a virtual simulation disconnected from society, the motivation to deal with internal obstacles will be incredibly low. This will have significant implications on individual motivation to pursue values and participate in society's progression.
Another trend that will likely exacerbate this problem is more effective (and more immersive) non-aligned marketing and advertisement practices, drawing individuals further from self-directed goals.
How it works
This page goes into detail about VIVID's methodology. You can leave any feedback or question through the link at the bottom of this page.
In short, our strategy is inspired by other platforms (such as Notion, Airtable, and many others) which provide users with a high level of flexibility and the ability to share solutions with one another. We've applied this strategy to the self-improvement field by incorporating scientific principles of personal change into its design (such as prompts, self-monitoring, social and financial commitment/incentives, or implementation intention). VIVID is built to learn over time which techniques and plans are most effective for each category (e.g. self-esteem, guilt, friendship, etc.), and for which user profiles.
How you can help
Plans
Over the next two years, we plan to:
Iteratively improve VIVID's individual-level impact while working mostly with EAs.
Investigate VIVID's potential for growth, as the long-term part of our theory of change is dependent on reaching broad audiences.

This will most likely include a B2B model aimed at organizations' wellness budgets. As a result, we're likely to use a freemium model, in which the majority of the app is free to use, but some features require payment. To boost motivation and commitment, the app will provide a success-based discount to users who persist with their practice.
We intend to significantly subsidize subscriptions for people who are heavily involved with the EA movement or who work in jobs that we believe think are especially impactful.
More information about our financial model and its rationale can be found here. It is worth stating explicitly that VIVID will never sell user data, and that in general, we take the privacy of our users seriously.

Conditional on funding, establish an independent nonprofit research team, using VIVID's platform and anonymized data to conduct and publish free-to-access research on effective personal change.
As a part of this direction, VIVID and Effective Self-help intend to work together to disseminate high-quality advice on these topics.

We're considering many technological developments down our roadmap; from using AI to make better recommendations, to vital-signs-based prompts, to integrations for self-testing with automatically collected metrics (like stress indicators or productivity time). As VIVID's community grows, we'll have more information about which of these paths would help users the most.
Join our team 🦸‍♀️🦸‍♂️
We're hiring for two positions:
We've decided to build our core team in Tel Aviv, Israel - working from the new EA Israel office (shared with other EA organizations!). Therefore, these positions require eligibility for an Israeli work visa (which by default has very strict rules, but can be quite easy in some cases. Feel free to ask us anything on this topic through the application form).
If you're considering a relocation, you can rely on our social support - both with the awesome people that will work on VIVID, and with the amazing EA Israel group (which is considered among the strongest EA groups, with hundreds involved in its community and 6 large-scale ($300K+) EA projects running from Israel).
We're also looking for a community-building intern, and are open to various internship positions that require ~3 weekly hours - apply here.
Many thanks to Omer Nevo, Sella Nevo, Jack Lewars, Sofia Vanhanen, Edo Arad, Inga Grossmann, Dion Tan and Dvir Caspi, who gave feedback on this post and its appendixes.