Give Directly launched a 3 year basic income program in one of the poorest, most remote regions in the world: Maryland, Liberia. That's right, Maryland – it takes its name from American colonists who arrived in 1834.
In the past few decades, the region has suffered through a 14 year civil war, followed by an Ebola outbreak, and then the pandemic. Today, over 80% of ~175k residents live below a dollar a day, unable to meet their basic needs let alone build toward a new future.
You'll be matched directly with the person you're funding
By giving $40/mo, you can lift someone in Maryland out of extreme poverty. A new tool shows you who will receive your donation before giving and sends you updates afterwards. You're able to read about their life and plans in their own words, and then review quarterly reports on the impact of your recurring donations. Read more on how it works here→
Beyond funds, this program helps bridge the digital divide
Maryland, Liberia is remarkably isolated from aid:
It takes 3-5 days to drive the 300 miles from Liberia's capital in the half-a-year-long rainy season, as nearly none of the route is paved. This has deterred most aid groups from operating in the region.
In this environment, sending cash aid through mobile money has a unique comparative advantage.
Most of the 212 communities in Maryland have no cell service:
This forces residents to travel closer to larger towns like Harper and Pleebo to use phones.
Telecom companies haven't invested in an area where they felt there would be little return on investment: 84% of Maryland lives in poverty (compared to 51% of Liberia as a whole).
10 new cell towers have gone up as a result of our work with Liberia's main telecom provider (MTN):
The potential of tens of thousands of new customers with SIM cards and funds to spend made a strong market case for MTN to build out their network.
GiveDirectly and MTN split the cost of building the towers ($205k) which are all online as of last month. We'll share more on the positive effects for these communities early next year.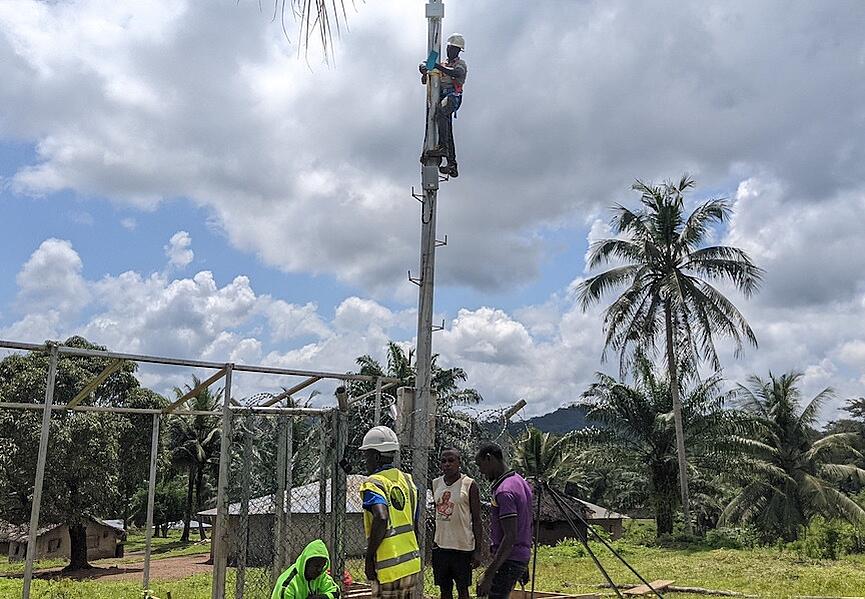 With your support, we'll build the world's largest basic income project
We've already started payments for 7,797 people in 65 villages. We have ambitions to reach every adult in Maryland and show the world the impact cash transfers can have when done at scale. However, we won't get there without your support. Together, we can do this one person at a time.
For more information on the region, watch the video below:
[Even though it is a linkpost, I tried to add GiveDirectly as a co-author to this post. This made it so I couldn't upload the post and they haven't responded in over a day. Since this project is time sensitive I'll post it now without them, but I will make them author if they reach out]