Summary
The beauty of GiveDirectly is that while it is unlikely to be the very best use of funds on the margin, it probably has the most robust case of any intervention that is plausibly close to being the very best. It seems to me that GiveDirectly is immune to the knee-jerk criticisms of EA (besides 'charity starts at home', but even then there are some domestic cash transfer options.)
As such, it has occurred to me that this is probably the best starter argument I can make to a friend who is EA-agnostic. Hoping to flesh out that case here—read on for more detail, but the main points are as follows:
There is a pretty clear logarithmic relationship between personal income and self-reported happiness, both within and across countries.
Even if all we do is transfer cash, no strings attached, happiness data suggests an average American could have an altruistic return of ~40x and a rich American ~600x.
(If you think that's good, GiveWell believes there are several options ~15x better!)
Arguably, some of the 'cost' (the presumed dip in your happiness) could be recouped by the feeling that your actions are having a disproportionately positive impact.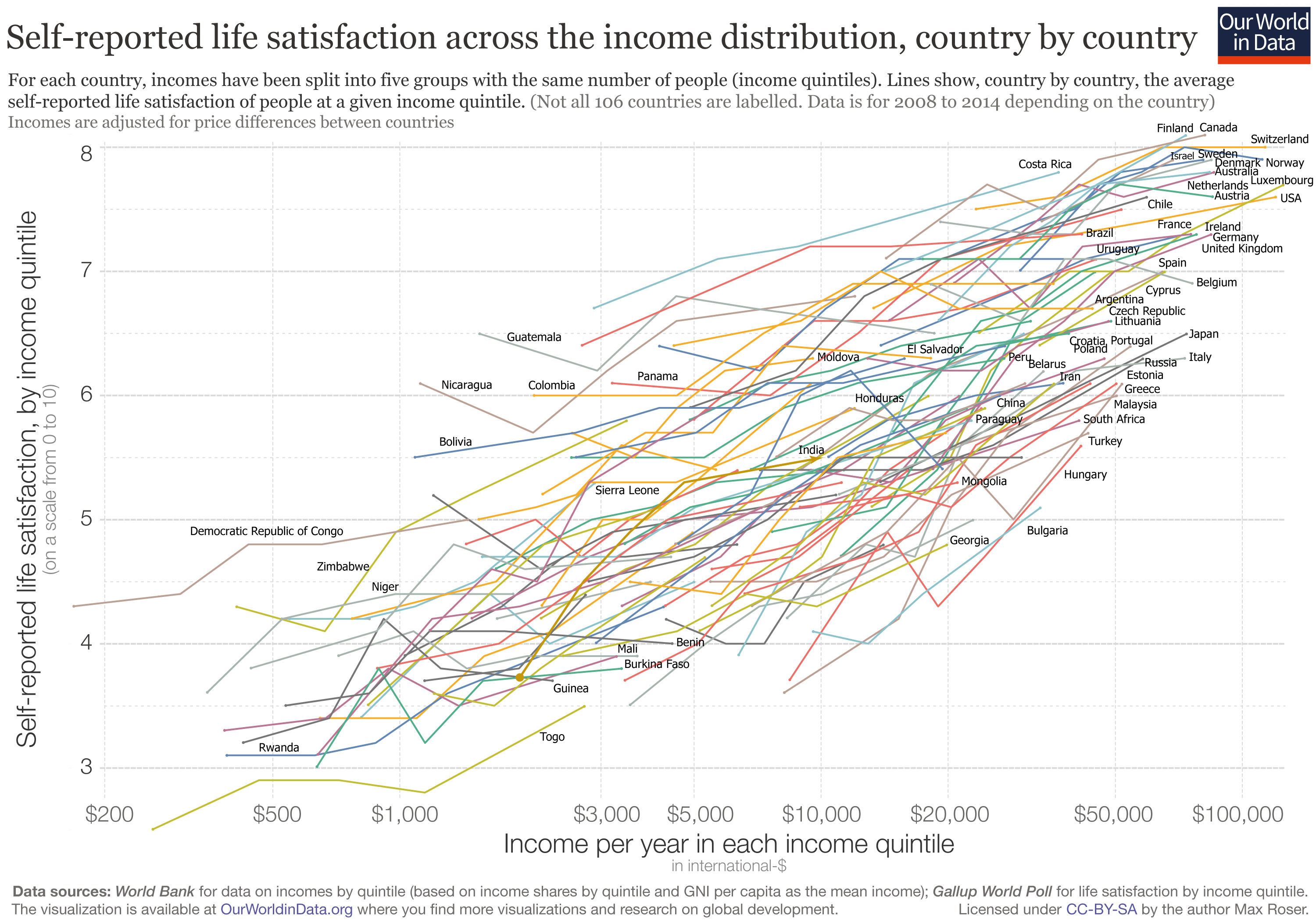 Data and Discussion
The log-linear relationship between income and happiness (as best represented by Our World in Data, e.g. Figures 1&2) was one of the main threads that first got me thinking with an EA bent. While admittedly many of the causes I now value can at first seem quite abstract and questionable, I found that this was very difficult to ignore from the start.
Although there's a lot going on in Figure 1, and the underlying data isn't fully public, just by zooming in and tracing some short trendlines we can make the following observations:
Looking at the bottom left of Figure 1, between the $1k and $3k tick marks, there is a cluster of several of the world's poorest countries. It seems that a fair trend line across that interval would travel from 3.9 to 4.5 self-reported life satisfaction.
The mean personal income in the US is around $54k. Approximating from the graph, it looks like cutting this in half would correspond to life satisfaction falling on average from 7.3 to 7.1. If $27k costs 0.2 and funds 13.5*0.6 units of person-happiness (as per bullet #1), the altruistic return would be ~40x.
Similarly, let's consider a rich American, say $500k personal income. It appears, roughly, that giving up $400k would again set this person back about 0.2 life satisfaction on average (~7.7 to 7.5). This would be enough to fund 200 of the aforementioned cash transfers, for an altruistic return of 600x.
Out of interest, by my calculation the population-weighted global average self-reported life satisfaction at present is about 5.1. Global GDP per capita in International Dollars is around $17.5k, which for an individual right now averages closer to 5.75.

Insofar as this thought experiment has any value whatsoever, it suggests that the total utility gains from a perfectly altruistic world might max out at something like 12% (at current GDP), whereas an individual in a rich country has the opportunity to contribute hundreds of times more than that (on the current margin).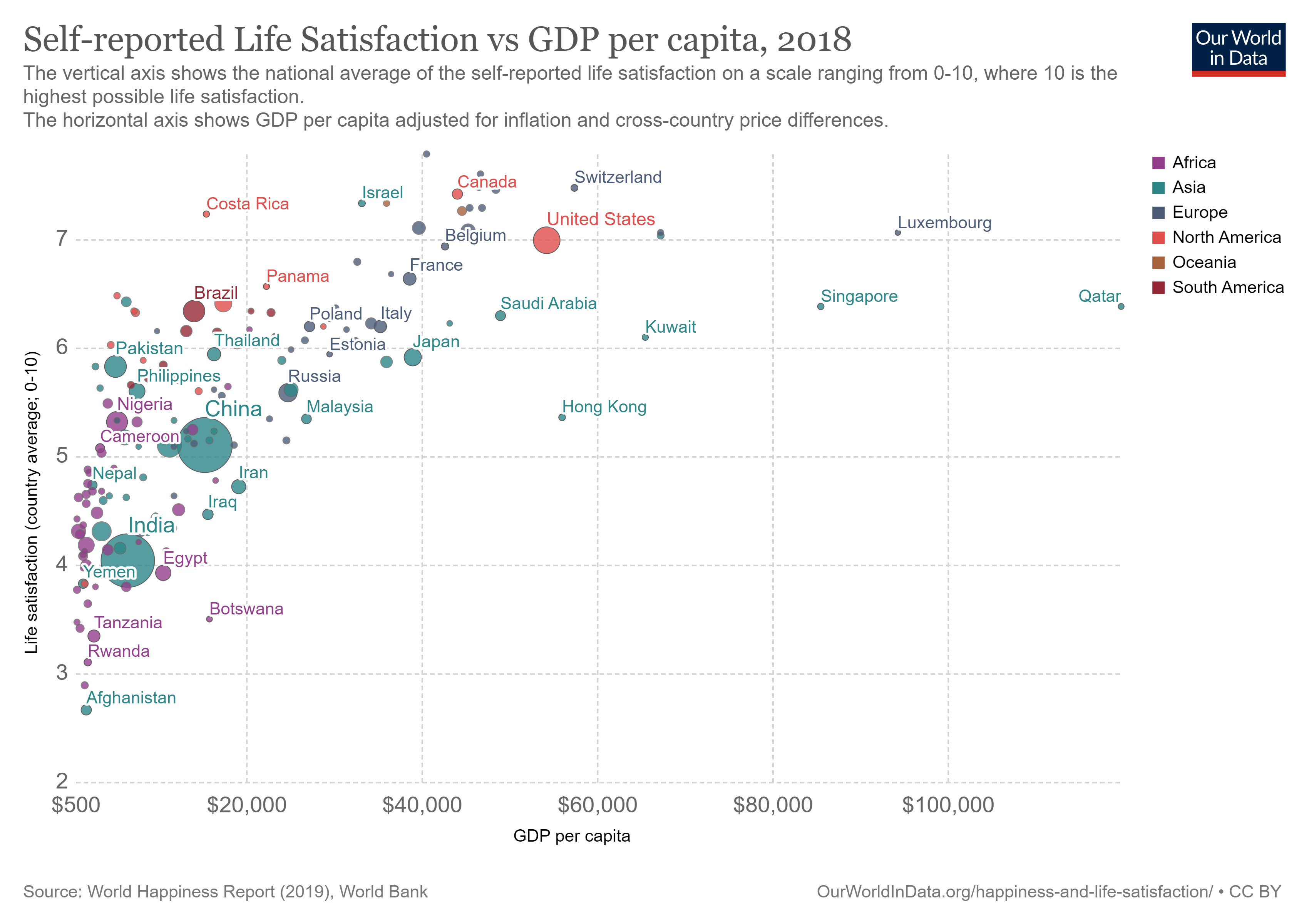 Caveats
I do not have access to the underlying quintile data used by OWID
I believe only about 85% of a GiveDirectly donation ends up in the hands of end users, though this is probably made up for by the fact that they use the 15% in order to allocate to people who are in the very best position to benefit from those marginal dollars.
This is obviously a very simplistic representation of how a cash transfer would play out, but it makes a ton of intuitive sense, and the implications could withstand an awful lot of numerical error. I view this as sort of a lower bound, or a guiding principle to show that spending marginal dollars on myself or my peers can be difficult to justify.