This post seeks to further encourage the development of an EA Common App. In the first part, I compare a simplified version of the current EA applications landscape to a process that is streamlined and collaborative. Then, I discuss steps to develop an MVP. Last, I ask and offer a perspective on key questions about an EA Common App. I argue that a Common App increases EA hiring, cooperation, and learning efficiencies and presents no risks that cannot be mitigated.
Current EA applications landscape
Currently, the EA hiring process looks something like this:

EA-related organizations, funds, and projects have their own separate application processes, communicate about hiring in a limited way, and share limited data about applicants' skills. Recruiters rarely refer candidates who they end up not hiring to suitable opportunities. Furthermore, applicants are imperfectly informed about available openings and in-demand skills. A few people estimate EA-related opportunities' future needs and this process is uncoordinated.
This causes inefficiencies in job search and skills development.
Streamlined Common App
A Common App can reduce job search and hiring frictions and enable EA-related organizations to cooperate on talent development. It can look something like this: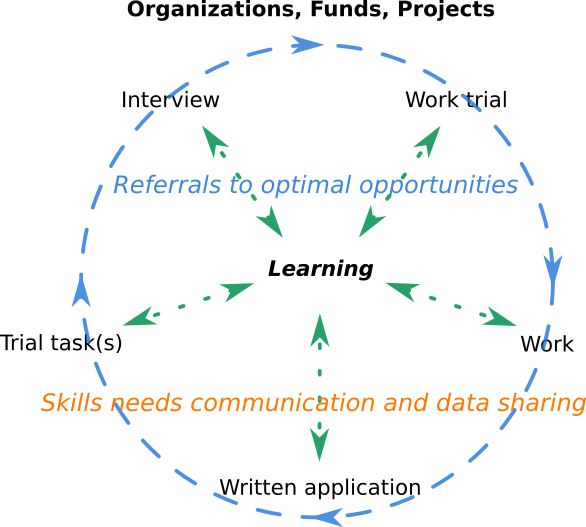 Common App candidates can apply once (in a while), and be referred to steps optimal for them at every stage of the hiring process. The steps include learning, which candidates can jump from and to different stages of the application-work cycle. EA-related opportunities communicate regarding their expected skills needs and abilities to develop in-demand skills to their benefit. Non-EA learning opportunities and EA-related learning materials are suggested when this optimizes efficiency, conditional on the candidate's enjoyment.
EA-related organization recruiters, fund managers, and project leads cooperate on referring candidates to suitable opportunities. These specialists keep informed about the changing skills and learning opportunities that are available and in demand. They always keep in mind the preferences of the applicant, offering what they could best enjoy, of the available opportunities. Candidates can always choose that or something else. Feedback is gathered to optimize for an individual's enjoyment of the referrals (given the existing opportunities based on needs).
Common App development steps
For a Common App to bring high value, the following should take place:
EA-related ventures should agree on application questions, trial task(s), interview questions and procedures, and work trial content and assessment, all of which can have different options (e. g. different trial tasks) A candidate should be able to choose which option to use. This selection can suggest an applicant's interests and skills. Skills development preferences should be explicitly asked for.
Referrers should be selected by a transparent process. These people should be impartial, able to learn fast about true EA-related opportunities' needs and candidates' skills and preferences, keep up with non-EA skills development opportunities, and be able to refer to large amounts of data.
Applicant's feedback forms should be developed and implemented. These should optimize for the sincerity of feedback and its applicability to improving the recommendation process.
Communication among EA opportunities and referrers should be formalized and optimized for minimizing non-recruiters' time demands while maintaining recruiters' informedness about the opportunities' changing needs and openings. For example, recruiters can be automatically notified about new postings or expected needs updates.
Trial should take place. I am describing how this trial can look like in the following section.
MVP aspects overview
A minimum viable product can look like a combination of the following (all including broad referral steps based on the applicant's responses):
An online form with compulsory and self-selected questions
Trial task database on an appropriate platform
Sets of interview questions and structures (some of which can be pre-recorded)
Set of work trials available to candidates
EA-related learning opportunities database
EA-unlabeled vetted learning opportunities database
Questions
I am including my perspective. Further discussion is welcome.
Should an EA Common App be developed at some point?
Yes, because as the community is growing and becoming more complex, there is an increasing benefit of reducing information frictions and streamlining skills development. This can increase the efficiency and quality of applications and hiring processes.
When should the Common App be developed?
Whenever there is sufficient interest from recruiters and job seekers. This should prevent inefficient resource spending.
Should data be stored?
Yes, data should be stored, because it increases efficiency compared to remembering. Data sharing consent should always be required and GDPR rules followed.
Should data be overwritten or accumulated, by default?
Data should be overwritten because next steps at any point in time are recommended. Accumulating data can bias referrers. Alternatively, a question on the candidate's career path can be included.
Who should have access to candidates' responses?
Applicants should always select who sees their responses. The application should not ask for any sensitive information and candidates should be cognizant of their audience.
Should the process be crowdsourced or employ specialized referrers?
Referrers should be responsible for recommending suitable opportunities but anyone can suggest what the applicant may particularly enjoy. Feedback should be gathered to optimize for the candidate's experience and to improve the calibration of those who suggest opportunities.
When do opportunities get involved?
While opportunities may choose to wait until a candidate completes a trial task or (a pre-recorded) interview, they can suggest next steps to a candidate at any stage. These suggestions can enable referrers to better understand the opportunity's hiring needs.
What are the risks associated with an EA-related Common App and how can they be mitigated?
1. Surveillance perception
Candidates' perception of surveillance should be mitigated by transparency of the entire process, overwriting responses, following GDPR, inclusive (as possible) access, not asking for sensitive information, the universal norm of optimizing for the candidate's interests, and the ability of candidates to freely reject any suggestions.
2. Niche audiences' loss
Niche audiences' loss should be prevented by a holistic and personalized approach to referrals. Then, niche audiences can feel supported in their areas of interest.
3. 'Using' non-EA opportunities for skills development infamy
Non-EA decisionmakers should benefit from candidates' work and possibly also the connection after they leave. Candidates should not plan to quit early (for example, take time-limited contracts suitable for professionals interested in skills development).
4. Job loss
If the Common App is successful, some career advisers and community organizers will be freed to do other, more interesting work. Due to an efficiency increase, better jobs should be available after adjustment.
5. Failure and delay in developing a beneficial Common App later
A failure can be prevented by a cost-effectiveness analysis and resources assessment before any progress is made.
Conclusion
An EA Common App can increase hiring, collaboration, and skills development efficiency and quality. EA-related opportunities can cooperate on talent development. Risks can be minimized by centralizing a candidate's actual interests. Further analysis of the cost-effectiveness of a streamlined EA application process can inform any next steps.
As of 2022-06-04, the certificate of this article is owned by brb243 (100%).