At Open Philanthropy, our mission is to help others as much as we can with the resources available to us.
We gave away over $400 million in 2021. We aim to double that number this year, and triple it by 2025.
As a result, we hope to grow our staff to roughly 80 people this year, and to keep growing at a rapid pace for years to come. That means we're hiring over 30 people this year, and probably well over 100 in the next four years. (It took us nearly 7 years to get to our current size, so this is a major shift for us!)
With this post, we want to answer some common questions about working at Open Phil, and to make the following points:
You can see our open positions here, and make a referral here.
What growth means for Open Phil
We are the largest funder in several cause areas, but we still have ample room to grow. A few examples of ways we've worked towards increasing our giving over the last year:
Note that many of these items represent ways to scale our giving in entirely new categories. By 2025, we'll likely be working on things we haven't even imagined yet. (We're hoping to hire now partly so that our new staff can help us figure out what those things should be.)
Open roles
Right now, we have several open roles in Operations and Farm Animal Welfare:
A new Director of Operations to help us scale our operations and ensure we're able to execute on our most important goals.
Three new roles to help our Farm Animal Welfare program expand its giving, focused on research & modeling, generalist grantmaking, and science.
Recruiters to help us hit these growth targets!
If none of these excite you, we'll be posting lots of additional roles over the course of the year. Many of those will probably end up on the Forum — you can subscribe to the "Open Philanthropy" tag to see those.
You can always apply, and you can pitch us on roles that don't exist yet
Needs often emerge before we have time to write job descriptions and run a search to fill them. If you don't currently see your ideal job open, we'd encourage you to fill out our general application (it's quick!) and let us know what you'd like to do. We are currently reading these ~weekly and will reach out if we'd like to talk.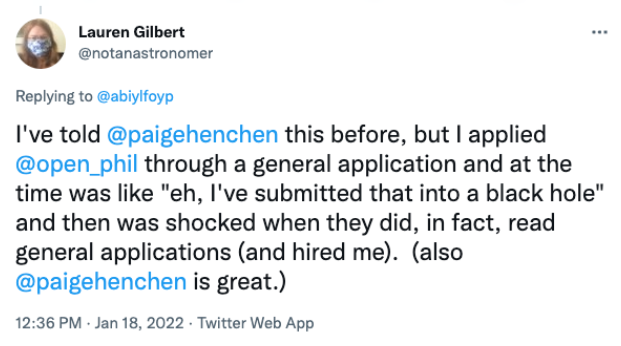 What we're looking for
We can't generalize too much here — we try to make our job descriptions very specific. But at a high level, we're currently interested in:
People who have experience in management. Our need for managers is a major bottleneck to scaling up our work. If this is a strength of yours (especially for managing large operations functions — we're currently hiring for a Director of Operations and a manager for our business operations team ops), we strongly recommend you apply.
People who are ambitious about what they want to accomplish. We want staff who will bring a sense of intensity to making Open Phil better, and who will constantly be asking questions like "what else can we do to achieve our goals?"
People who are high on openness and transparency. As we describe in our operating values, we care a lot about proactive, honest feedback (including upward feedback). Having many staff who feel the same way helps us improve as an organization.

This sense of openness should also extend to "working with people who hold a variety of views". As you'd expect from an organization focused on worldview diversification, our staffers hold a variety of views, and we practice respect and curiosity when we explore the differences in our beliefs.

On the operations side, people who are very excited about scaling organizations (and have experience doing so) while remaining agile and keeping bureaucracy at bay.
People with many different experiences, perspectives and backgrounds (and opinions about our work!). You don't have to be an Open Philanthropy Super Fan to apply — we're especially excited to hire people who like some aspects of our work but will be intelligent, thoughtful critics of others. And as our work is becoming increasingly international in scope, we'd particularly like our staff to reflect that. Whenever possible, we're making roles open to candidates based all over the world, and are thinking hard about what else we can do to increase the diversity of our hiring pipelines. We particularly encourage applications from women, people of color and people from low- and middle- income countries, especially for research and programmatic roles.
Answers to commonly asked questions
If this post doesn't answer your questions, please leave a comment below; we'll try to answer within a few days. (On our "Working at Open Philanthropy" page, we share more information and answer other questions not mentioned here.)
I've applied before; should I apply again?
We recognize that many in the community have applied for roles at Open Phil and been rejected, often after a lengthy application process. While our bar for hiring is still high, we want to emphasize that your odds of being hired at Open Phil if you apply are likely higher now than they have been in the past, and our application processes are generally less time-intensive than they used to be.
If you're interested in a specific role but are on the fence about applying (especially if you've applied in the past), we'd love to schedule a 15-minute call with you and answer your questions/give our best guess about whether we think it makes sense for you to apply. Please do consider scheduling a call — we offer these because we think they are worth the time to conduct, and you won't be wasting our resources. We realize applying to roles is costly in time and emotional energy, and will not urge you to apply if we don't think you're likely to enjoy the role/be a competitive candidate.
To schedule a call, contact jobs@openphilanthropy.org.
What are my odds of being hired?
People often imagine there are hundreds of applicants for every open slot; this is rarely the case.[1] We'll gladly share how many people have progressed to each round of your application process if you ask. (For example, "you are one of twenty first-round applicants" or "you are one of the four people asked to do this work test".)
If you want to know how competitive a job is before you apply, reach out to us. We'll tell you how many people have applied so far.[2]
Will I have to do a million hours of work tests?
While we evaluate candidates on a variety of factors, we also use work tests as one component of our hiring process. We're trying hard to not ask candidates to do more than a few hours of work tests unless we think they have a serious shot at the role. Most roles have a ~2-hour up-front screening task that we send to the applicants who look most competitive after the initial application review, and a second 5-8 hour work test who look most competitive after this stage (note that research and program roles are more likely to have longer work tests as the nature of the work lends itself less well to shorter work tests). The work tests are also meant to be interesting and engaging for someone who would thrive in the role.
We know this is a lot to ask, which is why we pay you for every test you take. Our honorarium model tries to take into account the total time you've invested into our hiring process.
Will I get feedback?
If you reach the final stages of the process (i.e. final interviews) and we don't hire you, we'll do our best to share feedback, upon request. If you don't reach that final stage, we likely won't have the capacity to provide individualized feedback. We'd love to do more on this front, but our bandwidth is limited. (If this is the kind of thing you'd want to work on, we're hiring for the recruiting team — please apply!)
What will I be paid?
We recently raised compensation across the board, and we think we pay extremely well for a nonprofit. We will post exact salaries for almost all of our positions (or a salary range if we're hiring at multiple seniority levels).
In rare cases, a hiring manager may be very uncertain about the scope of a final role, and will ask us not to post an exact salary. If that happens, you are always welcome to contact us; we'll do our best to provide an estimate for someone with your level of experience.
If I have a strong application but don't get hired, will you remember me?
We'll take your past applications into account if you apply for roles in the future, and actively review our past applicants database for strong runners-up when we start hiring for new roles.
We also often proactively refer strong applicants to other organizations working on our focus areas; we've seen a number of people get hired in this way.[3]
What is your current policy around remote work?
We're taking a decentralized approach to this question, where each team can decide whether their staff need to be based in the Bay Area, be fully remote within US time zones, or be fully remote within US and international time zones.
What are you doing to support staff joining remotely?
You will likely spend at least a week at our San Francisco office co-located with your manager and other staff soon after your start date
You will be able to opt into a mentorship program where you'll meet ~weekly with a more senior staff member during your first months at Open Phil
We hold once quarterly "Togetherness Weeks", which are opportunities for the entire team to work and hang out together in San Francisco.
We hold numerous remote events, from OP-organized AMAs with program staff and external speakers to self-organized book and movie discussion clubs.
We're working to figure out what the future of remote and in-person work at Open Phil will look like post-pandemic, and recently held several open sessions on ways to create a connected and productive work environment for staff based all over the world. We're excited about the ideas that came out of those brainstorms, and plan to keep experimenting in the year ahead.
^

During our last operations hiring round, we received roughly 300 applications and hired 9 people.

^

However, because many people apply in the last few days before a deadline, the applicant numbers we share may be unrepresentative if you ask earlier than that.

^

Aaron (our copyeditor for this post) adds: "I applied for one role at Open Phil, got rejected, then got a totally different offer from another team that thought I'd be a good fit."