[Note: Applications for this role are now closed]
Since July of last year I've been working as a contractor at 80,000 Hours. I've loved the work, but I just got an exciting opportunity to work on a new project full time, so I'm now looking to replace myself.
Over time I've picked up a few other small tasks in addition to copy editing. I'd really like to make sure that the team continues to get support in "editing+" (as I'll call it for convenience)—so if you think you or someone you know might be a good fit, please read on.
Who?
The person who's right for this role will have:
1+ years of experience writing and editing in a professional setting
Meticulous attention to detail
Familiarity with Slack and Google Drive
Familiarity with Markdown and Wordpress, or willingness to learn these
Excellent written communication skills

Ability to give feedback that is clear, concise, and considerate
Ability to communicate with external parties—including high-profile guests—in a professional and respectful manner

Ability to coordinate with multiple team members on multiple projects at once
Ability to switch priorities quickly and frequently
Strong commitment to confidentiality
Familiarity with 80K's work and/or the effective altruism community more broadly is strongly preferred but not required.
What?
The role primarily involves copy editing, formatting, and uploading written web content, including but not limited to blog posts, articles, podcast transcripts, and newsletters. Additional tasks may include managing 80K's LinkedIn group (membership and content), logging new published content, finding and collecting online sources mentioned by podcast guests, writing 80K's organizational updates for the EA newsletter, and helping with one-off or annual projects (e.g. the annual user survey).
The number of hours per week has been highly variable (mean = 8.5 over the last 6 completed months). (See tracked hours for January-June 2021 below.) Note that 80,000 Hours would be excited about someone working somewhat more hours in the future, and at a more regular cadence.
The compensation for this role could be as high as USD $42.00/hour for an exceptional candidate. Since this is a contractor position, 80,000 Hours will not withhold any portion of your salary; you are solely responsible for calculating and paying any relevant taxes.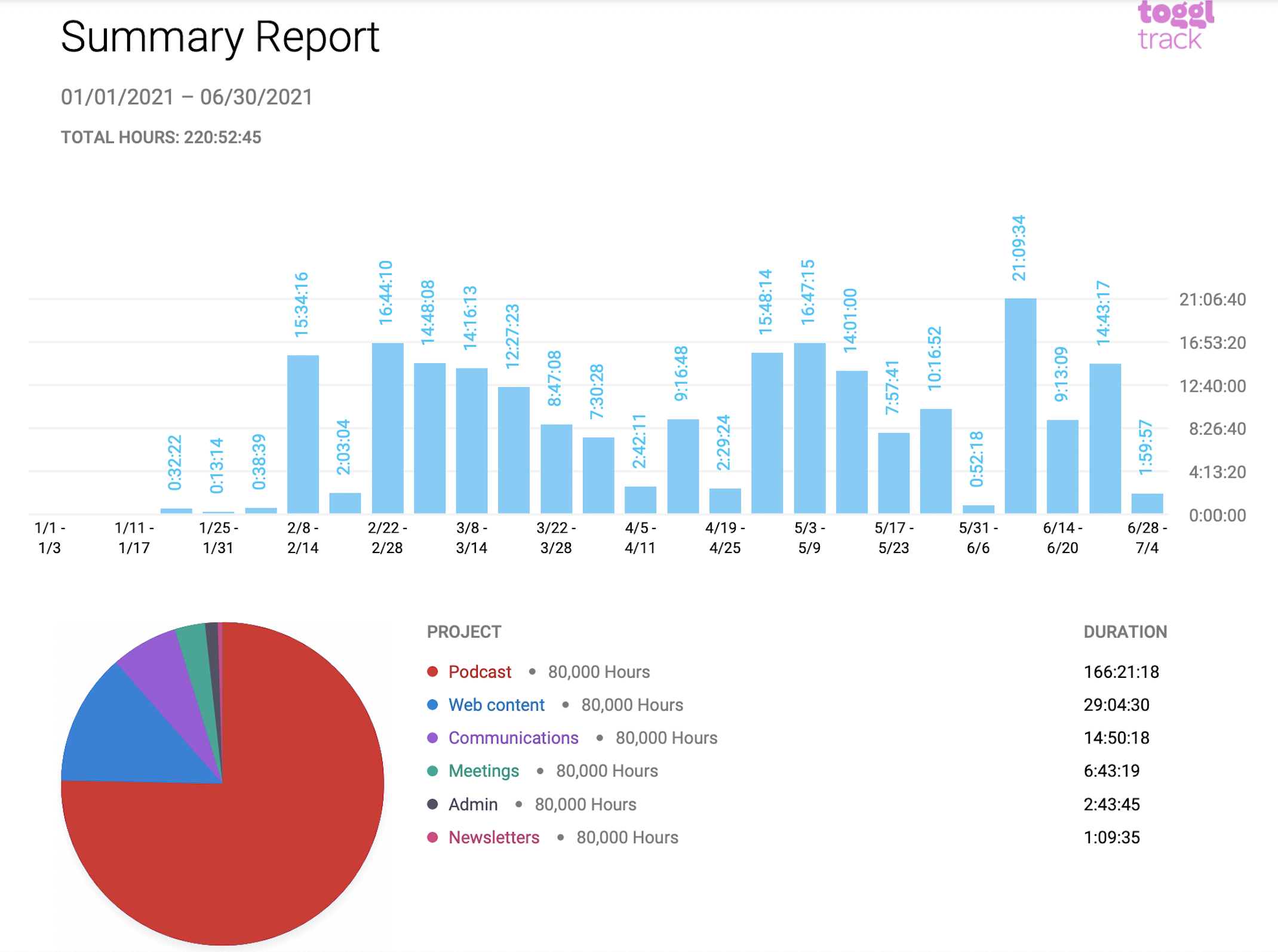 I expect I've underreported the time I spend on high-frequency but low-duration communications tasks—e.g. reading and answering Slack messages and emails—because it usually doesn't feel worthwhile to go to the trouble of tracking such tiny increments. You should assume this will take more time than is indicated above.
Why?
Between the website and the podcast transcripts, 80K has a lot of written content. The rest of the team is hard at work writing, researching, podcasting, coaching, coding, coordinating, etc. and they need someone skilled and reliable to focus on ensuring that their output adheres to their standards of clarity, coherence, and correctness.
When?
The ideal start date is on or before Monday August 30th. Exceptions may be made for outstanding candidates.
Where?
This is a remote position; you may work from anywhere in the world. None of the tasks strictly require working synchronously with 80K staff, but being in a time zone that has some overlap in working hours with the U.K. would be ideal.
How do I apply?
To express your interest in the position, please fill out this Google form.
Expressions of interest will be reviewed on a rolling basis. You will get a response from me within one week letting you know whether we'd like you to move you along in the process. The second step will be a 1-hour work test, and the final step will be a short interview.
If you have any questions not addressed in this post, please feel free to email me at sofiadavisfogel@gmail.com, or schedule a call using my Calendly.