TLDR: Colive and cowork with 20 other EAs from beautiful beachfront properties with private pool access in Palm Jumeirah, Dubai. The first installment is taking place 4-18 May 2023, right before EA Global London (19-21 May 2023).
Apply now for the first installment, and register interest for the future ones (likely to happen in autumn 2023 and to last 30+ days).
Our goals are to
Create a community of peers who will support and inspire each other
Help you find future friends, collaborators or mentors
Create an opportunity for Fellows who struggle to get visas to Europe and US to meet other EAs in person, especially for EA's in the Middle East / South Asia / Africa region.
Collect learnings for future, longer, and bigger Fellowships
We will provide
Free accommodation in beautiful beachfront apartments
In exceptional circumstances, we might consider reimbursing you for flight costs as well
Who should apply?
Anyone working on high-impact EA-related projects. If you are unsure whether you are a fit, we encourage you to err on the side of applying.
Who is behind this?
All the costs are being funded by Rahul Swaminathan, a Dubai-based EA. Rahul is also the main organiser, and will be living with the Fellows for the duration of the programme.
We're helped by Tripsha, a VC-backed startup that runs offsites retreats for tech companies.
We are advised by EAs who among themselves have attended the recent Fellowships in Bahamas, Prague and Mexico City.
How can I apply?
The application is here LINK. Please click on RSVP to begin. You will need to be signed in to answer the questions and RSVP "Yes, I'm going" for your answers to be submitted.
We may follow up to do an interview over video chat after reviewing initial applications.

Timeline
There is no deadline; but the sooner you apply the more likely you are to be accepted.
To secure your place at the Fellowship, you will have to book flights and share the flight confirmation information with us once you're accepted. We're going to review applicants on a first-come first-served basis and hope to answer your RSVP within 48 hours.
This process is in place because the Fellowship is starting on 4 May.
The vibes and values
Not an event. This isn't an "event" as much as a wonderful place to spend two weeks of your life. Think of it as a mini-campus with a 10% course load, where you can walk around and have a fascinating conversation with anyone, and learn about x-risks, shrimp suffering or charter cities :)
Participation. There is no centrally organised programming. All Fellows are encouraged to organise events and gatherings.
Self-reliance. This is not a corporate retreat or a conference. There are no paid employees tasked with looking after you.
Together. This is not the best place for working 18-hour days. We'd like all Fellows to set time aside for socialising and connecting with each other.
Tell me more about accommodation
The accommodation will be provided in modern serviced apartments in the same residential complex, all within a 5-minute walk from each other.
All apartments have access to a pool, a gym and a private parking area. Each apartment has a modern, equipped kitchen.
Photos are on the application page.
Please note that most of the Fellows will have to share bedrooms (we ask in the application form whether you are alright with this). There will be at most two people/beds per bedroom.
The apartments are located in Palm Jumeirah, 2.2km away from the Palm Atlantis Monorail station.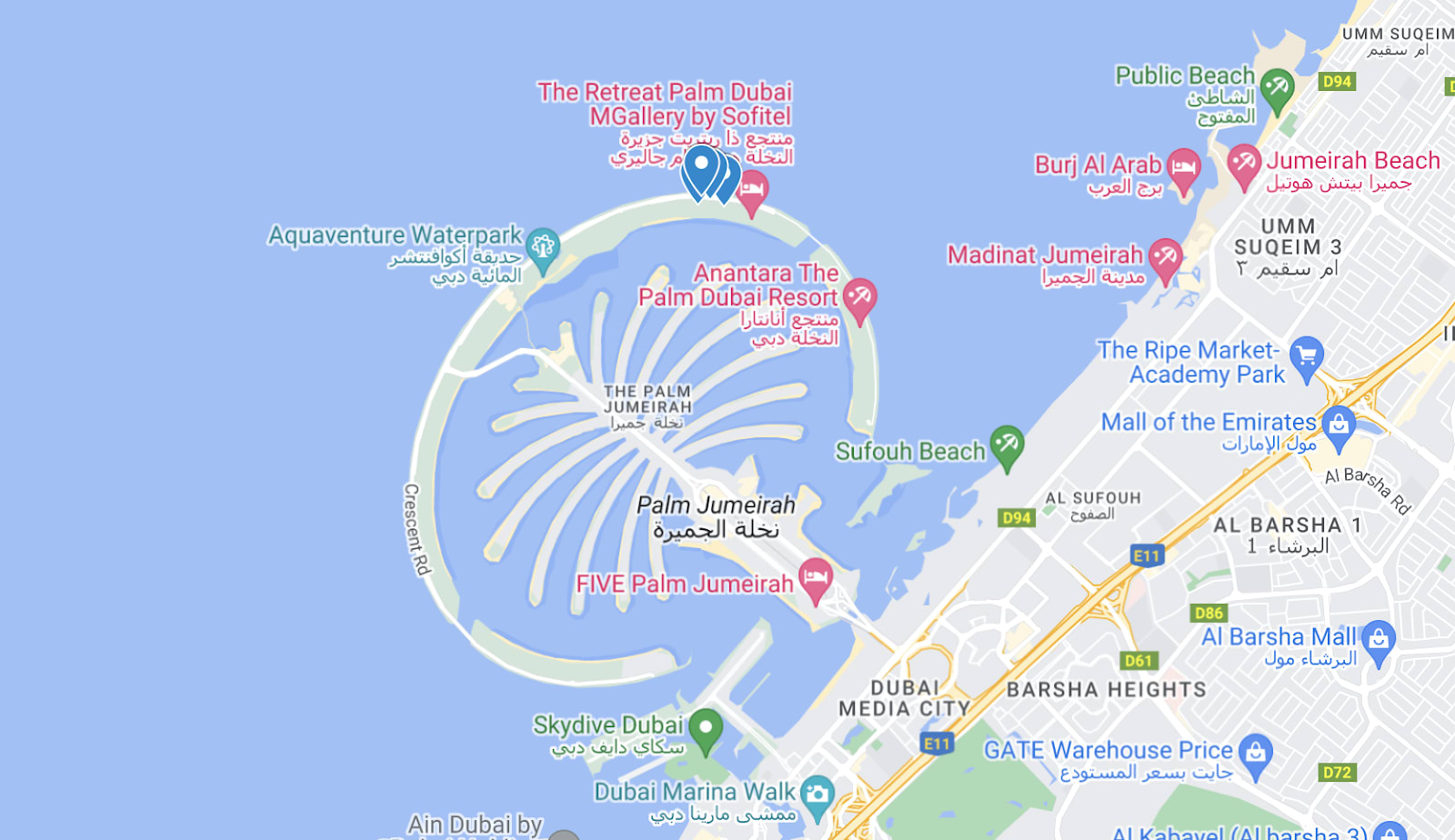 What will NOT be provided?
Travel and health insurance
Airport transfers
Food
Organised activities
Separate office/coworking space - you will need to use dining tables and couches as per the photos
How much can I expect to spend while in Dubai?
Getting around Dubai

Dubai is not a very walkable city. However, it's easy to get Uber's / Careem or use the metro for longer distances. You should budget $10 - $30 per trip on taxi, and metro fares are available here - Metro Fares in Dubai
You should also be able to rent a budget car for approximately $25 - $50 per day if that's something you want to do. (The apartments come with parking.)

Groceries

There is a mini-mart in the area, and Nakheel Mall is a 15 minute drive away.

Eating out

Dubai has tons of options to eat out at different budgets. I have not had any issues with finding vegan options at most restaurants, and there are multiple options within the Palm area within a 10 minute drive.
What's the weather like?
It will be very hot; the average May temperature in Dubai is 30.5°C 87°F. More info: https://www.holiday-weather.com/dubai/averages/may/
Can I come for a shorter period of time?
We expect all Fellows to arrive on 4 May and stay until 18 May. We may consider exceptions in extraordinary circumstances - let us know in the application form.
I'd like to come but I am happy/able to pay for my own accommodation.
Great! Let us know in the application form.
How can I register interest for future installments of the Dubai EA Fellowship?
Please fill out the application form by following the procedure outlined above.
Tentatively, the next Fellowship is likely to take place in autumn 2023 and will last at least 1 month. All Fellows will have their own rooms. This is a semi-experiment

Other Questions
Visa access
Visas for UAE are pretty easy to get (on arrival for most nationalities) . You can check the below link for more information. If you do need help arranging a tourist visa, please let us know in the application form and we can help you out.
Dubai Visa Information

Why is it such short notice?
The idea was to do a longer fellowship in the end of 2023, but we're not really sure of the size and interest of the EA community in the region. We also tried to make it coincide with EAG London to maximize the amount of people that show up if they were transiting through Dubai.

I have more questions, how can I get in touch with you?
You can either email me at [rahul] at [swaminathan] dot com, or post a comment below or send me a message here on EAForum.