In the first 10 months of 2021, Effektiv Spenden has grown over 200% and has been able to raise donations of more than 4.3 million euros for some of the most effective charities in the world. This means that for every single euro we have spent on the operation and development of our platform, we have raised more than 30 euros in donations for the organizations we recommend.[1] In order to motivate many more people in the coming years to donate effectively, we want to invest in the further growth of our platform and need additional funding of 150,000 euros for this purpose. We ask you to help us raise this amount by the end of the year.
What has happened this far
Since Effektiv Spenden was founded just over two years ago, we have already raised more than 7.5 million euros for some of the most effective aid organizations in the world.[2] This year has also been marked by strong growth. In October 2021, our donation income exceeded the 1 million euro mark within one calendar month for the first time outside of the giving season. We therefore expect to significantly exceed our donation target, communicated at the end of last year, of between 3 and 5 million euros for 2021. In addition to individual large donations, the now more than 2,700 monthly regular donations that we process via our platform also contribute to this. In addition, we are working on enabling the support of the charities we recommend outside our website, most recently via the app of the online bank N26.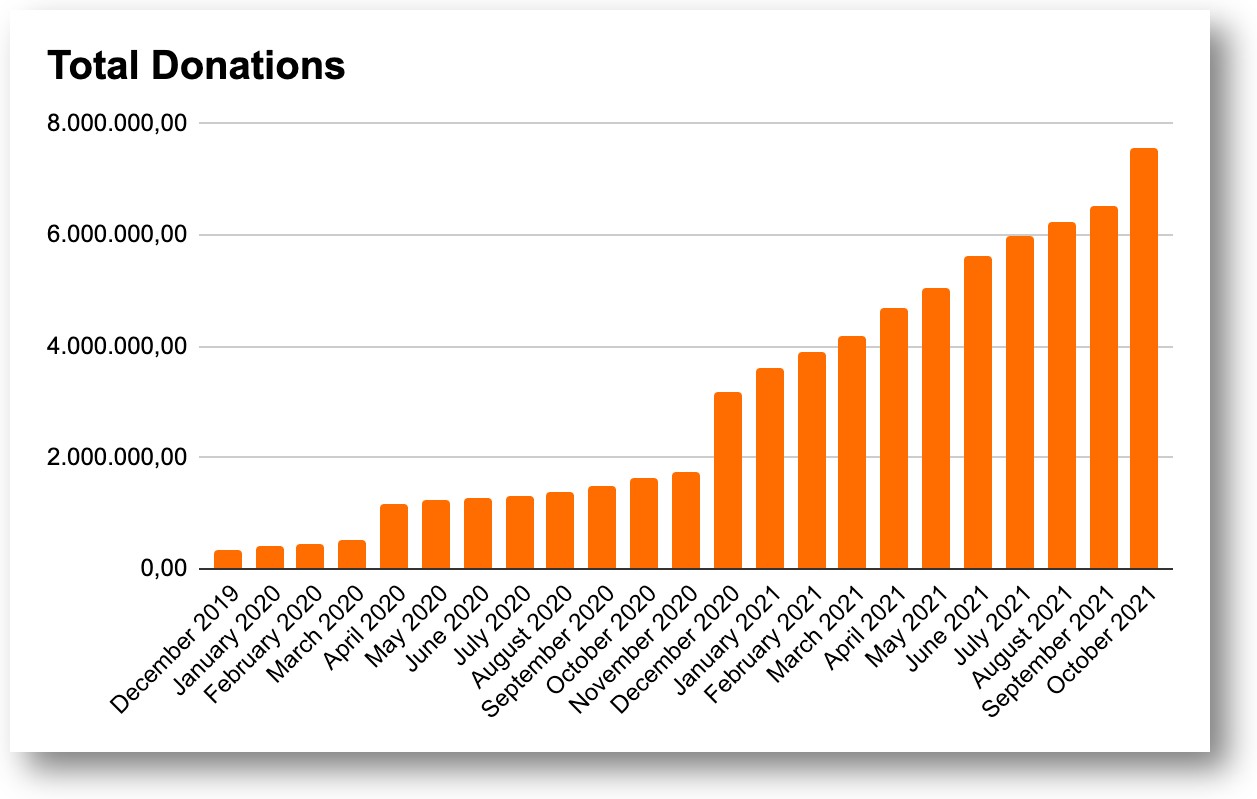 In May 2021 we also established the TEAMWORK coworking space. A place for the Effective Altruism community to exchange ideas and work together.
However, this growth has also put our internal structures and capacities to the test. By November 2021, we didn't even have two full-time employees on board—and were happy to be able to keep up with the "organic growth." Our systems do not yet allow for fully automated management of donations, so we had to put a lot of effort into managing the ever-increasing volume of over 30.000 donations so far this year alone. Concentrating on these issues has also meant that we have been able to devote less energy to measures for further growth and system expansion. This is now set to change. In the coming months, we want to invest significantly in order to build Effektiv Spenden into an even more powerful and sustainable organization—and thus to move significantly more donations than before.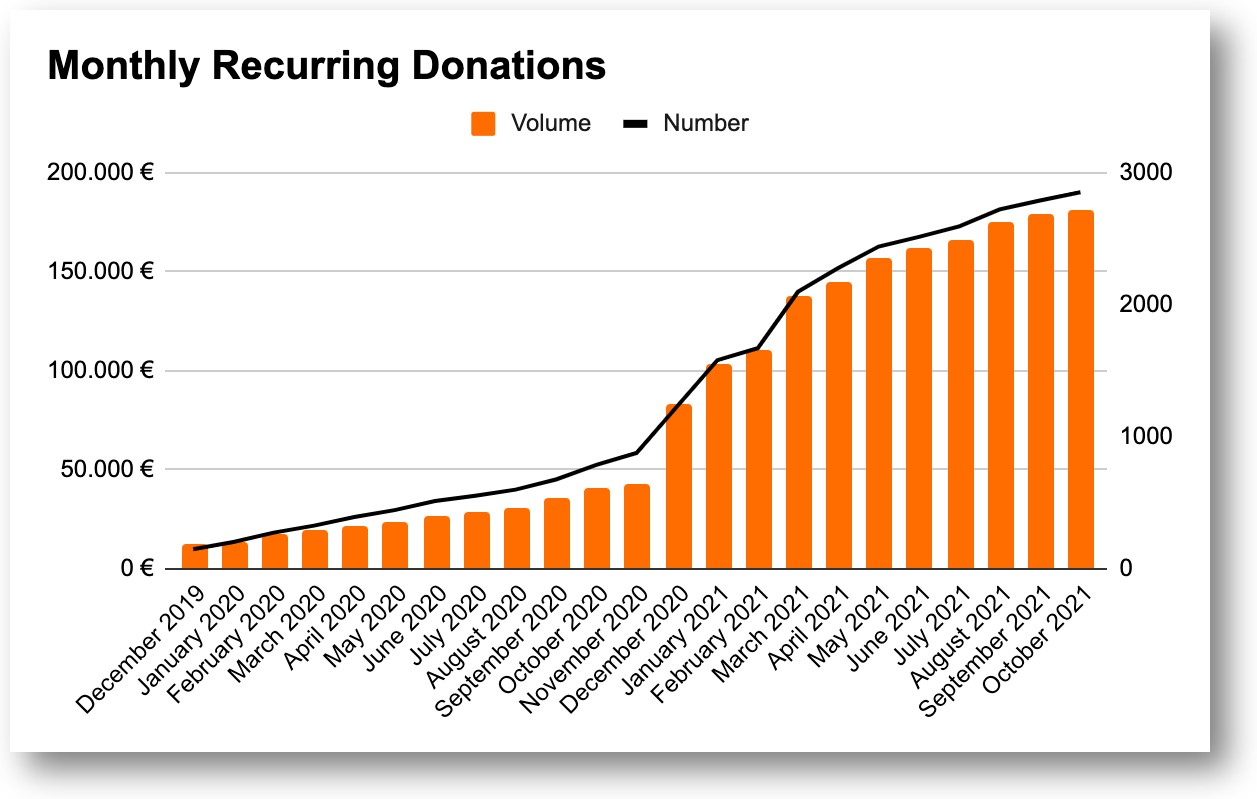 To make this possible, we ask for your support. With every single euro that we use for the further development of Effektiv Spenden, we will most likely be able to generate significantly more than 30 euros in donations for outstanding aid organizations in the coming year.
What we plan to do
In the coming year 2022, we want to invest in the following areas in particular:
1. Optimization of our website!
Due to the high volume of donations, even small improvements to our online presence can have a big impact in absolute terms.
2. Optimization of our donation management software!
Through in-house developments and automation, we can save ourselves a lot of work and transaction costs.
3. Expansion of the donor advisory service!
We want to respond even better to the needs of our donors in personal conversations and in the context of lectures and events.
4. More content!
We want to provide even more and better information about our approach and about the organizations we recommend. Via newsletter, blog, social media, Youtube, podcasts, the press....
5. Expansion of our activities in Switzerland!
Having recently started accepting tax-deductible donations in Switzerland, we want to significantly expand our presence there.
In addition, we will have to invest even more in tax and legal advice in the future and, for example, have our annual financial statements reviewed by an independent auditor. The constantly increasing support volume will also mean additional expense, despite planned automations.
Overall, we are currently planning for 2022 to be able to generate between 8 and 12 million euros of particularly effective donations[3] with a budget of 350,000 euros[4].
With a recent grant of 200,000 euros from the Effective Altruism Infrastructure Fund, we are still 150,000 euros short of our fundraising goal for 2022. Please support us[5] with your donation and become part of a community of more than 200 people who make Effektiv Spenden possible!
Notes
---