Introduction
Hey everyone, I'm Kirsten Angeles, former president of EA Blue, a student group in the Ateneo de Manila University in the Philippines (our chapter is called EA Blue because we are an unaccredited organization in our university, so we can't use our school's name but can use our school's color; hence EA Blue instead of EA ADMU). I'm writing this post to share what happened over EA Blue the last year from June 2020 to July 2021 to those not very familiar with us yet. We hope this can help other group organizers and EAs to learn a little more about us, and perhaps get some insights from our experiences this year that might be helpful to their groups in the future. We're particularly hoping that group organizers who are still starting off would be able to find this helpful. This post is approximately a ~20-minute read, and we've also provided a ~1-minute summary. We hope you find this helpful!
Summary of this post
We've just completed a successful second year as a university group in the Philippines, and now have more engaged members and a great core team - EA Blue started off last 2019 with few core team members and few active members in the organization. We started this year with 7 members in the executive board (EB) and core team and recruited 7 more members into our EB/Core Team for the Academic Year (AY) 2020-2021. We had a total of 48 fellows graduate from our introductory fellowships and ended the year with a total of 42 members in the organization.

We've organized several initiatives the past year, including two fellowships - We organized various projects over the last year, which included 4 events, socials, and 2 introductory EA fellowships. Our fellowships have been particularly successful with a total of 48 fellows completing them, 7 of whom joined the EB/Core Team afterward.

We've learned a lot from our second year of organizing, and have set a good foundation for its next year - Entering a school year with a small backbone of systems and people, we placed importance on having a thorough handover to create different resources and systems we hope would help sustain the org and make its next year more efficient. We also wanted to make sure we recruited a new EB/Core Team of 7 whom we are excited to see lead EA Blue for the AY 2021-2022. We experienced some mistakes over the last year and learned many important community-building lessons from them, which we've listed in this document.
Background on EA Blue
EA Blue is a university group of the EA movement from Ateneo de Manila University (ADMU). Our parent chapter is EA Philippines. Our vision is to be a welcoming, productive, and robust community of Ateneans who use evidence and reason to figure out how to help others as much as possible, and take action on that basis. Our mission is to help our members and the wider community use evidence and careful analysis to think about how they can maximize their social impact with their careers and resources.
EA Blue was founded by five students from ADMU in 2019 who attended and participated in some of EA Philippines' projects and events. Some of these students continued to organize for EA Blue in the school year 2020-2021. EA Blue is part of ADMU's League of Independent Organizations (LIONS), an association of unaccredited student organizations.
EA Blue's EB/Core Team for AY 2020-2021 consisted of 7 people in the first semester, and 12 members in second semester. You can see a list of the members in Appendix A
Key Achievements of EA Blue over the last year
Here are some of what we believe were our key achievements over the year (you can also some of EA Blue's highlights from the year in this video):
Successful Member Recruitment
We began the start of EA Blue's second year with 7 people in our executive board (EB) composed of students who were in the EB/Core Team the year prior, 1 student who graduated from EA Philippines' May-July 2020 discussion group, and 1 student who graduated from EA Singapore's August-November 2020 Arete Fellowship.
At the beginning of the school year, we aimed to recruit at least 40 students into the organization. Although we had some members from the last school year, most of them weren't active, so we started recruitment this year with a fresh slate. Because of the COVID-19 pandemic, recruitment was done online via an online web page, hosted by the League of Independent Organizations (LIONS).
Activities we did that helped in recruitment
Because EA Blue was still a relatively new organization, we started some initiatives to attract potential members prior to recruitment week. This included a social media campaign introducing EA, and 2 events: a high-impact career planning workshop, and a talk and panel discussion about working in the government.
60 students applied during recruitment week. Most applicants found out about EA Blue through our Facebook page, LIONS' recruitment website, or any of the 2 events we hosted before recruitment week.
Our Application Process
Our application process consisted of (1) filling out our application form, (2) attending a general assembly introducing EA and EA Blue, and (3) attending an interview with the EB. We accepted the 40 out of 60 applicants who completed these steps. 15 of our members went on to join EA Blue's first introductory virtual fellowship (7 of which joined the EB and Core Team during the second semester) and the rest we considered as community members. We also got 16 more students to join EA Blue throughout the year by completing our 2nd semester introductory fellowship.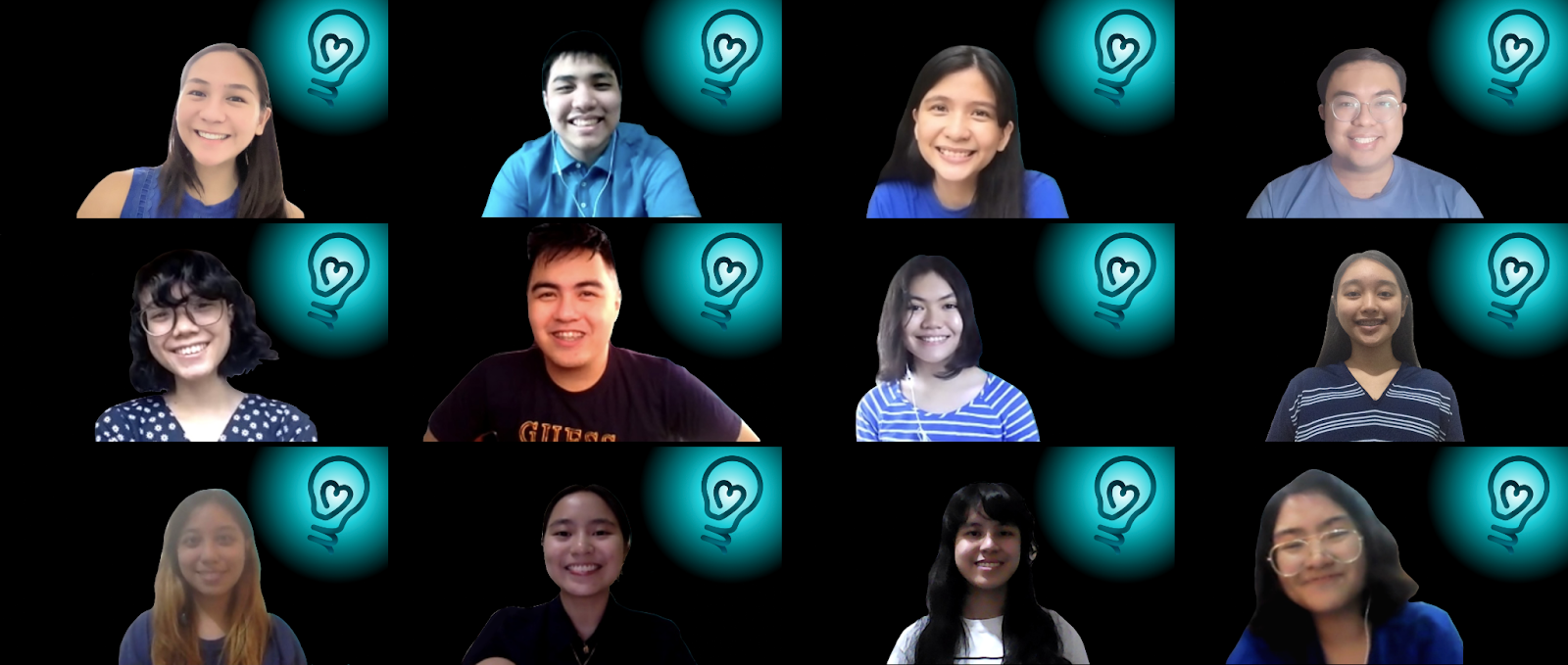 Our Member Retention System
66% (42/64) of our total members have been retained for the next school year. We kept track of this through a retention system, where members would be "retained" dependent on core team engagement, participation in EA Blue events or external EA events, or our virtual fellowship to get at least five points according to our Membership Point System. We created this system to incentivize members to participate in events so that they wouldn't need to reapply the following year, and also ensures that we keep our most engaged members. All of our retained members were those who completed a fellowship or had core team engagement, and none of our community members were retained.
We summarized our membership this year in the following figure:

Two Successful Introductory Virtual Fellowships
We held 2 Introductory Virtual Fellowships (VFs) over the last year:
Introductory Virtual Fellowship 01
The first cycle ran for 7 weeks from October-December 2020, using this syllabus (patterned after EA Philippines' May-July 2020's discussion group's). We had five student facilitators and four facilitators who are working professionals from EA Philippines. The fellowship had 26 applicants and 20 graduates; 8 fellows joined the EA Student Summit and 4 joined the EAGxAPAC conference. The fellowship got an average likelihood to recommend rating of 9.35/10 (with 20 respondents) in its completion survey, and 7 fellows ended up in EA Blue's Core Team during the second semester.

While this fellowship reached all its initial goals, it was a little tough to run, because it had a very small core team of three and because only a couple members of its team attended an EA discussion group prior (thus knowing the concepts better/the general flow of a fellowship).
Introductory Virtual Fellowship 02
The second cycle ran for 10 weeks from March-June 2021, using this syllabus (edited from CEA's January 2021 syllabus) with 33 applicants, 28 overall fellows, and 28 graduates. The fellowship got an average likelihood to recommend rating of 9.25/10 (with 8 respondents) in its completion survey.

This fellowship was particularly well-run, and we attribute it to its 2 great co-heads and a core team of 4 who were all graduates of the first fellowship. The team was always well-prepared, thought through its content, and added extra initiatives too, like co-reading sessions where fellows could read materials together and an "AfterpartEA".

The AfterpartEA served as our year-ender socials where fellows of EA Blue's 2nd virtual fellowship graduated and members of EA Blue and other members of EA Philippines got together to look back on the year, have conversations, and play games. You can view a video commemorating their second virtual fellowship here.

You can also view a SWOT analysis and suggestions to start/stop/continue from the fellowship's co-heads in this doc.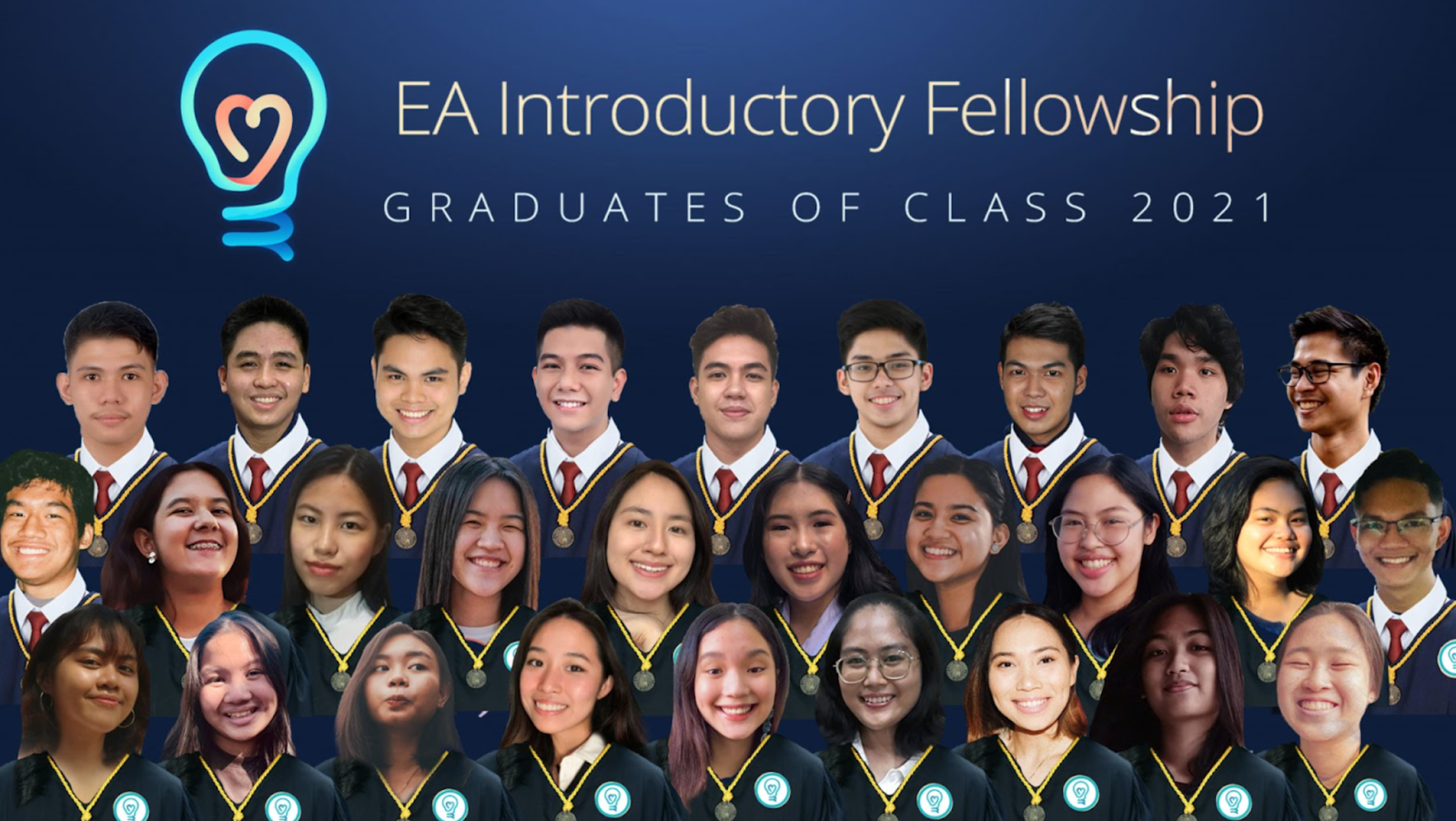 Successful Org Handover and New EB Recruitment
Recognizing the importance of having a proper handover to sustain the group properly, we created a four-step process for the handover:
Recruitment - this entailed deciding on what the EB/Core Team positions would be available for the next year, organizing an application/deliberations process, and finalizing the new EB/Core Team members for the next year. We held 2 cycles, recruiting four members from the first cycle, and three from the second cycle (view Appendix B for the list of names). You can read more about our application process here.
Resources - for this phase, we focused on preparing necessary/helpful resources for the next year's EB/Core Team. Departments prepared important templates or procedures that could be used for the next year, and each VP created a handover doc for their respective departments, which were compiled into a master handover doc.
Repositioning - this phase focused on properly turning over roles and having proper transitioning between old and new EB members. We had a Transitioning Ceremony and conducted transition 1-1s for this.
Review - this last phase entailed assessing our impact on our members through a community impact survey, reviewing our org's systems and operations through department evaluation reports, and looking over our achievements over the past year through an annual report (this one).
Supporting, coordinating, or meeting with EA Philippines and other student chapters
This year, EA Blue got to interact with different student chapters locally and abroad. We've found a lot of value in having our members join foreign discussions to learn more about EA (e.g. EA Virtual Programs) and in having socials with other chapters. We've met other student chapters through:
Virtual EA conferences, such as the EAGxAPAC, EA Student Summit, or Fellowship Weekend.
Other EA programs such as the informal Precipice reading group, where we joined members of EA CMU, MIT, UCI, Brown, Penn, and Stanford; or
Other meetings or 1-1s with group organizers.
EA Blue is also proud to have supported EA groups locally, such as funneling 6 of our members to be interns for EA Philippines and sharing project or document templates to EA UP Diliman, EA De La Salle University-Manila, and EA Philippines to copy.
Case Studies of Our Impact
Here are a few of our active members whom we think we have counterfactually positively impacted, and hope to see create more positive impact themselves:
Sophia "Pia" Tabanao

Background: Pia joined EA Blue in her second year studying AB Development Studies in ADMU and is currently the president of EA Blue.
How she has interacted with us: Pia first heard about EA after attending one of EA Blue's events at the beginning of the school year of 2020-2021. Since then, Pia has been an active member of the organization and participated in EA Blue's first introductory fellowship. She then joined EA Blue's Core Team and EB, being both an Operations Associate and the VP for External Affairs. She helped organize several initiatives, including the second introductory fellowship.
Her engagement with the EA community: Pia has attended different EA conferences, events, and fellowships, and has spent time interning in an EA-aligned organization called the Fish Welfare Initiative, where she did exploratory work for fish welfare interventions in the Philippines.
Her career plans: Pia said that EA Blue has impacted her career plans. She is now keen on finding a career in the academe, government, or an NGO in a cause area that she is interested in (currently it's animal welfare).


Irish "Ase" Morales

Background: Ase joined EA Blue in their first year studying BSMS Computer Science at ADMU. They found out about EA Blue through LIONS' recruitment week website at the beginning of the school year and decided to join it after reading EA Blue's Facebook page.
How they have interacted with us: Ase attended EA Blue's first introductory fellowship, joined the core team as an HR associate, and did a great job co-heading the second introductory fellowship. They also served and participated in other EA Blue initiatives and attended several of EA Philippines' events.
Their engagement with the EA community: Ase is an active member of the EA Philippines community, often interacting with EA PH members through regular co-working sessions and attending EA PH events. Ase has attended the Future of Humanity Summit, the EA Fellowship Weekend, and is currently attending the global in-depth fellowship run by Stanford EA.
Their career plans: Ase is interested in a career in academic research, such as computational social science or AI safety, and is also interested to work on health and development.


David Africa

Background: David joined EA Blue in his second year studying BS Applied Mathematics with a master's in Data Science. He is also a competitive debater and was a finalist in the 2021 Korea World University Debating Championship Open Finals. He read about EA online before encountering EA Blue.
How he has interacted with us: David joined EA Blue last school year and was an active member who joined EA Blue's first introductory fellowship and facilitated for the second introductory fellowship.
His engagement with the EA community: David has interned for EA Philippines, where he researched for a guide on how to get a Ph.D. in Computer Science.
His career plans: David is interested in a career in AI safety, and plans to pursue a Ph.D. in Computer Science or AI abroad after his Masters.
Activities we ran, and what we learned from them
Speaker events and workshops
Over the last year, we ran four speaker events/workshops. In the table below, we detailed each event, how many signups and attendees each event got, and what their average likelihood to recommend rating or average overall experience rating was.
Table 3. Summary of EA Blue events for the AY 2020-2021.
Event
Attendance
Average likelihood to recommend or overall experience rating

"Career Planning for Social Impact" - a 2-hour virtual workshop held August 29, 2020, with keynote speaker Brian Tan, co-founder of EA Philippines

49 sign-ups
33 event attendees

Average experience rating = 4.6/5

"Why You Should Consider Working in the Government" - a 2-hour talk and panel discussion held September 19, 2020, with EA PH co-founder Nastassja Quijano as our keynote speaker discussing key considerations about working in the government. We also invited three guests who work in various areas of the government, Alex Agcaoili, Camille Baladjay, and Mae Ballena to speak with us in a panel discussion moderated by Tanya Quijano. All of the panelists have some interest in effective altruism and have attended at least one of EA Philippines' events before.




Average likelihood to recommend rating = 4.9/5

EA Concepts Workshop - an introduction to EA concepts workshop patterned after Yale EA's held February 27, 2021.

Average likelihood to recommend rating = 4.87/5

Productivity Workshop - a 2-hour interactive event held March 06, 2021, with life coach Chewy Sy as our speaker. In this workshop, we discussed how you can achieve meaningful and sustainable productivity, which is important to maximize your impact.

Average experience rating = 4.9/5



These events were generally run by members of the EB/Core Team, which was difficult sometimes and led to burnout (especially with an uneven distribution of workload or sprints) or over-focusing on the event and overlooking the other operations of the org.
To make things easier for the future, we built a Project Management Kit, which includes tips on running events, a mastersheet template, and templates for meeting minutes, event slides, registration/evaluation forms, debriefing, project assessment, and a sample token/thank you email for speaker events.
Two introductory virtual fellowships
EA Blue is happy to have run 2 virtual introductory fellowships: the first cycle running for 7 weeks last October to December 2020, and the second cycle running for 10 weeks, from March to June 2021. 20 fellows graduated from the first cycle and 28 graduated from the second cycle (this is talked more about above).
Socials
EA Blue held three socials with its members, other local EA university chapters, and EA Philippines. We've had socials focusing on breakout rooms for 1-1s or group discussion, some with games (e.g. Among Us), or just chill discussions.
Other initiatives
Apart from the initiatives mentioned above, we also had these other initiatives, which varied in success:
Borrow a book - To help our members further engage in EA-learning, we have set up a system wherein they may browse our books section in our EA Blue hub, and request for us to send them copies of EA-related books they are interested to read. This was rarely used though so we might've been able to advertise this better.

Coffee chats - We started Coffee Chats for members interested to learn more about EA or EA Blue to be able to schedule 1-1s with members of EA Blue's EB/Core Team. We only had one the whole year though, so we could've advertised this better, or reached out to our members ourselves (which would've been difficult considering our small manpower).

Effective Altruism Blue Hub - We created an EA Blue Hub on Notion inspired by Brown EA's website, containing information/resources relevant to EA or EA Blue that our members can explore for them to learn more about EA or EA Blue specifically. We hoped this would be a way for members or our other followers to have self-directed learning about EA concepts or areas in EA they are interested in. Further, this can also serve as a place where members can read our content. You can visit our hub here.

EA Blue's Discord Server - We used Discord as our org's primary communication platform throughout the year, which served as a channel to share announcements, have co-working sessions, or discuss cause areas or other random topics with each other. Our Discord server might have been quite messy, so this could be better organized in the future. We also had a Facebook group, which was used less frequently, so we might consider centralizing communication platforms.
Obstacles and problems we encountered, and how we dealt with them
Dormant departments - we began this school year with 6 departments under the president, which you can read more about here. However, 2 departments ended up becoming dormant: the Finance Department and the Research Department, and to some extent, the External Affairs department.

The Finance department became dormant because EA Blue rarely had any expenses the last school year, and did not have any fundraising events. As a result, the VP for Finance had minimal work to do and ended up also becoming an associate for the Internal Affairs department.

The Research department served as a way to funnel EA Blue members to researching with EA Philippines but had a difficult time conceptualizing EA Blue-specific projects that could be high-impact. After some discussions, we decided to not pursue some of the planned projects and dissolve the Research department for the next school year, so that instead, research projects would be centralized in EA Philippines.

The External Affairs Department was generally dormant because EA Blue never really took on proposals or partnerships from other orgs in our school. However, we did join one mental health partnership, which resulted in having some of our posts shared.

Lack of engagement with community members - our most engaged members were our fellows and EB/Core Team members. We ended the school year with 42 retained members (out of 64), who were all graduates of the Introductory Virtual Fellowship.

Few of our community members attended our events or socials, and we did not have many initiatives that could keep them engaged, apart from our Discord (which we tried to keep active, but didn't always successfully do so) and Coffee Chats, which rarely happened.

Ideally, community members would be looked over by the Internal Affairs department, but because we lacked a VP during the 2nd semester, and 2 of the IA associates were co-heading the fellowship, we didn't really have people to take charge of these.

We are still happy with focusing on our more engaged members and are unsure how much time to invest engaging with community members, but believe that it can still be valuable to gear 1-2 events per semester towards them.

Technical difficulties e.g. internet problems - because all events/meetings were conducted online, there were instances where organizers or participants experienced internet problems or other technical issues during events/meetings.

If an organizer would experience technical problems, this would be mitigated by having a backup representative take over the task of the member experiencing the problem. For org's members or event participants, we tried to extend as much consideration in ways such as recording the event whenever possible.

Academic workload of EB/Core Team or members - the school year got quite busy a lot of the time, which resulted in tired EB/Core Team members, fewer attendees in events/meetups, and less attendance in EB meetings. We don't want EA Blue work to heavily interfere with our team's academics, so when times got especially busy (e.g. finals week), we decided to cancel meetings/meetups or make them asynchronous.

Delayed timelines - EA Blue's EB/Core Team experienced delaying the timelines of various projects over the last school year, such as pushing timelines in our handover process, completing a Change Management Plan, and moving the fellowship. These were either due to unfinished tasks that weren't meeting the deadline, busy academic weeks, or typhoons. When we delayed timelines, we had to reconsider some of our tasks, keep our team members/org members informed, and ensure new timelines weren't conflicting with other timelines.

EB member resignations - we had one EB member resign from the first semester, and another EB member resign from the second semester. These were blows to organizing because it meant less manpower, resulting in tasks being overlooked or taken over by EB members who were already overseeing other projects or tasks.

However, we recognize that resignations are important and necessary. For the future, we recommend ensuring a proper process in place to ensure having a person capable of filling the vacancy before moving forward. To prepare for the future, EA Blue created a set of procedures for EB/Core Team members looking to file a leave of absence (LOA) or resign from their role.
What's next for EA Blue?
EA Blue is excited to enter its third year with a new EB (See Appendix B). Because we've set a lot of systems and resources in place the last year, we might have a different strategy the next year. We hope to spend the next year continuing to organize introductory EA initiatives as well as more in-depth EA initiatives. We hope to learn from the mistakes we made this year and look forward to an organization with a great community of engaged members excited to do the most good they can.
Follow us on social media!
Acknowledgments
EA Blue's second year could not have been possible without its Executive Board (EB) and core team members: Rika Gabriel, Isay Soliman, Pia Ventura, Pia Tabanao, Zian Bonoan, Lenz Dagohoy, Ase Morales, Neil Limbaga, Mei Lee, David Africa, and Miguel Palmero. They've been great organizers and I'm lucky to have worked with them. I am also grateful to EA Philippines, particularly to Brian Tan and Tanya Quijano for supervising us and always being willing to help.
Thanks for reading! If you have any questions, concerns, or insights, feel free to email me at kirsten.angeles@obf.ateneo.edu.
---
APPENDIX
Appendix A. EB/Core Team Organizers for EA Blue AY 2020-2021.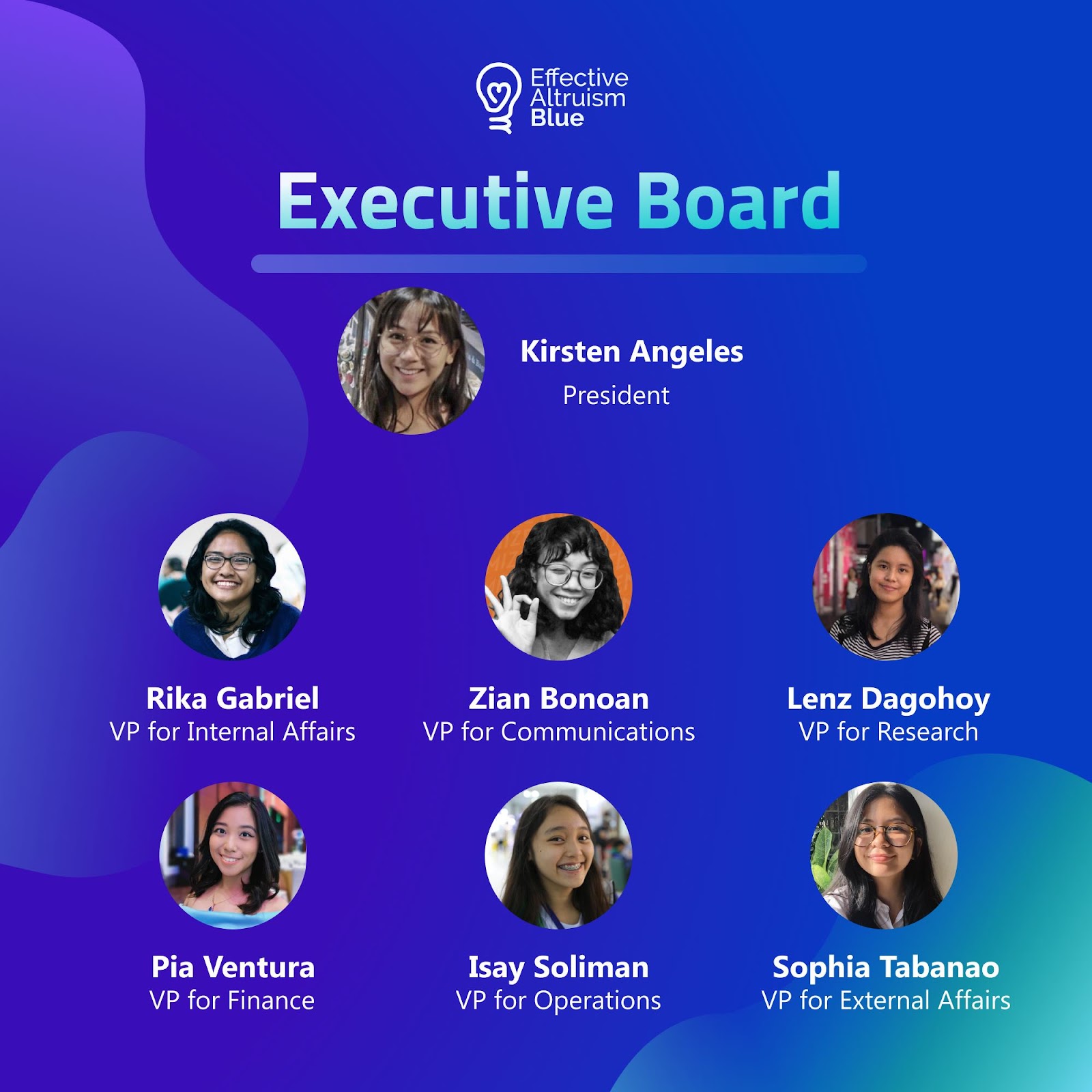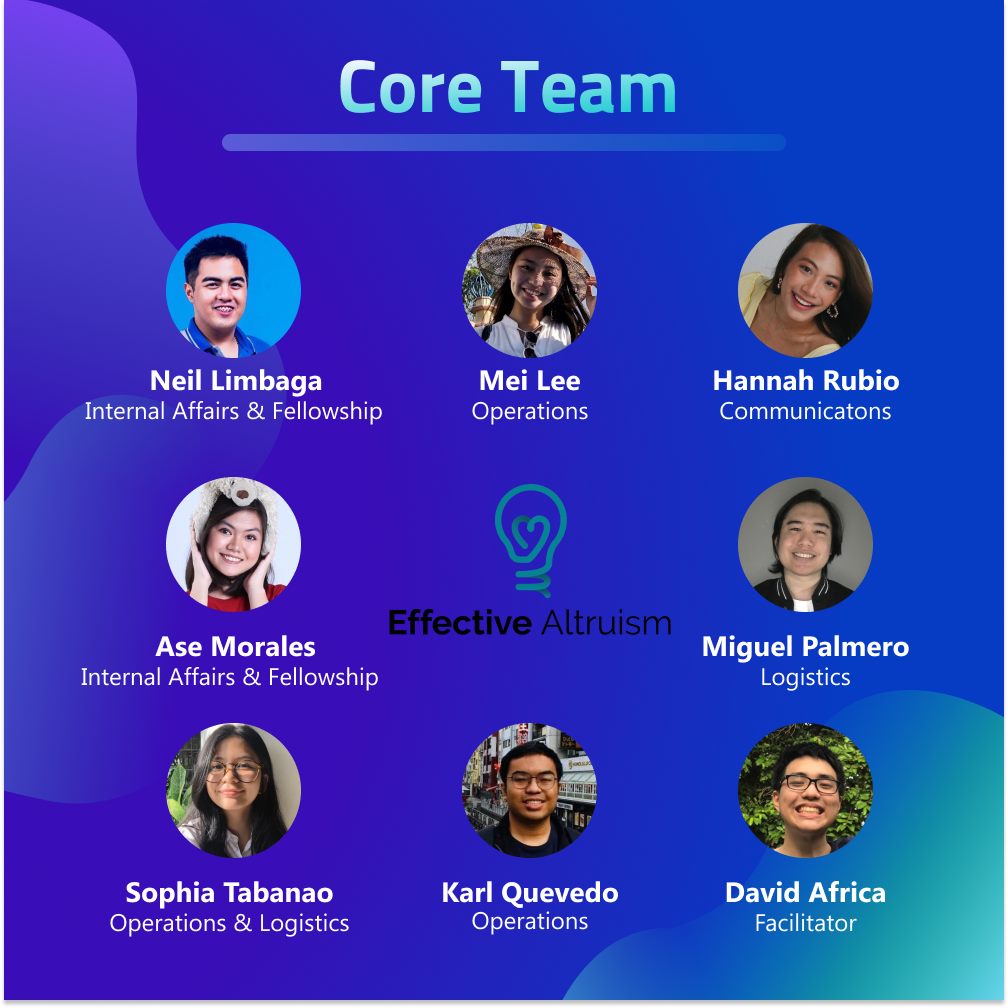 | | |
| --- | --- |
| Position | Name |
| President | Kirsten Angeles |
| VP Internal Affairs | Rikaela Gabriel |
| VP for External Affairs and Operations Associate | Sophia Tabanao |
| VP for Operations | Nicole Soliman |
| VP for Communications | Zian Bonoan |
| VP for Finance | Sophia T. Ventura |
| VP for Research | Jan Llenzl Dagohoy |
| Communications Associate | Hannah Rubio |
| Operations Associate, Virtual Fellowship Logistics head | Mei Lee |
| Operations Associate | Karl Quevedo |
| Internal Affairs Associate, Virtual Fellowship Co-head | Ase Morales |
| Internal Affairs Associate, Virtual Fellowship Co-head | Neil Limbaga |
| Virtual Fellowship Logistics head | Miguel Palmero |
| Virtual Fellowship facilitator | David Africa |
Appendix B. EB/Core Team Organizers for EA Blue AY 2021-2022.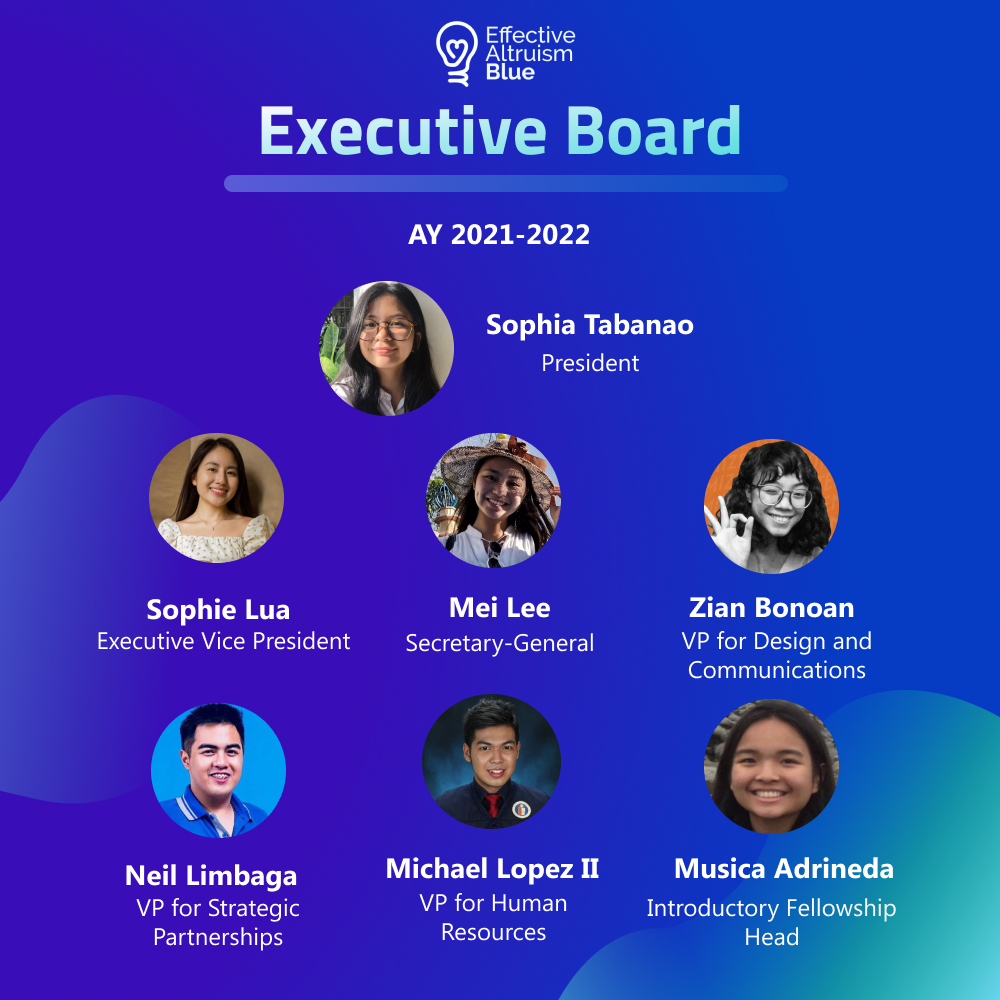 | | |
| --- | --- |
| Position | Name |
| President | Sophia Tabanao |
| Secretary-General | Mei Lee |
| Executive Vice President | Sophie Lua |
| VP for Design and Communications | Zian Bonoan |
| VP for Strategic Partnerships | Neil Limbaga |
| VP for Human Resources | Michael Lopez II |
| Introductory Virtual Fellowship head | Musica Adrineda |