Promoting climate considerations within existing high priority areas of work
This post is in response to Open Philanthropy's call for cause exploration work in global health and wellbeing. This post has now been slightly edited to provide additional context and references.
Rather than suggesting a completely novel cause area, I suggest increased focus to the effects of climate change within the existing high priority OP cause areas. By highlighting different bodies of research within each focus area that indicate we should be including considerations about climate change, I ultimately argue current estimates for the cost-effectiveness of different interventions and priority areas need to be adjusted. More concretely, I suggest that lack of preparedness for climate change may make some interventions less beneficial, and that, conversely, addressing considerations of climate change such as anticipating who is most at risk, may make some interventions more impactful. Further, I suggest that embedding climate considerations within currently prioritized causes may advance climate research and help mitigate climate change associated suffering.
Main points
(I note as a broad comment that including "risk considerations" in general for the delivery of any program can be important, such as considering the distribution of a diseases across sex or regional context. Here, I highlight the impacts of climate change as there is reason to anticipate these impacts will be global or vastly spread and sustained over long periods of time.)
Here, I take in turn some of Open Philanthropy's focus areas and discuss how we might embed climate consideration in impactful ways.
Global Health & Development
Biosecurity and Pandemic Preparedness
Figure from Mahmud and colleagues (2020). Top panel: mean projected change in temperature (ΔT) and precipitation (ΔP) in 2100 relative to 2000. Bottom panel: plot shows a summary of climate drivers (temperature or precipitation) for different vaccine-preventable diseases and the "best case" modeling effort reviewed, where we assume the best case is a fully mechanistic model using projection data. Absolute humidity drivers are counted under temperature-driven given the functional dependence of the two variables.
Effective Altruism Community Growth
Farm Animal Welfare
Potential Risks from (Advanced) AI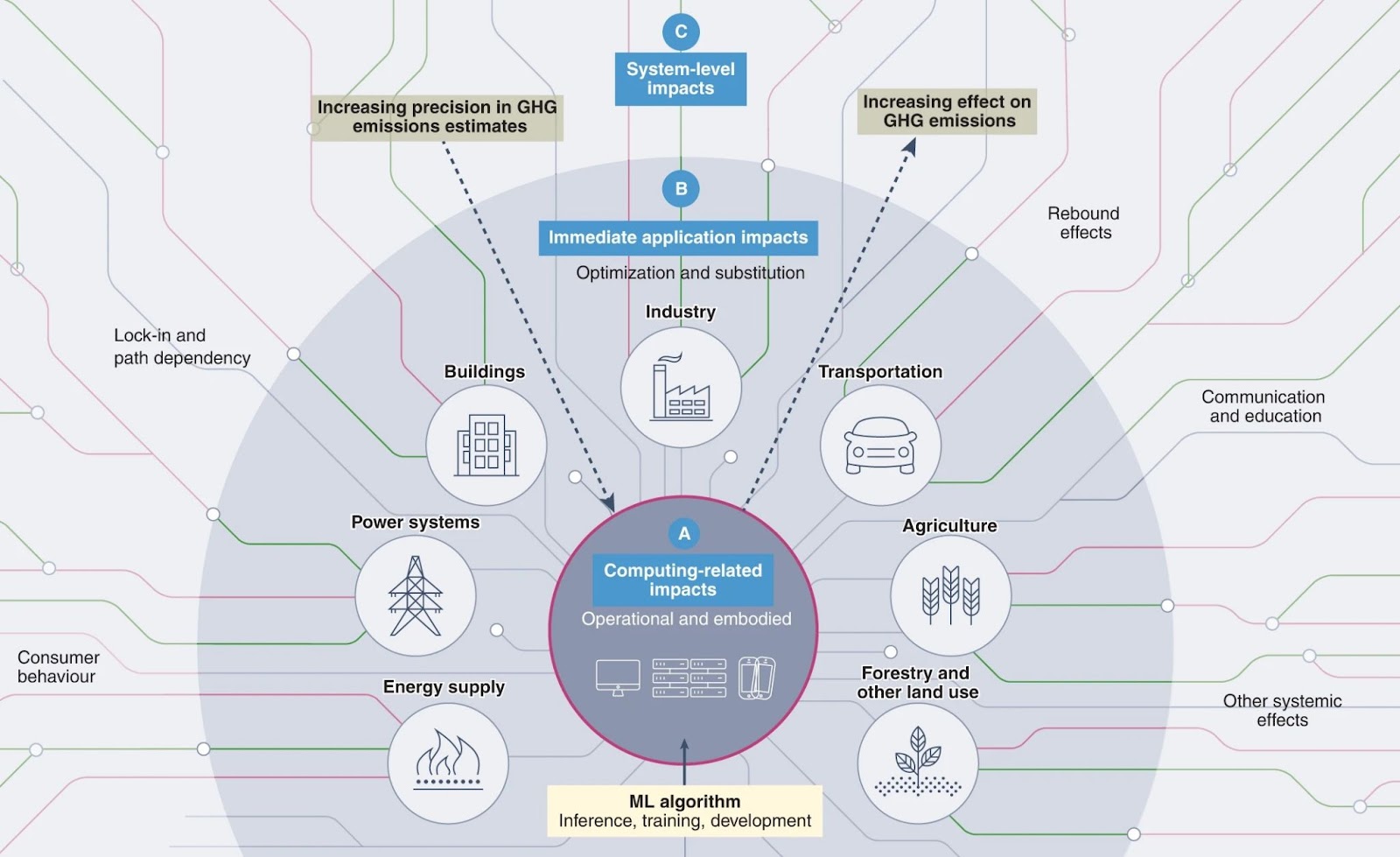 Figure from Kaack et al., 2022. Framework for assessing the greenhouse gas emission impacts of machine learning. Green lines indicate reductions in GHG emission, magenta lines indicate increases, and gray lines indicate uncertainties (or likely negligible effects).
South Asian Air Quality