TL;DR:
Please refer talented individuals with UI, UX, and/or Product Design skills to us!
This role will have design ownership of some of the most prominent platforms and interactions in effective altruism, and will also have significant influence over the design practices of core EA orgs - we expect it will have a correspondingly large impact.
If that sounds like a good fit for you, apply here!
This is a full-time, remote role - learn more here.
Why here, why now?
We are looking for a Product Designer to join the Online team at the Centre for Effective Altruism (CEA). If you haven't heard of CEA before, we encourage you to learn more about the organization and our strategy.
If you haven't heard of effective altruism before (welcome!), you can learn more here.
The Online team helps to introduce people to effective altruism through effectivealtruism.org and the EA Newsletter, and also fosters a strong exchange of information within the community by building and running this very forum.
To quote Ben West's recent call for Product Managers:
This forum has undergone huge growth recently:

This growth is exciting, but also brings new problems. We are no longer in a world where even the most dedicated EA's can keep up with everything that's written, and the large influx of new people will stretch our ability to create and share common knowledge. EA seems poised to influence the next generation of thinkers and leaders, and this site is a major way we communicate with each other, from top journalists to CEOs of billion-dollar companies.

The EA Forum team is considering:

Introducing Reddit-style federated sub-forums, to better direct people to the content they find useful.
Diving deep into key user journeys, to understand where people bounce and how we can prevent that. For instance, trying to better understand the experience of a newcomer who gets sent a post by their group organizer for the first time.
Improving recommendations and personalization such that newcomers don't bounce from confusion but old-timers don't bounce from boredom.
To do this well, we need design expertise and we are looking for someone to join the team who is comfortable owning every stage of the product design process. This will be CEA's first full-time design hire and will pioneer design work for some of EA's most prominent websites.
Doesn't sound like you, but think you might know someone who would be great for the role? Please refer them to us by sharing this post! We are very happy to talk to strong designers who might not have as much experience within the EA community.
Does sound like you? Apply here or read on for more information on the role and application.
Your role
See more detail in the job description here. As Product Designer, you would:
Develop and maintain a distinctive visual style for the core organisations in effective altruism which is in keeping with the movement's broad goals and values.
Implement that visual style across various online products.
Lead the team in implementing a user-centred approach to design.
Work closely with Product Managers to translate research insights into design concepts for new products and features.
Design and deliver wireframes and mockups optimised for a wide range of devices and interfaces, in a form which is easily consumed by our team of engineers. We use Figma for this, but previous experience with the tool is not required.
Iterate frequently, rapidly testing designs and hypotheses wherever possible.
Build and own CEA's UI and UX toolset, process, and design system.
Collaborate with other team members and stakeholders.
Ask questions, take risks and champion new ideas.
As the first design hire, you would also have a significant degree of flexibility to explore additional responsibilities which might be of interest to you. A few examples which you might consider but we would not expect: graphic design for EAG, brand ownership for CEA, design strategy and coordination with other core EA organizations, etc.
An example project
Our user interviews have revealed that many people are making connections with each other on the EA Forum, and we believe there is huge untapped value in being able to better connect these people, but we need to create designs which do this while still preserving the existing sources of value that people get from reading posts, commenting, etc.
As a Product Designer in the example above, you would collaborate closely with one of our Product Managers to identify one or more promising design concepts from the collected user feedback and turn these into mockups for our engineers to develop and release. Throughout the process you would look for opportunities to test the assumptions and impact of your designs and continuously iterate and improve the outputs.
Why this matters
You will touch every design and interaction our users have with some of the most prominent websites in effective altruism. We think strong design has the potential to improve the quality of information and interactions across the entire community.
You will also have a really high degree of autonomy in setting the standard for design at CEA. As the first design hire for the organization, we will expect you to take ownership of key design decisions. It is worth noting this also means you will not have built-in design mentorship, although we do actively support learning and growth as an organization.
Salary
Salaries for candidates who prefer to work remotely will be decided based on location and skills, see a few calibration points below:
The salary range for Oxford is £50,700-£81,400 depending on experience
The salary range for San Francisco is $96,400-$157,600 depending on experience
There is some flexibility above these ranges for exceptional candidates
CEA always wants to know if our salaries ranges are preventing people from applying. If you find yourself hesitating because of these numbers please let us know (anonymously if you prefer).
Location
This is a remote role, so you can work from anywhere. And CEA is a remote-first organization - this means we follow practices like: if there is a 'hybrid' call with several people remote and several people in person, everyone joins the call separately so the remote people aren't left out.
However, it is worth noting that most of our current team are US- or UK-based, so we prefer applicants who are able to work in time zones between US Pacific Time and GMT. One of our remote-first practices is to hold a period of overlapping time every day when all our team members will be online simultaneously. We therefore require that applicants be available 5-7 PM GMT, Monday through Friday.
The team also has access to several offices, and you would too:
Oxford: Trajan House, an EA hub in Oxford home to CEA as well as several other EA orgs
Berkeley: the Lightcone (LessWrong) team has an office there, which some CEA staff work out of sometimes
Boston: some of the CEA team are helping to start a local EA coworking space along with other EA/longtermist organizations
Should you apply?
If you would feel comfortable leading the design of two significant web products and have career plans driven in large part by a desire to maximize your social impact, we encourage you to apply!
There are no formal requirements for previous experience for this position, however we expect that most candidates will have 2+ years of professional experience and will be comfortable owning most elements of product design. (We would also be happy for candidates with much more experience to apply - we think this role has a lot of potential for greater breadth/depth.)
If you're unsure, please err on the side of applying - help us avoid the candidate bystander effect.
Will you waste our time by applying?
No. Simple as that. We would tell you if we were worried you would.
What is the deadline to apply?
Friday, September 16
How hard is it to apply?
CEA sincerely tries to make it easy and worthwhile for you to apply.
This application is a 16-question form which we think you can complete in under 10 minutes (Ryan has tested this with sincere answers to gauge timing):
[30s] 4 quick fields for applicant information (name, email, etc.)
[30s] The option to upload a resume and/or provide your LinkedIn URL (and yes, the resume truly is optional if you include your LinkedIn)
[60s] 8 quick multiple choice questions
[5-10 min, but less is fine] 3 more open-ended questions (which you are encouraged to answer in 1-2 sentences, we aren't expecting essays)
We would also ask that you provide a link to your portfolio or past work in the "Additional Info" section of the application.
What does the interview process look like?
The interview process has the following stages:
A 15 minute call, mostly for you to ask questions.
A 2 hour design trial task which you will do on your own. We put a short time-bound on this very intentionally so people don't spend days on it.
A 1 hour portfolio review with a few members of our team - you present a project from your portfolio and answer a few questions about it, then ask our team any questions you'd like.
A slightly-less-than-1 day virtual "on-site" structured as -

A 1 hour call with our People Ops team: some questions about your background, work history, and some other questions to help us better understand you as a candidate.
A 2 hour collaborative whiteboarding task: work with a Product Manager to build a wireframe/mockup (tool of your choice) based on insights from user research.
A 1.5 hour design task: build a higher-fidelity but smaller scope mockup (also tool of your choice) and present it to an engineer as though they were subsequently going to develop it.

A paid 1-2 day work trial: work as a member of the team on an actual deliverable we'd like to ship.
We target a turnaround time of 1 week or less between stages, so if you applied today you could be on your work trial by early next month. That said, we have some flexibility in the timing of this role so if you would prefer a slower process please let us know in your application.
How should you prepare for the interview process?
We will provide additional briefs before each stage in the process, but a few general recommendations from the hiring team include:
If you haven't used Figma before, spend some time familiarizing yourself with the tool
Tools like Sharpen (filtered to Products & UX - Digital Products) and Designercize can be a good way to practice design challenges
Spend some time reviewing your portfolio / past work and reminding yourself of the design thinking behind your favorite projects
Do some reading about CEA and Effective Altruism if you aren't already familiar (but don't agonize over this - there is a lot to read out there and we don't expect you to have consumed it all!)
What feedback will you get if you don't pass?
It depends on which stage you reach:
Before the interview: categorical feedback, such as "not enough experience" or "not aligned enough with EA".
After the first trial task: if requested, Ryan or Ben will provide a paragraph of feedback. Based on past experience, we expect >75% of the time this will be something along the lines of "your submission didn't pass the bar for functional or aesthetic design for x, y, and z reasons", <25% of the time it will be something like "we think you failed to identify or misconstrued the key considerations of the design requirements, and would encourage you to consider x, y, or z variables in similar situations."
At a later stage: if requested, Ryan or Ben will provide 1-3 paragraphs of feedback, the specific nature of which will depend on the stage.
How do I know a bot didn't write this?
You don't. AI is scary. But if it helps, this is a photo of the real flesh-and-blood human people who work in the Online team, wearing what we wear on a totally normal workday: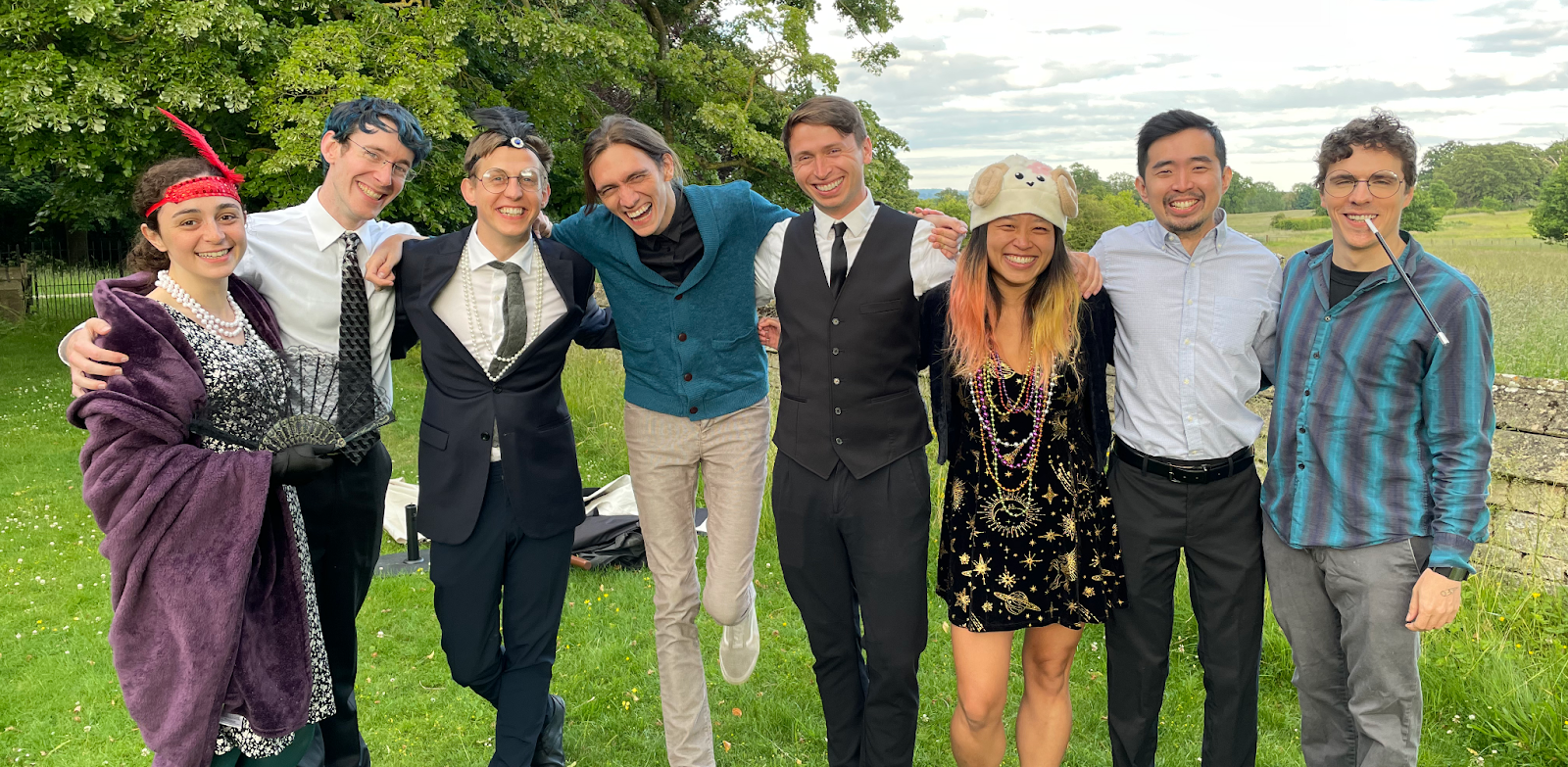 The Online Team as of early June (2 new hires since then!)
Hopefully that allays your concerns. Because AI can't generate realistic images of people, right?
Are you still uncertain about whether to apply?
Please comment or fill in this anonymous form and tell us what we're missing.
AMA
Have a lingering question we didn't answer? Someone else probably has the same one! We invite you to enjoy CEA's software by asking us anything below.
Thanks to Yonatan Cale for advice on the structure of this post, and the CEA Online team for feedback and refinement of the content!