TLDR; The European Network for AI Safety is a central point for connecting researchers and community organizers in Europe with opportunities and events happening in their vicinity. Sign up here to become a member of the network, and join our launch event on Wednesday, April 5th from 20:00-21:00 CET!
Why did we create ENAIS?
ENAIS (pronounced e-nice) was founded by European AI safety researchers and field-builders who recognized the lack of interaction among various groups in the region. Our goal is to address the decentralized nature of AI safety work in Europe by improving information exchange and coordination.
We focus on Europe for several reasons: a Europe-specific organization can better address local issues like the EU AI Act, foster smoother collaboration among members and the free travel within Schengen also eases event coordination.
About the network
ENAIS strives to advance AI Safety in Europe, mitigate risks from AI systems, particularly existential risks, and enhance collaboration among the continent's isolated AI Safety communities.
We also aim to connect international communities by sharing insights about European activities and information from other hubs. We plan to offer infrastructure and support for establishing communities, coworking spaces, and assistance for independent researchers with operational needs.
Concretely, we organize / create:
A centralized online location for accessing European AI safety hubs and resources for field-building on the enais.co website. The map on the front page provides direct access to the most relevant links and locations across Europe for AI safety.
A quarterly newsletter with updated information about what field-builders and AI safety researchers should be aware of in Continental Europe.
A professional network and database of the organizations and people working on AI safety.
Events and 1-1 career advice to aid transitioning into AI Safety or between different AI Safety roles.
Support for people wanting to create a similar organization in other regions.
We intend to leverage the expertise of the network to positively impact policy proposals in Europe (like the EU AI Act), as policymakers and technical researchers can more easily find each other. In addition, we aim to create infrastructure to make the research work of European researchers easier and more productive, for example, by helping researchers with finding an employer of records and getting funding.
With the decentralized nature of ENAIS, we also invite network members to self-organize events under the ENAIS banner with support from other members.
What does European AI safety currently look like?
Below you will find a non-exhaustive map of cities with AI Safety researchers or organizations. The green markers indicate an AIS group, whereas the blue markers indicate individual AIS researchers or smaller groups. You are invited to add information to the map here.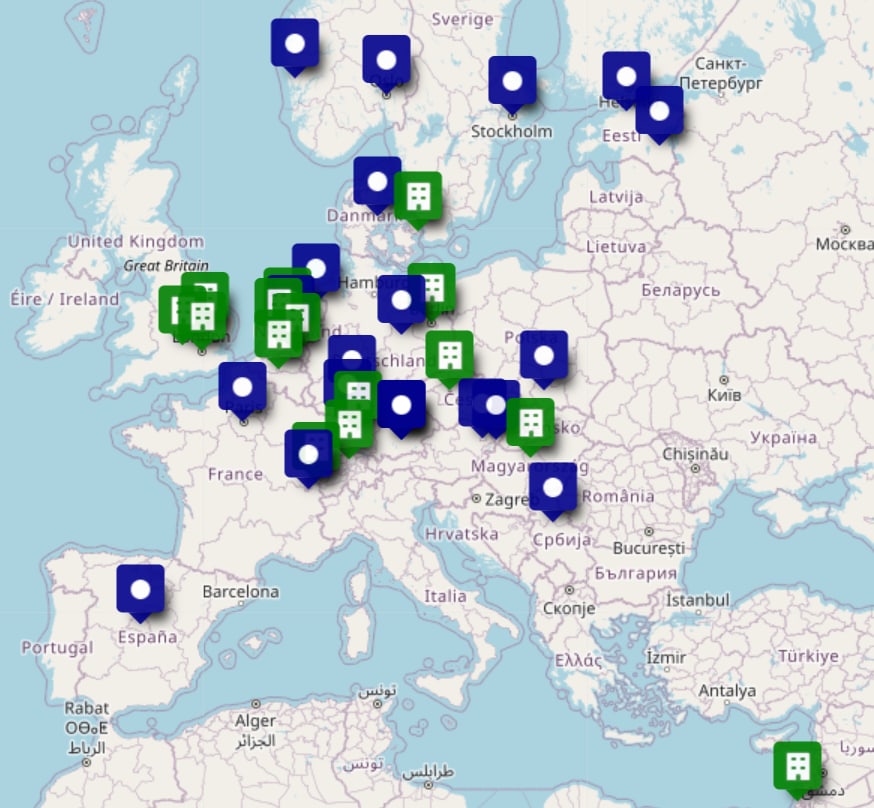 Vision
The initial vision for ENAIS is to be the go-to access point for information and people interested in AI safety in Europe. We also want to provide a network and brand for groups and events.
The longer-term strategy and vision will mostly be developed by the people who join as directors with guidance from the board. This might include projects such as policymaker communication, event coordination, regranting, community incubation, and researcher outreach.
Join the network!
Sign up for the network here by providing information on your interests, openness to collaboration, and location. We will include you in our database (if you previously filled in information, we will email you so you may update your information). You can choose your level of privacy to not appear publicly and only to members if you prefer. This will serve to more easily find collaborators, co-workers (in your cities), co-founders (startup or non-profit), and understand where people are across the continent.
There are two main purposes for joining the network. First, this leads to an improved understanding of which organizations are working within AI safety across Europe. Second, it facilitates finding talent and collaborators who are in the same cities or locations as yourself.
The near future of ENAIS
Current Organization—Temporary Board, calling for permanent board
Currently, what we call the coordination board is a decentralized group of temporary volunteers across Europe. We have started this as the initial steps towards better coordination across Europe and expect one to several permanent positions to take ownership and define the longer-term strategic direction for ENAIS.
If you are interested in becoming a board member or taking an executive position in the permanent ENAIS organization, express your interest in the forms below. We will notify you once we have funding and open these positions, which might take several months (don't quit your job yet!):
Launch Event
Please join us on Wednesday, April 5th from 20:00-21:00 CET. (Note: we moved the event with an hour to avoid overlap with another event.) We will have a brief overview of ENAIS and how you might get involved, as well as short talks from various communities around Europe about what's going on in their country. Finally, we'll provide an opportunity to socialize and meet people with shared interests. Sign up here!
Conclusions
Predominantly, we're hoping to help Europe be the best it can be at AI Safety. A good step to help with this goal is for individuals and organizations to join and collaborate. Lastly, we encourage other regions to organize similar groups. Please contact us at contact@enais.co if interested (for this or any other AI safety coordination-related project).
Acknowledgments
ENAIS is a decentralized effort and we want to thank everyone involved: Per Ivar Friborg, Jason Hoelscher-Obermaier, Jesse Hoogland, Walter Laurito, Karl Von Wendt, Tomas Bueno Momčilović, Georgios Kaklamanos, Gergő Gáspár and Richard Annilo. We encourage other regions to establish similar organizations and offer our guidance.