We wanted to post something on the Forum to share all of the amazing things the Dutch EA community has achieved in the past 18 months or so. But we also wanted to avoid spending too much time writing it. So please accept this very messy post and feel free to ask questions in the comments! Parts were co-written by ChatGPT with minimal editing, hence the sometimes overly braggadocious tone.
We start with national-level updates and two quick lessons-learnt, and then we have bullet-point summaries from some of the local groups. But first, an executive summary.
Executive summary
Over the past year, the Dutch EA community has seen impressive growth at both the national and local levels.
At the national level, the community has seen significant gains. The number of intro programme completions increased nearly tenfold, from 45 in 2021 to 400 in 2022. The number of city groups and university groups also grew, from 1 to 3 and 1 to 13 respectively. Notably, there was an influx of €700k donations via Doneer Effectief and an increase in EA Netherlands newsletter subscribers from 670 to around 1500.
Since hiring two full-time community builders in 2022, EAN has helped establish over a dozen new groups which have collectively produced 350 intro programme graduates in 2022 alone. In addition to launching a new website and co-working space, EAN organized multiple retreats, conducted introductory talks, facilitated 'giving games', provided career counselling, hosted city meet-ups, and participated in a public debate on EA.
Effective altruism is gaining recognition in the Dutch media, with coverage in major Dutch publications and appearances by prominent figures like writer Rutger Bregman. However, there have also been a few critical pieces, to which the EAN board has responded.
Other significant achievements include the successful launch of Doneer Effectief's online donation platform, the high-profile EAGxRotterdam 2022 conference, and the Tien Procent Club's successful events on effective giving.
Local EA groups across Dutch cities have also seen substantial growth. For example, the Amsterdam city and university groups have merged, and together they host weekly meetups, multiple programs, and are developing a mental health program. At Utrecht, the student group has hatched an Alt Protein group with a grant from the university, has launched an AI Safety group, has hosted a big speaker event with Rutger Bregman, and runs introduction fellowships, socials, coworking sessions and other events. In The Hague, the group conducted weekly dinners, three rounds of intro fellowships, and two rounds of AI governance fellowships.
The team at Delft has increased EA awareness through fellowships, book clubs, a retreat, and launching the Delft AI Safety Initiative. Eindhoven's group has engaged 31 people in Introduction Fellowships, has launched an AI safety team, and collaborated with other groups on their university campus. Nijmegen's group has grown rapidly, with biweekly meetups and collaborations with other campus groups.
The PISE group in Rotterdam hosts member-only weekly events, open book clubs, and four fellowship rounds this year. They also ​​initiated EAGx Rotterdam. The Twente group has attended the university's career fair and organized meetups and an introductory talk. Wageningen University's group has hosted live events and completed an introductory fellowship.
Lessons learnt:
Do organising and mobilising (organisers invest in developing the capacities of people to engage with others in activism and become leaders; mobilisers focus on maximising the number of people involved without developing their capacity for civic action)
It's very valuable to have a public figure endorse you
National-level updates
Cool EA community building numbers and how they changed between 2021 and 2022
| | | |
| --- | --- | --- |
| Cool thing | 2021 | 2022 |
| Intro programme completions | 45 | ~400 |
| City groups | 1 | 3 |
| Uni groups | 1 | 13 |
| AIS team/group spin-offs | 0 | 3 |
| Alt-protein team/group spin-offs | 0 | 1 |
| 'Professional' groups (e.g. politics and policy) | 0 | 2 |
| 80k calls | 18 | 45 |
| New GWWC pledges | ~50 | ~40 |
| Money donated via Doneer Effectief | €0 | ~€700k |
| Net increase in EA Netherlands newsletter subscribers | ~90 (580 -> 670) | ~830 (670 -> 1500) |
| Successful Charity Entrepreneurship applicants | 1 | 1 |
| EA community building volunteers | ~10 | ~50 |
| EAN website users | 5.4k | 10k |
EA Netherlands since February 2022
Below is a selection of our achievements since we hired two full-time community builders in February 2022.
In terms of local groups, EAN has played a key role in helping establish over a dozen new groups. Collectively, these groups plus EAN produced around 350 intro programme graduates in 2022 (the total number is around 400 once you include the virtual programme). You can read about how we did this with student groups here. Other groups include Polly (politics and policy) and the Tien Procent Club (effective giving).
Moreover, EAN has launched a co-working space, offering a creative and collaborative environment for people who are passionate about effective altruism. This initiative not only provides a place for EAs to work but also fosters community and sparks innovative ideas.
In a bid to increase its digital presence, EAN launched a new website, providing an accessible platform to share information, events, and resources about effective altruism with a wider audience.
EAN has shown a commitment to ongoing learning and engagement within the EA community through the organisation of four retreats. These were specifically targeted at university organisers, artificial intelligence safety (AIS) enthusiasts, and professionals, respectively.
The educational efforts of EAN have borne fruit with approximately 60 graduates from their introduction programme. Alongside this, they have conducted 15-20 introductory talks with a total audience of about 725, further spreading awareness and understanding of effective altruism.
EAN also facilitated five 'giving games', interactive workshops that introduced approximately 115 participants to effective altruist principles of charitable giving.
In terms of career development, EAN carried out roughly 50 one-on-one career counselling sessions. Additionally, they piloted a career acceleration programme targeted at professionals that received 40 applications and included 30 participants, showing promising uptake for future iterations.
EAN has also held approximately 10 city meet-ups, each averaging 15 attendees, offering an opportunity for local EA communities to network, learn, and share ideas.
Furthermore, EAN has provided valuable experience for emerging talent in the EA movement by hosting one intern and employing two individuals over the summer.
Another achievement was EAN's participation in a debate on effective altruism, attended by approximately 375 people. The event featured a prominent writer (Rutger Bregman), an economics professor, and a philosophy professor, offering diverse perspectives on EA.
Lastly, EAN has achieved formal employer status and established a payroll system for its employees, marking a significant milestone in its organisational development.
EA in the Dutch Media
Effective altruism is increasingly being discussed in the Dutch media. For example, a cover story about EA in a major Dutch weekly has brought the principles and goals of EA to a broader audience. This was further augmented by a 12-page feature in the weekend supplement of a national newspaper. Most recently, we had a 4-page feature in the weekend supplement of the nation's biggest broadsheet. Perhaps most significantly, the best-selling writer Rutger Bregman has written multiple articles and participated in various podcast episodes discussing EA.
Effective giving has also featured prominently in the Dutch media thanks to the work of Doneer Effectief's Director, Bram. All of these appearances can be found on Doneer Effectief's homepage.
There have also been critical pieces. For example, this in Jacobin Nederland, this in Vrij Nederland, and this in the NRC (to which our board responded here).
Other big-picture things
The Tien Procent Club has found a very successful formula for events organised around the theme of effective giving and moral ambition, with hundreds of people attending each event.
Doneer Effectief launched its online donation platform and raised over €700k in its first quarter (Q4 2022). Over the EAG London weekend, it reached the €1 million milestone on its 233rd day as a donation platform.
EAGxRotterdam 2022 was a big success, with over 650 attendees and the highest 'likelihood to recommend' score for any conference in Europe on CEA's record (stretching back to 2018).
Most recently, our students came together to organise the SEA (Students for Effective Altruism) summit, which brought together over 75 student delegates from universities across the Netherlands for a retreat/conference.
Learnings
Read and apply the lessons from How Organisations Develop Activists (we hadn't read this but I wish I had)
It's hard to overstate the value of having a public figure endorse effective altruism (as an example, below is what happened to our LinkedIn when Rutger Bregman linked to us)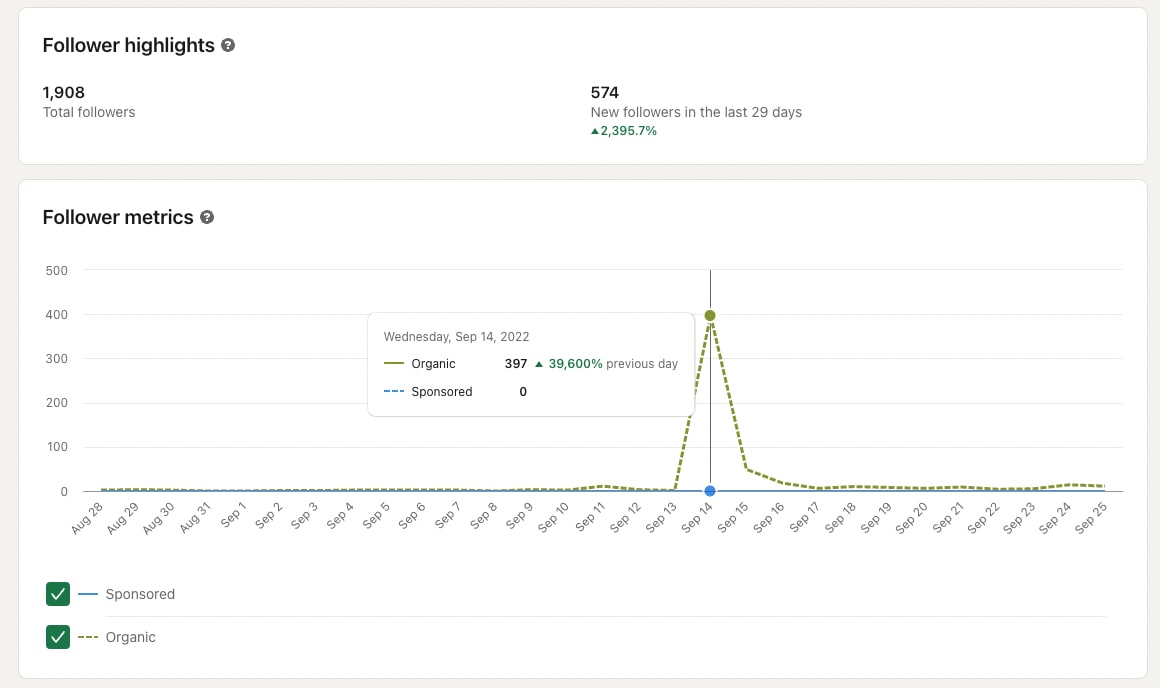 A selection of what some Dutch local groups have been up to (in alphabetical order)
Ran consistent facilitated weekly meetups (discussion nights)
Multiple programs: ~80 people completed or currently participating (out of ~100 signups)

Intro program
AGI Safety Fundamentals
AGI Governance
Awakening from the Meaning Crisis

Developed a Global Mental Health Fellowship, running in May
Are working with a few PhD students to get an AI safety course implemented at the UvA.
Convinced a PhD student, and potentially the remainder of his research group at the university to switch from AI capabilities research to AI safety research.
Collaborating with EA Oxford & London EA Hub to conduct research on community building, measurement, improvements to theories of change, and new programs.
179 people in our Whatsapp community
Running a focus group on how to apply psychological practices to improve mental health and rationality of EAs
Preparing the launch of AI initiative, focusing on setting up AI technical safety and governance pipelines with a focus on middle-of-the-funnel activities in collaboration with existing organisations.
Setting up project infrastructure for our members to volunteer and upskill in EA relevant projects and skills
Ran first combined socials with both Uni & City group, set up a framework for collaboration
Guest speaker event with AI safety researcher
Ran a guest speaker event on Philosophy, Effective Altruism and Meaning Making with 40 attendees.
Running a retreat with 20 group members in June.
~ 20 group members joined EAGx Rotterdam, with a smaller group having gone to EAGx Nordics and EAG London.
Received recognition by the UvA and a flex office space.
In addition to the AI safety initiative, incubating a biosecurity and policy subgroup.
December '22 survey summary (13 people filled it out):

11/13 improved EA familiarity with a lot because of EAD
Change to career/study plans because of EAD: 2/13 big, 8/13 small.
9/13 have been influenced to donate more. (2 already donated, 1 no change)
11/13 have become more inspired to have a positive impact

Fellowships:

Intro fellowship: 54 (+27 including 2023)
In-depth: 18
2023: Career fellowship

Book clubs:

2022: 11 people WWOTF
2023: 14 people "The Scout Mindset", 15 people "Why We Love Dogs, Eat Pigs, and Wear Cows"

Bi-weekly discussion evenings
Bi-weekly socials
Weekly lunches
7 organizers (2 for a full year, 5 for ~half a year)
20 people attended EAGx Rotterdam
Retreat with 23 people
Launched Delft AI Safety Initiative with 4 organizers. (3 new, 1 from EAD organizers)
Founded in the spring/summer of 2022 and became an official Stichting in December 2022. The founders also participated in UGAP and OSP
Programs

31 people completed or are currently participating in an Introduction Fellowship
7 people completed a What We Owe the Future reading group
8 people are participating in a High-Impact Career Mastermind group
5 people are participating in AGI Safety Fundamentals, run by a knowledgeable facilitator

Other

16 people attended EAGxRotterdam
8 people attended the Dutch Students for EA summit (SEA 2023)
Collaborations with other groups and organizations on the TU Eindhoven campus
Launched a Forecasting Team and onboarded an organizer to lead this
Launched the Eindhoven AI Safety Team
Organized a lunch lecture by Tobias Leenaert with over 300 attendees in January 2023
Hosts biweekly meetups
84 people in group chat
112 newsletter subscribers
THEA (The Hague city group)
Founded in March 2022, became an official Stichting in March 2023
2 organizers, both participated in UGAP
~100 official members
~260 people in the announcement chat
Weekly dinners at a foodhall (THEA Thursdays) (average of 5 attendees)
Quarterly big socials, with an activity (bouldering, escape rooms, etc.) followed by a dinner (Big THEA Thursdays) (average of 14 attendees)
3 rounds of intro fellowships (34 completed or are completing)
2 rounds of AI governance fellowships (31 completed or are completing)
1 round of x-risk fellowship (4 completed)
Event with Tobias Leenaert in collaboration with The Hague Humanity Hub (~25 attendees)
7 project managers (1 on Tobias event, 3 facilitating intro fellowships, 3 facilitating AI governance fellowships)
Group of members joining EAGx Berlin, EAGx Rotterdam, and SEA 2023
Helped organizing SEA
Collaborated with LDE groups (EA Delft and PISE) for joint socials
EA Leeuwarden (uni group at Campus Friesland)
Started in November 2022
Organized an introduction talk about effective altruism
3 people finished the introduction fellowship
Hosted an online talk about AI safety
Organized a members dinner
1 member has attended EAGx Nordics, 2 members have attended the Students for EA Summit (SEA)
The organizer is taking part in UGAP
Launched in September 2022; founder participated in UGAP.
55 people on our mailing list after tabling at the introduction market.
23 people in our Whatsapp group.
23 1-on-1s (some long-term).
12 people completed an Intro Fellowship.
5 people attended EAGxRotterdam.
4 people attending the Student Summit.
Hosts biweekly meetups (most of the time).
Collaborating with other groups on campus: Vegan Student Association Nijmegen, Perplex, and Radboud Interdisciplinary Complexity Hub.
Found a co-organizer who works on the faculty.
Hosted several lectures, by James Herbert (EAN), Bob Zoutenbier (economist), and Tobias Leenaert (animal welfare activist).
Planned future programs: Awakening from the Meaning Crisis, Metacrisis Fellowship.
PISE (uni group in Rotterdam)
General

67 members in our most active Member group chat

General events

Hosted member-only weekly events, in the form of either discussions, socials, (guest) lectures
Ran open events across the year, including –

Collaborations with other associations, such as the Vegan Student Association Rotterdam, Rethinking Economics
Hosted several lectures by local academics, including on nuclear policy, wild animal welfare, and on psychedelics for mental health.

Ran open book clubs throughout the year

WWOTF, Mountains Beyond Mountains, You're Not Listening, The Good It promises, the Harm it Does (critique on EA), Poor Economics, the alignment problem

Hosted our Autumn retreat, and will be running our summer retreat June 2023 (with 30 participants)

Outreach

4 fellowship rounds this year
~68 people who have completed the 5-weeks (attending >80% sessions)
Deviation on the fellowship by hosting a parallel introductory workshop

Wider Community Events

Initiated EAGx Rotterdam with the organising team being predominantly our organisers & members
12 of us attended EAGx Nordics
8 of us going to EAGLondon
Initiated the Students for EA (SEA) summit and co-organised with other student groups
Started November 2022
Attended Career Fair Twente → 23 people on the interest list.
Currently 32 people are on our mailing list.

22 people in our Whatsapp group.

12 people currently follow the 80,000 book club, which started last week.
Organized a couple of meetups and an intro talk. Small turnouts, but good discussions.
2 people attending the Student Summit (SEA).
Informally started in January 2023, official launch event this June
3 organizers
4 EA-aligned professors that want to help us
35 interested people in Whatsapp group
Biweekly socials
Launching a governance-focused AI safety subgroup
First intro fellowship and AGISF cohorts will start over the summer or in September
3 part-time organisers; two participated in UGAP
Weekly socials
Weekly coworking sessions
Ran 10 introduction fellowship cohorts
Set up AI Safety Group (2 other part-time organisers, one participated in UGAP)

Cause area-specific group with many AI Master's students, 22 participants
Ran two rounds of AIS Fundamentals programme
One alumni joined the Berkeley AI alignment workshop and launched ENAIS
Starting outreach to professors at Utrecht University to incorporate more AI Safety topics into curricula

117 people in our EA announcement chat
Running regular book club (including Parfit's 'Reasons and Persons'), read 5 books this academic year, ~5 people participating per iteration
Launched a journal club
Two organizers joining the GCP Existential Risk workshop March 2023
Group of members joining EAGx Berlin, EAGx Rotterdam and SEA 2023
Started the Alt Protein Group with a grant from Utrecht University (working together with the Alt Protein Project), two part time people working on setting up the group

Running fellowships now with 15 participants from related studies (Biology and Molecular Life Sciences)

Established preliminary contact with the Dutch Biosecurity field, working on creating pipelines and opportunities
Ran a successful retreat for 10 engaged members
Hosted event for ~500 attendees at the university with best-selling writer Rutger Bregman
Initial speaker event on Philosophy, Effective Altruism and Meaning with ~25 attendees
Helped organising SEA
Started in the summer of 2022, became official in March 2023
12 people finished the intro fellowship or are currently following it
Organized 2 live events
22 people in the WhatsApp group