Today, I am releasing an existential risk research database: https://www.gcrpolicy.com/research
This database collects all published academic articles, reports and government submissions specifically relating to existential and global catastrophic risk over 2016-2021. Each article is categorised by policy relevance and risk category.
I have attempted to capture all such publications over this period - though some may have been missed by my search. As at 20 April 2022, 376 publications have been included in the database.
The purpose of this database is to provide researchers and other interested people a resource for finding relevant publications that may assist in their work. By classifying by policy relevance, it may reveal publications that could best inform your policy understanding, research or advice.
It is not meant to be perfect. You may disagree with the categories, and some articles I have deemed not specifically relevant to existential risk are judgement calls. Nor is it a permanent solution; automated processes will be more superior, specifically TERRA (which I understand is undergoing a refresh). This database was developed incidentally when cataloguing policy ideas for the Policy Ideas Database, so I am sharing in case people find value in it as well.

Q&A
Which sources are included?
So far, I've included academic articles, government submissions and reports, published between 2016 and 2021. Publications must have been authored by academics or by organisations that identify as entirely or explicitly focused on existential risk. The publications must be specifically related to existential and global catastrophic risks. Those related to the broad risks but not at the existential or catastrophic scale (such as 'normal' climate change or general AI development) are not included.

Where were publications found?
I first used TERRA's bibliography. I then went through each organisation's website and identified publications they've listed. Cursory (though not systematic) Google Scholar searches were also done.

Gimme the stats!
My search identified 758 possibly relevant publications, with 376 identified as relevant to existential and global catastrophic risk. Just over half have direct policy relevance - that is, they provide implications or ideas for policy communities.
Since 2018, the number of publications, and their policy relevance, has stayed relatively even.
Most publications are related to existential risk at the general level and to technological risks (primarily AI). This is mirrored when looking at policy-relevant publications only.
Of the 190 policy-relevant publications, 68 have specific policy ideas or options. I have captured ideas from 29 of these publications in the policy idea database.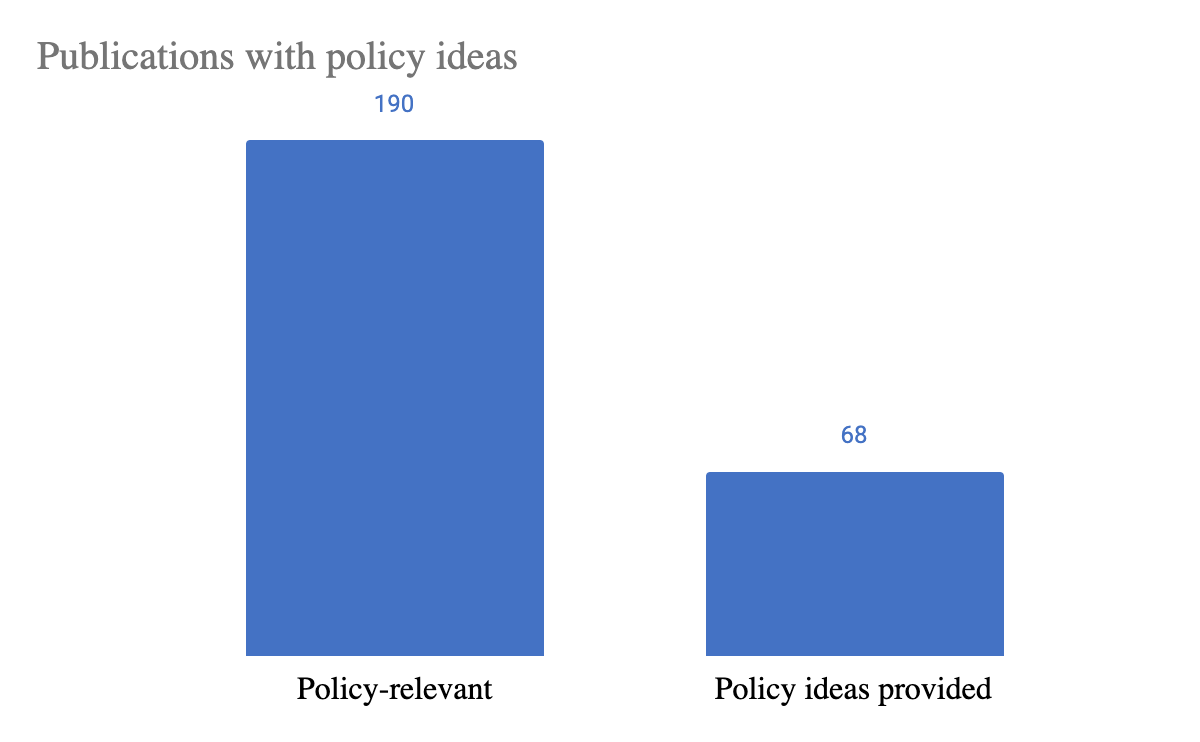 Seems interesting and all… but what do I do with this information?
There may be a few implications of this:
The field may need to focus more policy work where policy-relevance has been underweighted

The policy of nuclear weapons risk seems underweighted, though the database does not include publications from the Nuclear Threat Initiative (NTI) for now. Extreme climate change may be another area.

Of the risk categories, AI had the most policy relevant publications, but the specificity of policy ideas was low.
Researchers may wish to make more clear the policy implications of their research, even if they decide not to provide specific policy ideas. Around 40% of publications made claims that could be relevant for policy, but did not make a direct link.
The field may wish to look at developing more 'translation' products and services - taking policy implications and ideas from publications into more digestible formats (e.g. policy briefs and government submissions, infographics, co-creation of policy proposals with policy-makers).
How do I get in touch to provide (overwhelmingly positive) feedback?
You can reach me at rs2068@cam.ac.uk.