Cross post from my blog.
Right now you — whoever is reading this — can give money to the poorest people on earth. If you donate to givedirectly , 90% of the funds will go to the poorest people on earth. People whose incomes are roughly 1% of those of poor people in the US. And this isn't just because things cost less — that's taken into account for the statistic.
This is a really surprising fact. There are people that live on less than 1% of the income of the poor in the US — and you can, right now, make their lives dramatically better at very minimal personal cost. If you donate a few hundred dollars to these people, it will double their annual income. And there's robust evidence that this makes their lives a lot better — they don't just spend it on trivial things.
But givedirectly isn't the only super effective charity. There are charities that can prevent malaria for a few thousand dollars. Givewell lists the best charities — the Malaria Consortium saves one life for every 5000 or so dollars donated.
You can save people's lives. You can double people's income. All at minimal personal cost.
The plight of the world's poor isn't just some interesting abstract philosophy problem. It doesn't matter if it's exactly like the drowning child scenario. Right now, there are people dying, and we can save their lives.
A lot of the people that are working to save their lives are called effective altruists. But you really don't need to call yourself an effective altruist to support this. You can think that effective altruists are annoying silicon valley tech bros. You can think they're all satan. And it doesn't matter.
The badness of EA has nothing to do with our personal obligations. If EA is a rotten movement, don't attend EA meetups. Don't fraternize with EAs. But please, for the love of god, do something about the poor people that are dying right now, whose lives you can save.
Émile Torres is someone that I've spent lots of time criticizing in the past. I think they're really, really wrong about longtermism. But recently, I saw something that warmed my heart and improved my opinion of Torres a lot.

Christmas is a time of peace and gift giving. @xriskology and I are putting aside our differences to give to the poorest people in the world, via @GiveDirectly. Perhaps you'll join us. givingwhatwecan.org/fundraisers/em… https://t.co/KwYmtOxaOS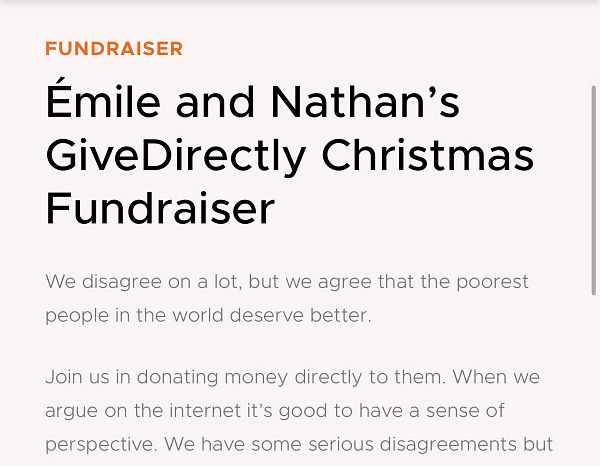 ---
Torres and Nathan Young have put aside their differences — Young is a longtermist — and organized a fundraiser to benefit the world's poor.
The fact that Torres is doing this shows that you don't have to be an EA or a longtermist to support this. Perhaps the most adamant critic of EA on the face of the earth agrees that you should fund give directly. Even if EA is a horrific cult, there are poor people that are dying right now, that need money. Money given barely costs us anything, and makes their lives dramatically better.
So please, regardless of what you think about politics, philosophy, utilitarianism, effective altruism, etc — give some money to give directly or the against malaria foundation or any other top givewell charities. You have dramatic opportunities to improve the world. These are totally uncontroversial. If anyone emails me evidence that they've donated 5 dollars to GiveDirectly in this fundraiser — or some other EA charity — I'll give them a free subscription.
This giving season, let's put aside our differences, and do something to benefit the world's poor. Let's help that fundraiser raise a billion dollars for the world's poor.