Disclaimer: I am totally agnostic regarding the reasonableness of this funding decision, and am merely noting that it appears to me impossible to make any assessment of reasonableness based on the information at hand. I have not conducted more than 1-2 hours research/thinking on this topic, so am uncertain of whether this is true, and am happy to be corrected.

Also, the question is posed but I make no comment on whether Founder's Pledge needs answer it. Perhaps the donors to this fund are provided with some private information with regards to these causes, or Founder's Pledge reasonably believes their donors are happy to trust them a priori with respect to the efficacy and value set behind their decisions.

---

In the last 12 months (March 2022 to present), Founder's Pledge (FP) has (publicly) dispersed approximately $4.3 million from its Climate Change Fund (CCF):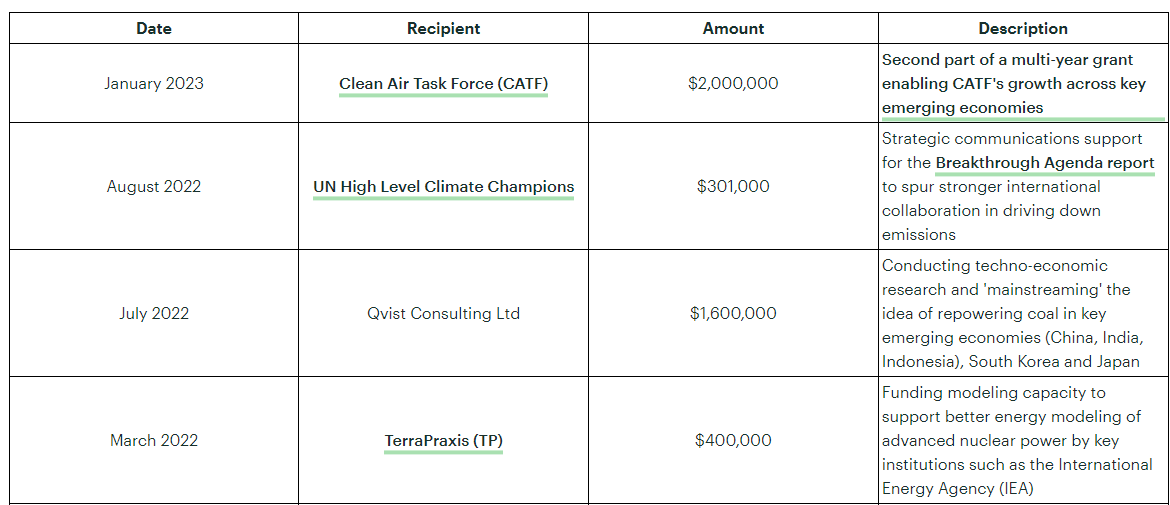 Of this, $1.6 million has been given to Qvist Consulting Ltd. (QCL), for the reason shown above. Unlike the other recipients, QCL does not contain any external link to resources in which you are able to discover more about this organisation's operation/mission.
Above this table, FP states that more information regarding their rationale is available here, however this document does not discuss QCL. As far as I have discovered, the only other mention of QCL is in a retrospective of the CCF after two years, which contains a minute video from Staffan Qvist (henceforth Staffan, for clarity). There is little/no new information about their mission, aside from the suggestion that "repowering" coal plants is particularly important because of the possible emissions from current coal plants in their remaining life cycle.

What, then, is repowering coal? Curiously, another grantee, TerraPraxis, is the first Google result. The basic principle seems to be to try and refit those current coal plants for a non-carbon emitting form of energy production.
So how does Qvist consulting fit into this effort? One might reasonably expect a search of their company to shed some light.
This, however, turns out not to be the case.
The company's first Google result is for their company listing on the UK gov. registry. The second is for their website, but it is merely a wordpress template totally devoid of information.
So what about their founder? Staffan has, as per his LinkedIn, a PhD in Nuclear Engineering, and has written academic and popular press (including with Stephen Pinker in the NYTimes) articles advocating for nuclear energy.
Staffan appears to be prolific - his LinkedIn lists him as a managing director/director at two other companies: Deepsense , an "intelligence platform", and QuantifiedCarbon, a decarbonisation consultancy, both of which appear to have little web presence (the former is difficult to search, as it is a common company name). Curiously, Staffan does not list QCL on his LinkedIn - perhaps this is an oversight? He is listed as a consultant for the Clean Air Task Force, another grantee of FP interested in nuclear advocacy.
I have no reason to believe Staffan is not an excellent academic researcher and passionate advocate for a cause that seems plausibly very important (though I am no expert). Given the scale of the grant, however, it seems reasonable to wonder what in particular led FP to believe Staffan is the best contributor to this cause, and why he and QCL required such a large first grant to begin work on this.
---
Postscript: There are other reasonable questions to be asked, including why FP believes their near-exclusive funding to organisations that appear (arguably) primarily dedicated to nuclear power advocacy is the most effective use of climate change funds, and the degree of interconnectivity between the organisations funded in this space. I do not feel I have conducted the necessary research to comment more on this, but note these issues in case FP if they would like to say anything on them or in case anyone else would like to research this further.