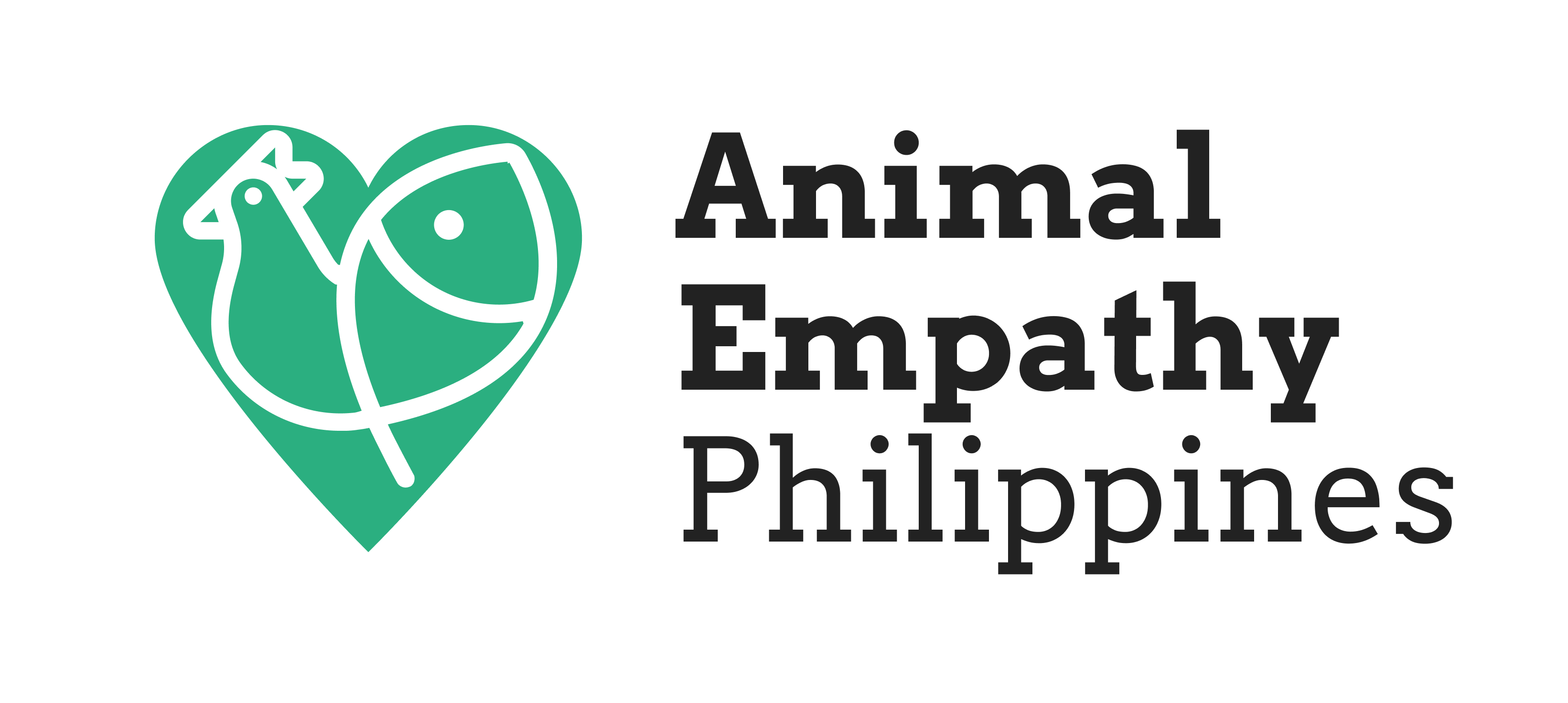 Hi, everyone! I am excited to announce the launch of Animal Empathy Philippines (AEP), a spin-off organization of Effective Altruism Philippines. We are a new organization dedicated to community building work on effective animal advocacy (EAA) in the Philippines.
Grant from the EA Animal Welfare Fund
As EA Philippines' incubatee, AEP is supported by a $64,000 grant from the EA Animal Welfare Fund. Last December, three of us at EA Philippines (Kate Lupango, Janaisa Baril, and I) received a 1-year, 1.53 FTE grant from them to do community building work on EAA in the Philippines. The grant is split into the following:

0.73 FTE for me
0.4 FTE for Kate Lupango
0.4 FTE for Janai Baril
Shifting to An Animal Advocacy Career
I (Ging Geronimo) learned about EA after joining EA Philippines' 9-week Intro to EA Discussion Group held last May to July 2020. I took the Giving What We Can Pledge and started volunteering for 5-6 hours/ week at EA Philippines in December 2020.
Prior to launching AEP, I worked for five years at the National Economic and Development Authority, the Philippines' socioeconomic planning body, as a Communications and Stakeholder Engagement Associate. Since September 2021, I've been engaged as a Consultant for the World Bank's Technical Assistance project to the Department of Agriculture.
Kate Lupango is one of the co-founders of EA Philippines. She's a Funding Accountant at World Vision International and taking Master's in Community Development at University of the Philippines Diliman. Kate was a former intern at Faunalytics and has over four years of experience in farmed animal advocacy.
Janaisa Baril is a Communication and Events Volunteer at EA Philippines. She has helped with EA PH's Local Charity Effectiveness Research, social media content, and monthly newsletters. Janai attended our 9-week Intro to Effective Animal Advocacy Fellowship, which motivated her to take action for farmed animals. She has a degree in Development Communication from University of the Philippines Los Baños.

Why work on Farm Animal Welfare in the Philippines?
The Philippines ranks 10th worldwide in terms of total farm animals alive, most of which are finfish and chickens, and yet there's relatively very little work being done on farmed animal welfare.
As of December 2021, there are only four organizations working on farmed animal welfare (FAW) in the Philippines. These include the Philippine Welfare Society (PAWS), Animal Kingdom Foundation (AKF), Fish Welfare Initiative (FWI), and Tambuyog Development Center.

PAWS has been at the forefront of animal advocacy in the Philippines. They recently introduced a set of standards called The Better Chicken Option to educate local restaurants and consumers on better broiler chicken welfare.
AKF launched the Cage-Free, Go Cruel-Free campaign to improve the living conditions of egg-laying hens.
FWI initiated a scoping study to assess the welfare status of farmed fishes and gather data on existing finfish culture systems in the country. It also launched, Makaisda, an early-stage and locally-led project to improve the welfare of farmed fish through research and collaborative welfare interventions.
Tambuyog Development Center has been promoting responsible aquaculture in the country. They run a Farmed Shrimp Welfare campaign to inform the stakeholders in the shrimp aquaculture industry on animal welfare standards and practices.
We've had meetings with PAWS, AKF, and FWI and we learned that the lack of high-quality candidates for jobs was the biggest bottleneck for establishing new programs or scale-up of those existing ones. Thus, it was clear to us that doing community building work on EAA is how we can make the greatest positive impact on farmed animals.
Focusing on community building will enable us to multiply our impact by increasing the number of Filipinos who will take action for farmed animals.
Why we launched and what our goals are
Animal Empathy Philippines was conceived after EA Philippines conducted its first EAA fellowship last year. We thought that building a community of effective animal advocates would spark Filipinos' interest in farmed animal advocacy.
Through AEP, we aim to:
Build, grow, and sustain a community of effective animal advocates;
Expand talent pool in EA-aligned animal welfare organizations; and
Kick-start a coalition of local farmed animal welfare organizations.

Our Theory of Change

We seek to create a positive impact for farmed animals by increasing the number of FAW advocates, expanding the talent pool for effective animal advocacy, and potentially forming a coalition of local animal welfare organizations. This is our approach to enable more people to launch effective FAW projects and to work in effective FAW organizations in the Philippines.

All of these will contribute to our ultimate goal of improving the lives of farmed animals in the Philippines. Mapping back further, we achieve these intermediate outcomes by focusing on three areas: community building, capacity building, and relationship building.
Our approach to community and relationship building involves collaborating with a range of stakeholders -- EA Philippines' community members, animal advocates, local animal welfare organizations, regulators, legislators, and food startups/companies.
Our Priorities for 2022
The past year has given us a glimpse of what's possible in terms of farmed animal advocacy in the Philippines. We ran a 9-week virtual Introduction to Effective Animal Advocacy Fellowship from July to September 2021. 14 fellows completed the fellowship, and we had an average likelihood to recommend score of 8.67.
Last December 18, we had our virtual launch at EA Philippines' virtual year-end event. After the launch, three people signified their intent to volunteer with us.

Majority of Filipinos are on social media. Hence, we will leverage social media platforms such as Facebook to connect with our target audience. As of today, our Facebook Page has gained 183 followers and 174 likes.
Here's how we plan to divide our time in our first year. The time spent for each focus area may change depending on our progress after ~6 months.

AEP time = time of any of the three AEP co-founders (Ging, Kate, and Janai).
Community Building and Advocacy (40% of AEP time)

Run EAA fellowships with EA Philippines' student chapters
Conduct webinars, career spotlight, and similar events
1-1's with community members to deepen their engagement and help them plan their careers
Train students who are interested in starting an animal advocacy student chapter or youth chapter, either for a specific university, across certain universities, or for a certain region in the Philippines
Check-in with fellows from EAA Fellowship Batch 1

Communications (20% of AEP time)

Publish regular content on our Facebook page and Facebook group
Respond to inquiries about AEP
Develop and disseminate publicity materials

Relationship Building (10% of AEP time)

Regular check-ins with core members, volunteers, and community members
Work with 1-2 volunteers to write a problem profile that determines the scale, neglectedness, and tractability of improving farmed animal welfare in the Philippines
Develop contacts in animal welfare and alternative protein spaces
Liaise with animal welfare organizations

Strategy, Planning, and Executive Tasks (15% of AEP time)

Develop strategy, gather feedback, and assign roles and responsibilities
Conduct weekly co-founder meetings
Conduct impact survey and prepare the annual report

EAA Learning (5% of AEP time)

Consume various EAA and EA-related resources to keep us informed and updated on the various cause areas and on EA in general.

Adhoc Tasks (5% of AEP time)
Talks/Outreach (5% of AEP time)
Relative to this, we prepared an Objectives and Key Results Matrix to track our progress. We've designated a project lead and a support person for each project to foster ownership and shared accountability.

Ways Forward
Guided by the principles of effective altruism, we will continue to explore ways on how we can further expand EAA in our country and in the region.

We want to see the AEP community thrive and influence more Filipinos to work on this cause area. Our team shall develop a three-year plan that builds on the gains of Year 1. We aim to be a registered non-profit in the Philippines with members serving as voices of farmed animals in the government, food companies, and academe. Kate, Janai, and I will devote our first three years laying the groundwork and training future AEP leaders who will ensure that AEP's vision will be achieved in the long-term.
We also intend to have a progression of plans, instead of changing plans each year, while ensuring that there has to be some flexibility to adapt to unexpected developments and to the changing needs and preferences of our stakeholders.
Any feedback on this initiative is very much appreciated. You may send your comments, suggestions, and queries to team@animalempathy.ph. We also appreciate any ideas on how we can further engage students and professionals to take action for farmed animals in the Philippines. Thank you.