TL;DR: It is what it sounds like: direct the US Federal Government produce N-95 (or higher NIOSH grade) respirators for all Americans. I believe that this would be a relatively low-cost policy with potentially huge benefits and little downside.
Note: I'm directing this policy proposal at the United States, but I think many large countries, especially those with an established manufacturing base in similar industries, could do something similar.
What I hope to get out of this post: More than anything, I just want to get the idea out there. I am currently quite busy with a lot of different projects for my PhD, but if anyone wants to run with this idea (e.g. lobby politicians, write out the proposal in more detail, get Joe Biden to add it to his plan) please do and I am happy to support! Also, feedback on what seems right or wrong about this is also helpful. The post generally stems from a frustration that we are now 10 months into this pandemic. Besides stomping out the disease before it becomes widespread (e.g. as Taiwan, New Zealand did), we don't have many good implemented public policies to deal with community transmission besides widespread wearing of non-medical masks, physical distancing, and now new rounds of suggestions that we should just go for herd immunity. Cases are rising in the US and Europe, and indications are that this will probably continue getting worse as the weather gets colder. Meanwhile, pandemic fatigue has set in, making existing measures public health measures harder to implement.
I believe we need some new ideas. This proposal seems like a simple way to get a possibly very large benefit in terms of lives saved and economic costs avoided at relatively very low cost. For months, every time I have a Covid discussion with friends and family, N-95 For All is the first thing I say we should do. I figure that it is high time I write it up and maybe it inspires someone to try it out.
Motivation
At the beginning of the Pandemic in New York, I had some N-95 masks in my closet that I had bought a few years prior. I had done some research into biosecurity threats, and I realized that a big pandemic driven by respiratory-transmission was likely to happen sometime in my lifetime. I figured a stash of N-95s was good to have. When New York started going crazy in March 2020, however, my friend who is an Emergency Room doctor wrote a Facebook post saying that she desperately needed respirators because the hospital did not have enough. She was risking her life working on the front lines of the pandemic, so the least I could do was to donate those masks to her.
That was in March 2020, just while the pandemic was starting. It is now 7 months later, and you still generally cannot buy N-95 masks. I've also tried buying N-95 masks in France for a friend, and you can't get them there either. In October 2018, I paid less than $1.50 for an N-95 mask. In October 2020, not only has market rate increased to $6 per mask, but you cannot buy an N-95 because they are being prioritized for organizations on the frontlines responding to COVID-19 (see picture below). Even so, N95s are still in shortage for the frontline medical workers that need them the most.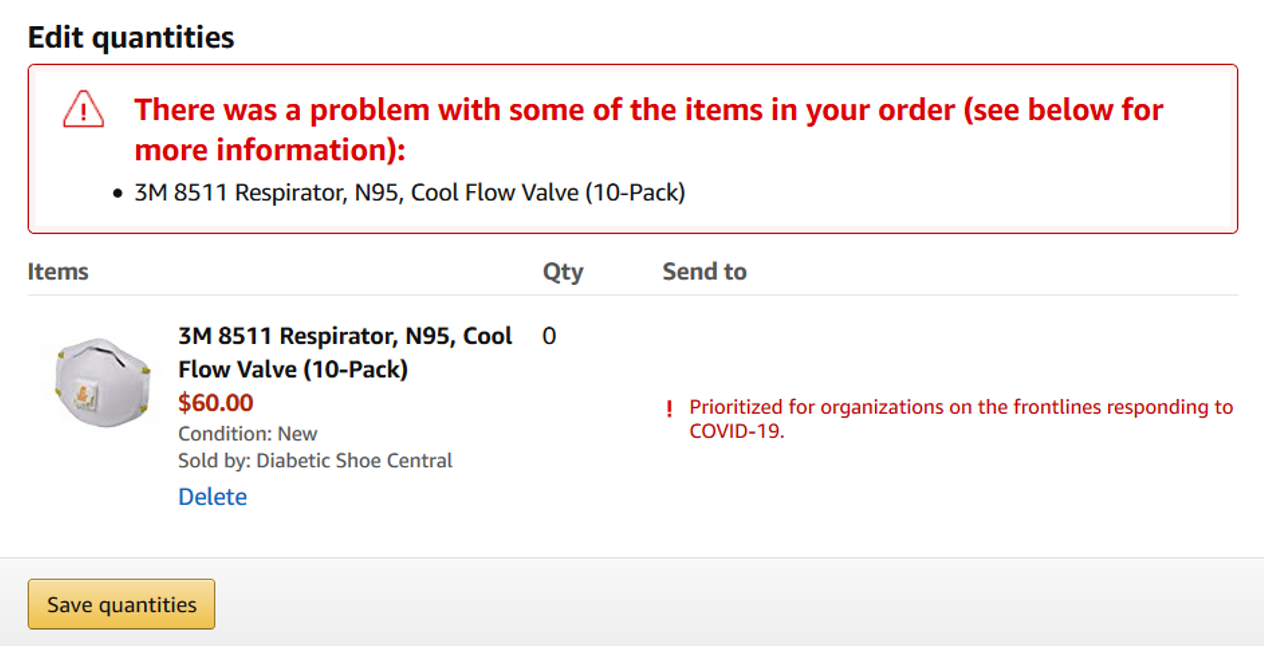 The fact that the supply of these masks is still so constrained 7 months after the United States first started locking down is unacceptable. An estimated 92% of Americans say they wear a mask in public, and 74% say they "always" do. Along with physical distancing measures, this has helped to curb the spread of the virus. As the weather gets colder in the fall and winter and as more activities move indoors, however, it is important to provide an enhanced level of airway protection. Cloth and surgical masks provide some protection against droplets but are less effective against airborne aerosols that linger in the air indoors where there is less ventilation relative to medical-grade respirators like the N-95. A recent study suggested that N-95s, even when they are not properly fitted, provide far better airway protection than cloth and surgical masks.
The Policy
My policy proposal is simple: the US should invest federal dollars as soon as possible to create N-95 or higher (N-95+ for short) NIOSH-rated masks that can filter aerosols for every American. The federal government would invest in the manufacturing capacity of medical-grade respirators such that everyone in the country would be delivered an N-95+ to their home and a new one would be delivered as often as is necessary (see the bullets below for more details). Every American that wants to protect their health and the health of others now would have the opportunity to upgrade their cloth masks for medical-grade respirators that would protect them with enhanced airway protection. Hospitals and essential workers would of course get access to these masks first, but the idea is to produce enough of these masks so that everyone in the country gets them.
In short, the federal government would make sufficient investments such that N-95+ respirators would be widely available to everyone as soon as possible.
This excellent article from the Washington Post provides a detailed description of the current US respirator policy and its consequences. The US has undertaken some policies to increase domestic production and international procurement of respirators, but these policies have not been sufficient to meet demand. There are a number of reasons for this, but more than anything, it comes down to a lack of investment. So far, the federal government spent $270 million dollars through the Defense Production Act to bolster the N95 supply chain. To put this in context, this is less than the government spends on the instruments, uniforms, and travel for military bands. PPE producers consistently state that they are wary about investing in further production capacity because they are unsure of continued demand for their products. In addition, there are at least 15-20 companies in related industries – such as filters for vehicle emissions, air pollution and water systems – that could modify their equipment to make N95s at the scale that would be required, but the government has funded just three of these companies through the Defense Production Act. In addition, 3M (the largest producer of respirators in the United States) has been largely unwilling to partner with other companies that could expand production to meet demand because it does not want to share its intellectual property with other manufacturers. This has made it difficult for other companies to successfully move into the respirator business and meet NIOSH standards for filtration.
While the details would have to be hammered out in more fine-grained detail, the goal of N-95 For All would be not just to make enough respirators to meet demand for front-line workers (which is the current goal), but to provide free respirators for all Americans. One possible way to meet this goal would be for the Federal Government to use the Defense Production Act more broadly to procure billions of respirators from domestic producers now and into the future. Through this act, the government would be able to force 3M to share its intellectual property with other producers (which they can then be compensated for) so that production of NIOSH-compliant respirators can be produced. This investment would likely be a few billion dollars.
Regardless of the details, the larger point is that this investment of a few billion dollars would play a significant role in addressing pandemic that has now cost 220,000 lives in the United States and trillions of dollars in economic damage. Consider that in wartime, it would not be acceptable to send soldiers into battle without a rifle because the government wanted to save a few billion extra dollars or because one company couldn't produce enough rifles and wouldn't share their knowledge with other companies that could expand production. I believe that Covid-19 should be addressed with the same degree of seriousness and ambition as in war. Because of widespread community transmission that is now infecting at least 75,000 new Americans a day, Americans are on the frontline of the Covid-19 pandemic, and the Federal Government should provide its people with the best available protection, especially when the protection can be produced at relatively low cost.
Principal Benefits
Other Key Points
Costs
Potential Issues (and Response)
Conclusion
For the reasons described above, I would start implementing N-95 For All immediately if it were up with me. In short, I believe the potential benefits are very large, the costs are relatively small, and the risks are limited.
The daily rate of death from the coronavirus already exceeds every war that America has ever fought in, and the virus has caused and will continue to cause trillions of dollars in economic damage. I believe we should mobilize and address this crisis with the same seriousness that we mobilized and addressed wars in the past. Taken from this perspective, a few billion dollar investment that could play a big role in saving trillions of dollars in economic damage and hundreds of thousands of lives is in my view something worth doing.
Looking forward to everyone's thoughts! I really would like to see this happen, so if you read this and like the idea and want to help to make it happen, I'd love to help!