Epistemic Status: Quickly written (~4 hours), uncertain. AGI policy isn't my field, don't take me to be an expert in it.
This was originally posted to Facebook here, where it had some discussion. Also, see this earlier post too.
---
Over the last 10 years or so, I've talked to a bunch of different people about AGI, and have seen several more unique positions online.

Theories that I've heard include:
AGI is a severe risk, but we have decent odds of it going well. Alignment work is probably good, AGI capabilities are probably bad. (Many longtermist AI people)
AGI seems like a huge deal, but there's really nothing we could do about it at this point. (Many non-longtermist EAs)
AGI will very likely kill us all. We should try to stop it, though very few interventions are viable, and it's a long shot. (Eliezer. See Facebook comments for more discussion)
AGI is amazing for mankind and we should basically build it as quickly as possible. There are basically no big risks. (lots of AI developers)
It's important that Western countries build AI/AGI before China does, so we should rush it (select longtermists, I think Eric Schmidt)
It's important that we have lots of small and narrow AI companies because these will help draw attention and talent from the big and general-purpose companies.
It's important that AI development be particularly open and transparent, in part so that there's less fear around it.
We need to develop AI quickly to promote global growth, without which the world might experience severe economic decline, the consequences will be massively violent (Peter Thiel, maybe some Progress Studies people to a lesser extent)
We should mostly focus on making sure that AI does not increase discrimination or unfairness in society. (Lots of "Safe AI" researchers, often liberal)
AGI will definitely be fine because that's what God would want. We might as well make it very quickly.
AGI will kill us, but we shouldn't be worried, because whatever it is, it will be more morally important than us anyway. (fairly fringe)
AGI is a meaningless concept, in part because intelligence is not a single unit. The entire concept doesn't make sense, so talking about it is useless.
There's basically no chance of transformative AI happening in the next 30-100 years. (Most of the world and governments, from what I can tell)
Edit: More stances have been introduced in the comments below.
Naturally, smart people are actively working on advancing the majority of these. There's a ton of unilateralist and expensive actions being taken.
One weird thing, to me, is just how intense some of these people are. Like, they choose one or two of these 13 theories and really go all-in on them. It feels a lot like a religious divide.

Some key reflections:
A bunch of intelligent/powerful people care a lot about AGI. I expect that over time, many more will.
There are several camps that strongly disagree with each other. I think these disagreements often aren't made explicit, so the situation is confusing. The related terminology and conceptual space are really messy. Some positions are strongly believed but barely articulated (see single tweets dismissing AGI concerns, for example).
The disagreements are along several different dimensions, not one or two. It's not simply short vs. long timelines, or "Is AGI dangerous or not?".
A lot of people seem really confident[1] in their views on this topic. If you were to eventually calculate the average Brier score of all of these opinions, it would be pretty bad.
Addendum
Possible next steps
The above 13 stances were written quickly and don't follow a neat structure. I don't mean for them to be definitive, I just want to use this post to highlight the issue.
Some obvious projects include:
Come up with better lists.
Try to isolate the key cruxes/components (beliefs about timelines, beliefs about failure modes) where people disagree.
Survey either large or important clusters of people of different types to see where they land on these issues.
Hold interviews and discussions to see what can be learned by the key cruxes.
Note that there have been several surveys and forecasts on AGI timelines, and some public attitudes surveys. Metaculus has a good series of questions on some of what might be the key cruxes, but not all of them.
I should also flag again that there's clearly been a great deal of technical and policy work in many of these areas and I'm an amateur here. I don't mean at all to imply that I'm the first one with any of the above ideas, I imagine this is pretty obvious to others too.
Some Related Metaculus Questions
Here's a list of some of the Metaculus AGI questions, which identify some of the cruxes. I think some of the predictions clearly disagree with several of the 13 stances I listed above, though some of these have few forecasts. There's a longer list on the Metaforecast link here.
(Skip the first two though, those are about aging, which frustratingly begins with the letters "agi")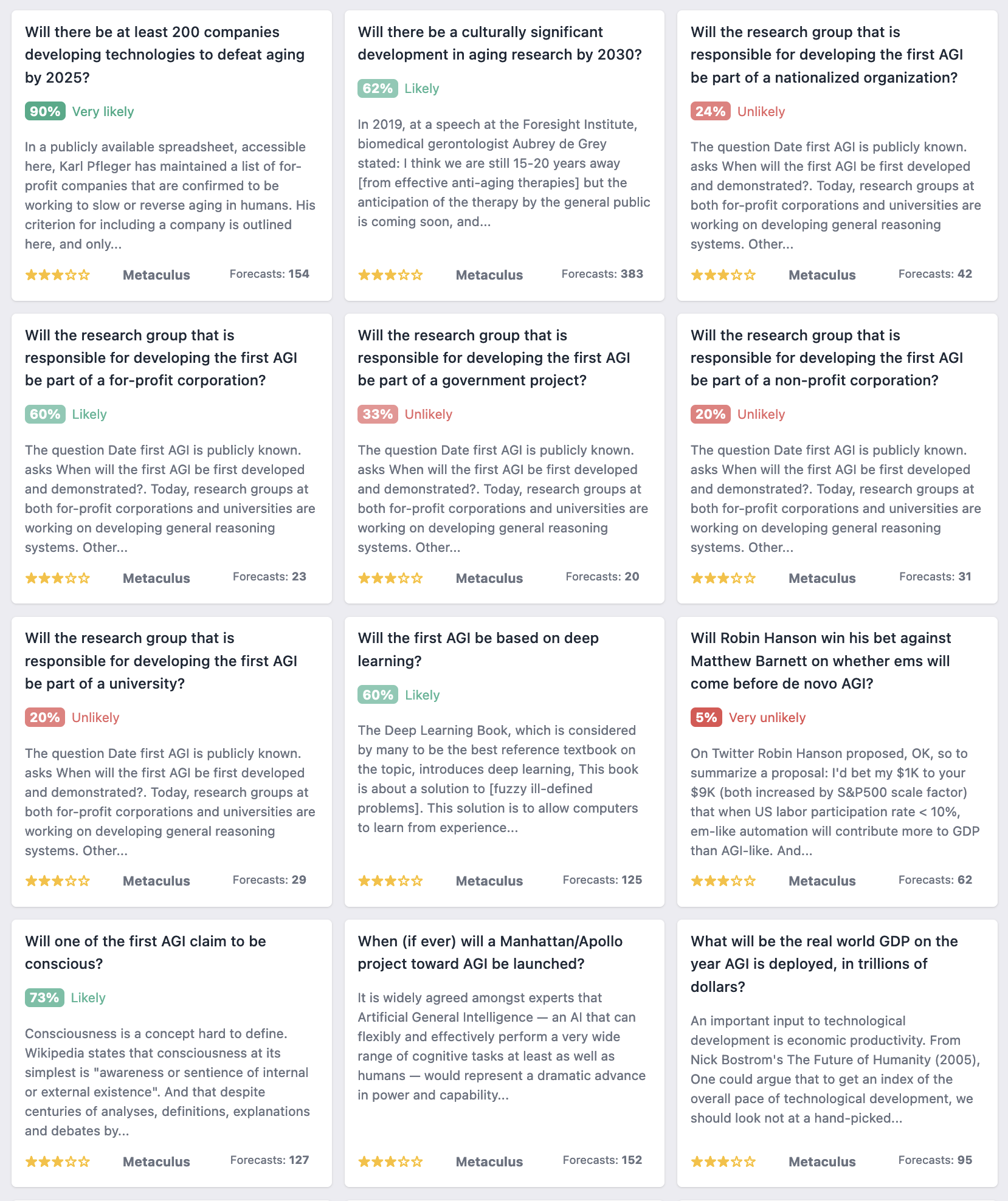 ---
[1] Perhaps this is due in part to people trying to carry over their worldviews. I expect that if you think that AGI is a massive deal, and you also have a specific key perspective of the world that you really want to keep, it would be very convenient if you could fit your perspective onto AGI.
For example, if you deeply believe that the purpose of your life is to craft gold jewelry, it would be very strange if you also conclude that AGI would end all life in 10 years. Those two don't really go together, like, "The purpose of my life, for the next ten years, is to make jewelry, then I with everyone else will perish, for completely separate reasons." It would be much more palatable if somehow you could find some stance where AGI is going to care a whole lot about art, or perhaps it's not at all a threat for 80 years.