Content warning: gambling is addictive and generally loses money. Please don't make any bets with negative expected value.
tl;dr: New York State recently legalized online sports gambling, so casinos are offering large incentives for signing up on their websites. I got about $4,400 out of this (you can probably do better; see below) and will be donating it to GiveWell. You must be located in New York or another eligible state while signing up and making the bets.
How to exploit this
There are various casinos, sportsbooks, and other gambling establishments located in New York State. Online sports gambling was legalized there in January 2022, so they are giving out introductory offers where they will match your deposits or give you free bets when you sign up. Basically, you can open an account on each site, deposit the minimum amount required to qualify for the promotion, make one bet, and then withdraw your initial deposit plus the bonus and any winnings from the bet. (I strongly recommend only betting the bonus amounts and not your own deposited money.) The expected value from doing these five bonuses in this screenshot is $4,800, and there are probably others I don't know about. I recently spent a day in NYC and a friend insisted I sign up for two of them while I was there, which took about 20 minutes each.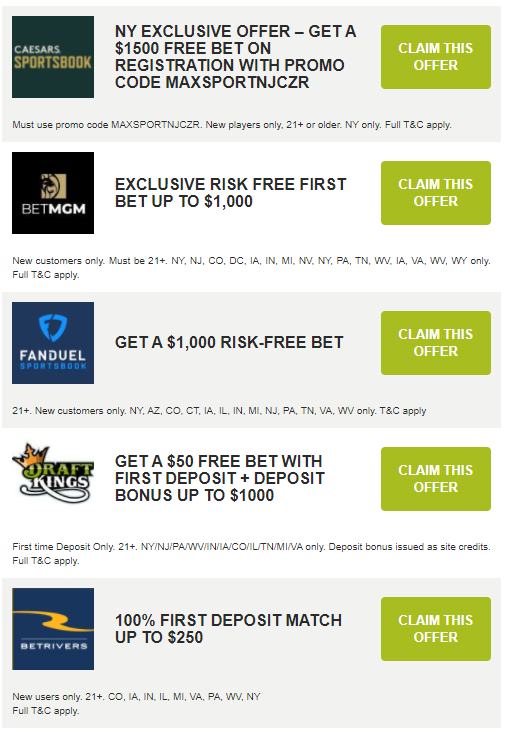 FAQ
Q: Isn't gambling immoral?
A: Not in this case. These sites are offering these bonuses to try to get people addicted to gambling, and will probably earn a large profit despite giving away lots of money upfront. I think it would be unethical not to do this, because it reduces their profits and redirects the money to altruistic causes.
Q: Does this entail any financial risk?
A: No. As long as you only bet the bonus money and don't gamble your own funds, there's no way to end up with less than you started. I recommend making one bet on each site, then withdrawing your money and closing your accounts immediately after each bet ends.
Q: What's the catch?
A: You'll need to temporarily deposit around $2,000 but will get it back once the bets resolve. It takes about half an hour of setup and maybe a day of waiting. They might ask for a photocopy of your government-issued identification. You must be located in New York or a few other eligible US states while placing these bets. You must be at least 21 years old.
Q: Online gambling is illegal where I live. Can I still do this?
A: Yes. I did this while I was transiting through New York yesterday. Hat tip to Daniel Gold and Michael Bogaty from NYC EA, who are really smart, won't shut up about sports, and insisted I do it. The minimum time commitment if you're out of state would be to go to New York for a few hours, sign up and wait for your deposits to clear, place bets, leave, and cash out when the bets resolve.
Q: What outcomes should I bet on?
A: Depends on the type of bonus and your level of risk aversion. For sites that do deposit matching, I recommend betting on a very likely outcome, which will only pay out a little extra if you win but guarantees you can cash out the bonus and then withdraw the money. For sites that offer a free bet as the incentive, I suggest betting an unlikely outcome because this maximizes your expected payout (but if you are very risk-averse, you can get a higher chance of some winnings at the cost of lower EV by betting on a likely outcome). You can improve this by hedging with friends and each betting on different, mutually exclusive, unlikely outcomes, which will both maximize EV and guarantee one of you wins.
Q: I don't follow sports at all and don't know which teams are good.
A: Neither do I. Just go on fivethirtyeight and look at their predicted outcomes for some upcoming sports games.
Q: I'm bad at math and/or don't know how to convert between odds and probability.
A: That's fine, use an odds calculator.
Q: I have a different question.
A: Great, leave it in the comments and I'll add the answer here.
Update
Sam Anschell has written a more detailed guide about this same opportunity. Please go check out the post! EA Fundraising Through Advantage Sports Betting