The EA Forum team is sharing our project proposals publicly on the Forum, as an experiment during August. They're written as though the product were already finished, but for now, they are only proposals. See here for a description of PR FAQs.
We appreciate hearing comments from everyone, even if they are brief opinions like "I'd be happy to see this" or "I quickly skimmed the post and it doesn't seem like this is something I would use, but I'm not sure".
Better Content Suggestions on the Forum
Improved tag subscriptions let you more easily customize the Forum to see the content you prefer
Problem
Our current tag subscription functionality suffers from two main problems:
Firstly, our subscriptions function more like what most sites call "notifications". Subscribing to a tag means that you will be notified about every post in that tag, whereas many users would prefer for subscriptions to function more like a hint to the recommendation algorithm about which content to recommend.

That is, the algorithm will be more likely to recommend posts in that tag, but will not necessarily recommend 100% of posts.

Secondly, the subscription functionality is not easily discoverable, and most of our users have subscribed to zero tags.
Solution
We fix the first problem by converting what is currently called a "subscription" to be a boost of +25 for the recommendation section, bringing it in line with how subscriptions work on other major platforms.
We fix the second problem by adding a small icon to the tag widget which lets users subscribe.
"I'm mostly interested in farmed animal welfare content, and used to check the Forum occasionally but often missed the posts I wanted to see because they were buried by other content I'm less interested in.

"Now that I've subscribed to the farmed animal welfare tag, those posts are usually at the top of my recommendations. Much better!"

– Jane Q. User
FAQs
What will the UI look like?
Here are two proposed ways of making it more obvious that you can subscribe to a tag:
Add a small button to the tag widget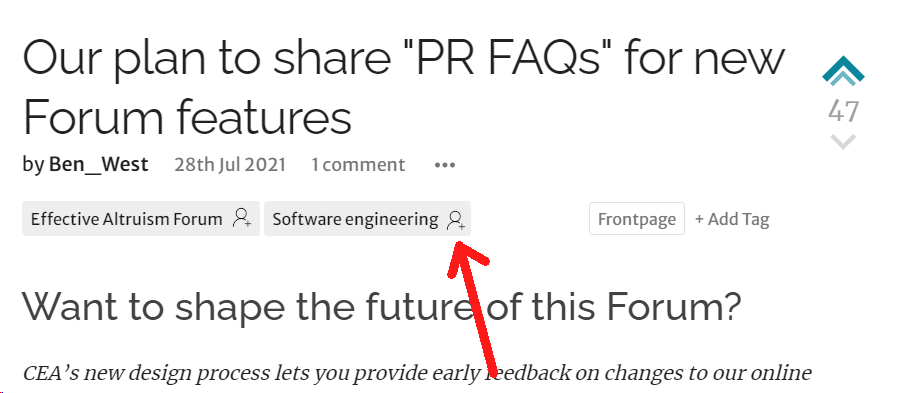 A small widget which pops up in the sidebar after the user votes (only visible on desktop). This would ask about the primary tag (the first one in the list, which is the one voted most relevant for the post).

We appreciate feedback on which of these you prefer, or if a third option seems better.
How will subscriptions be technically implemented?
On the backend, a subscription will be equivalent to having given the tag a weighting of +25 in the recommendations section.
Will subscriptions also adjust tag weightings for the frontpage posts you see?
We don't plan to implement this right away, but might consider it depending on how people react to the recommendation change.
Are we going to change how author subscriptions work?
We will change the terminology to be consistent. This means taking the functionality now called "subscribe" and renaming it "be notified".
We do not have any plans to add equivalent subscription functionality for authors.
How will this interact with our plans to create subforums?
One of the most frequent requests the Forum team receives is related to creating subforums. E.g. David Nash has posted about this here.
One idea is to have a federated model similar to Reddit, where there is still an overarching site, but interested users can sign up for specific subsites.
Tag subscriptions could be a step towards that goal. A tag can be considered roughly analogous to a subreddit (e.g. viewing a tag page will show you all the posts in that tag, similar to viewing a subreddit), and subscribing to that tag analogous to subscribing to the subreddit. We may enhance this in the future by e.g. allowing authors to publish a post which is only visible to people who have subscribed to some particular tag.