Note: We (The EA NYC Team)[1] are posting this on the suggestion from this Forum post calling for more public guides for navigating EA hubs. This guide is not a representation of the views of everyone in the community.
Read on for a basic overview of the EA community in New York City. Whether you are visiting, planning to attend EAGxNYC (applications still open!), have just moved here, or are considering moving, we hope this guide will provide some helpful context on our community. That said, please comment or message us if we're missing anything - there's a lot happening here and it's hard to capture it all![2]
And if you are planning on being in or have just arrived in NYC, get in touch with us! We're here to help support and connect the NYC EA network. We think there's a really special community here and Rocky, Alex, and the whole team would be happy to help you find like-minded New Yorkers.
Overview

Above: map outlining NYC's five boroughs. Credit: Wikimedia Commons[3]
NYC itself
New York City comprises five boroughs: Manhattan, Brooklyn, Queens, the Bronx, and Staten Island. Each borough has its own character, as do the individual neighborhoods within the boroughs, but they are all part of New York City and are served by a united city government and public transit system. Manhattan is at the heart of the city, and is what most people think of when they think of New York City.
There are also several areas immediately outside of the city that are very accessible by public transit, such as Jersey City, Hoboken, and New Jersey's suburbs, suburbs on Long Island (Nassau and Suffolk Counties), parts of the state of Connecticut, and suburbs in upstate New York (ie. Westchester, Putnam, and Dutchess Counties).
Each of these areas is made up of many smaller neighborhoods, which vary dramatically in demographics, building styles, and activities.
The EA community in NYC is very spread-out, and includes people in all of these areas and sometimes beyond.
Of the five boroughs, Manhattan is the most densely populated, generally has the best accessibility, and usually has the most going on during the day (including anything from university research and co-working to tourism and EA NYC events). It will typically be the most expensive place to stay.
Brooklyn (especially northwestern Brooklyn closer to Manhattan) and Queens (especially southwestern Queens closer to Manhattan) are also pretty centrally located and would allow access to co-working from cafes/libraries, more residential neighborhoods where some community members live, as well as more recreational options like dancing, performances, and bars.
New Jersey (especially eastern New Jersey closer to Manhattan) can also provide more affordable living and decent access to Manhattan.
Staten Island and the Bronx: EA NYC usually sees less representation from these boroughs, likely due to the greater geographical distance from events.
A quick note on safety
Most New Yorkers consider the city very safe (to the point that our team almost forgot to mention this), and the data supports this.
Nevertheless some travelers reasonably ask us about safety. For visitors with less urban experience, any city may be a shock. And while New York is quite safe by US standards, it may not be as safe as some European or East Asian cities to which some visitors are accustomed. Most of this difference is attributable to crime in low-income areas unlikely to be seen by tourists, but some minor extra precautions could be still be advisable.

While we're not positioned to prevent you from any risk when you visit, we think this guide has some decent tips in case you would like to review something. Though, if you've traveled to other major cities, the advice will likely be pretty straightforward.
Getting involved with EA NYC
New York City has the third most EA's by city in the world! [4] That means there are many hundreds of people in the EA NYC community who you can connect with through EA NYC events, online spaces, and direct introductions from the EA NYC team.
In fact, there are quite a number of ways to connect with the NYC EA community! In brief, you can join our events, Slack, subgroups & affinity groups, co-working sessions (see here for additional work venue recommendations), newsletter, social media, and more! If you can't find what you're looking for, you can often send a message in our Slack or connect with an organizer for more direct assistance.
A few notes about getting involved:
EA NYC's structure leans towards mostly official organization.

Community members may of course host informal socials and events, but all of EA NYC's official events are listed on our website.
For unofficial gatherings, the Slack channel #casual-plans is the place to go.

EA NYC usually hosts at least one event per week on average. This could be a speaker event, discussion group, community lightning talk, social, community dinner, affinity group meetup, cause area group meetup, professional group, etc.
EA NYC and Effective Ventures are in the process of determining whether it is feasible to establish a co-working space dedicated to EA work in Manhattan. While that proceeds, we host weekly co-working days in different locations around the city. The system is still nascent and is coordinated through the #coworking channel in our Slack.
Want to help us run our programming?
Please fill out this brief survey if you would be happy to present for one of our guest speaker events during your visit!
And if you're now living in the city, please express interest in volunteering here if you would like to potentially work with us on a longer term basis!
What to do outside of EA stuff
Almost anything! There's more density here than anywhere else in the US, and that leads to a delightfully overwhelming number of places to eat, things to do and see, and experiences to be had. Fortunately, it also means a large community of locals to reach out to if you want advice! But for starters, we've included some tips below.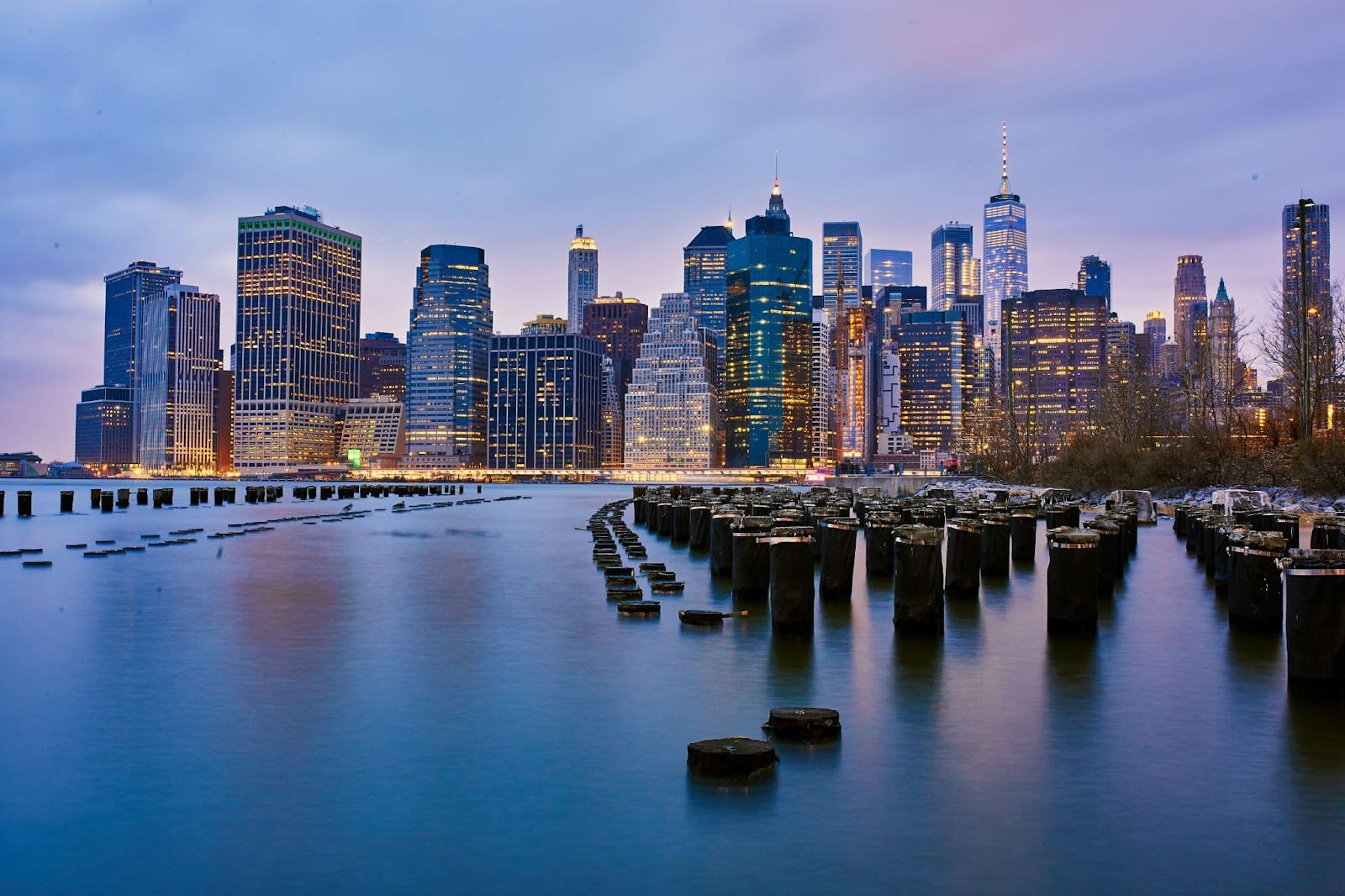 Above: NYC harbor and skyline at dusk

Attractions
When in doubt, you can always check Atlas Obscura. For now, you can find some of our team's recommendations below.
Nature
Walks

Central Park (Manhattan) is not overrated. It's a beautiful park that often allows guests to forget they're in a city. The lower park (say, below 79th street) is often pretty busy, but worth the visit. You can rent boats, find fields for picnics/sports, listen to random street performances, enjoy the park's hidden jewels, and simply appreciate the park's nature. As you go more north in the park it tends to get less busy, though the nature and sights are still plenty!
Prospect Park (Brooklyn) is another massive park featuring similar benefits to Central Park. If you're staying in Brooklyn or prefer a more natural forest over designed landscape, you should check it out (potentially instead of Central Park depending on how long you're staying for).
Other highlights:

Brooklyn Bridge (Between Brooklyn and Manhattan)
The High Line (Manhattan)
Battery Park City Esplanade (Manhattan)
You can always look up more walks here!

Smaller Parks:

Central Park and Prospect Park, of course, as mentioned above
Bryant Park (Manhattan) is very centrally located in midtown, right next to the main branch of the NY Public Library (also famous) and Grand Central Terminal (also famous).
Washington Square Park (Manhattan) features an iconic arch, lies in the beautiful Greenwich Village, and is immediately adjacent to NYU.
Union Square (Manhattan) is particularly fun to visit in the summer when vendors line the park selling local produce.
Many more! Many local parks in Manhattan are great for people watching. Depending on your location, some other parks in Brooklyn and Queens may or may not be so nice!
Also check out the recommendations for sunset points below - those are all great parks with the added bonus of being especially good at sunset!

Spots to Watch the Sunset

Queens

Astoria Park
Gantry Plaza State Park

Brooklyn

Domino Park
Brooklyn Bridge Park

Manhattan

The Battery / Battery Park City Esplanade
Hudson River Greenway

Beaches

Jacob Riis Park is an excellent combination of accessibility and "beachiness." Facing the Atlantic Ocean, the beach allows guests to do all the beachy things: surf, swim, and sunbathe. You can drive, bike, or take the Q35 bus to get there.
Coney Island is famous for its boardwalk and cultural history. While it's a bit more sheltered from the ocean, it's pretty accessible - all you have to do is take the F train all the way to the end!
There are other popular beaches farther out on Long Island, as well as miscellaneous smaller beaches as you head upstate in NY!
Food
Here are just a few local favorites:
See HappyCow.net for additional recommendations based on your location as well as the Vegan NYC app for New York highlights!
Museums
The American Museum of Natural History is a classic recommendation for anthropology and natural history, featuring a recently renovated Hall of Minerals and Gems.
Modern Museum of Art (MoMa) is a go-to for modern art, including works by Monet, van Gough, Dali, and Warhol.
The Metropolitan Museum of Art (The Met) features classical and contemporary art and artifacts from all around the world - from the dawn of human civilization to the present day.
The Guggenheim features abstract and thought-provoking art pieces.
The Color Factory is a pop-up exhibit offering an interactive, multi-sensory art experience, with lots of opportunities for great photos.
Cafes and Libraries
Our teammate, Arthur, coordinates our weekly "around the city" coworking sessions, and he's created a helpful list of excellent cafes: see here!
New York Public Library 42nd St (take a photo with the famous stone lions, Patience and Fortitude).
The Strand Bookstore - a landmark!
Peacefood Cafe (Uptown or Downtown Manhattan).
Most WholeFoods locations in NYC have dining areas (and public bathrooms).
Logistics

Above: map outlining NYC's subway station.
The subway map looks more complicated than it is!
Housing
Costs of living are expensive in New York; planning ahead will save you money!
Sometimes people in the community may have rooms open up for short periods or solely dedicated for guests. Join our Slack's #housing channel to ask for help!
You can also find more information here.

*Room sharing is not organized, vetted, or monitored by EA NYC or CEA. This practice is common and helpful for EAs traveling to new cities, for conferences and otherwise, but please take all reasonable precautions if you are intending to room with someone you don't know. Please reach out to EA NYC's Community Health contact, Megan Nelson, with any concerns.*

Transportation
Visitor Visas (for casual visits / attending EAG(x)'s)
Check out Elika and Vaidehi's visa advice from their EA guide to the Bay Area:
This is not official legal / immigration advice, if you're uncertain on any of these points, contact a lawyer. If you're participating in a retreat or program, talk to the organizers about the relevant visa for that program.

Lots of countries participate in ESTA - a visa waiver program for tourism or business travel which takes up to 72 hours to process (we recommend applying farther in advance). If you can't get an ESTA, it could take several months to get a visa. Apply as soon as possible, even if your exact travel plans are not set.
Just a note: non-US citizens are not allowed to work in the US without a visa that permits work authorization.
At the border:

Border officials will ask you about the purpose of your trip. You can say that you're visiting friends in the city, and (if they ask) that you met them through a nonprofit conference (AKA EA) or a community that is trying to improve the charity landscape.
You'll need to show you booked a return flight within the correct time frame. Book a fully refundable / changeable flight if your dates are uncertain.
In general, never do or say anything that could be construed as an intention to stay in the US permanently.
Climate and Geography
The weather in NYC varies drastically depending on the time of year. You may want to prepare.
Winter

General summary: not so bad outside sometimes; great with the right company indoors!

Winters are increasingly milder and the outdoors can be enjoyed most days with the right clothing
You may just want to avoid cold rain and windchill

How to make it better:

Wear (thermal) layers
Moisturize
Check the forecast for windchill[5]
Live with people you like

Highlights:

Skating
Snow is pretty (though increasingly rare)
Holiday shops

Summer

Summary (for some): fabulous!
Summary (for others): sticky (due to high peak temperatures + humidity)
How to make it better:

Protect your skin (clothes, shade, high SPF sunblock)
Check the humidity, UV index, and hourly temperature
Buy a portable fan

Highlights:

Pretty much every activity

Exceptions

Ice skating is replaced with roller skating
No snow…
Holiday shops are replaced with farmers markets and parks
Trees/flowers are already in bloom, not blooming and generally not changing colors
Fewer festive holidays

Spring/fall

Summary (for some): Just right!
Summary (for people with allergies): sometimes rough
How to make it better

Take allergy medication
Check the pollen index

Highlights:

Flowers blooming in Spring (including cherry blossoms)
Leaves changing colors in fall
Festive holidays in fall (Halloween, Thanksgiving, Diwali, Hanukkah, etc.)
Generally moderate temperatures

Missing something for your trip? Thrift shops in NYC can often provide great clothes for a good deal. You can also check out consignment shops like Buffalo Exchange and Crossroads Trading for higher end secondhand clothes.
People
Rocky and Alex are full time organizers for EA NYC and always happy to chat!
Arthur is our Head of Special Projects (for example, leading the coworking office effort and EAGxNYC). Talk to him about these projects or anything else about NYC (or Jersey City).
Megan is our Community Health Coordinator, and is available as a point of contact for those who have concerns related to the NYC EA community.
You can also see our full team and board members here!
In general, there are lots of wonderful people in the community who would be happy to connect about different careers, philosophies, and niches. We couldn't list them all, but we would be happy to connect you with relevant people if you reach out to Rocky and/or Alex. You may also join our subgroups to connect directly with relevant people for your interests!

Useful Links and Online Discussion Groups
Events
Check our website for EA NYC's event calendar, links to add our calendar to yours, and links to event platforms (Facebook, Meetup, Eventbrite), as well as our event policies.
Useful Apps
Biking: CitiBike allows you to rent from the bicycle rideshares all across the city.
Vegan food:
Transit:

Google Maps is pretty reliable in NYC and many locals use it to get nearly anywhere by nearly any means of transportation.

Though, Transit will often have better real-time estimates of bus/subway arrivals vs Google Maps.
For buses specifically, the MTA Bus Time App will have more up-to-date schedules compared to the posted bus routes.
Note that you may also want to use the Google Maps Live View feature for street directions.

While this feature is still in development, it may come in handy when exiting subway stations, an often disorienting process.
The feature uses augmented reality to help you navigate - just be sure to mind your actual path while using it!

NYC Ferry is required if you want to plan a ferry trip across the two rivers in NYC. This scenic means of transportation is rarely ever the most practical option, but it is enjoyable! The fare is just the same as subways and buses: $2.75 per trip, but it can only be paid through the NYC Ferry app.

Please note that the app is not always accurate, and the digital schedule posted by each dock is likely more up-to-date than the app.
In general, the ferries can be quite late. While a ferry trip can be quite enjoyable if you are not in a rush, they may not be a safe bet if you are trying to get to an appointment.

Long-distance travel:

ZipCar for renting cars if necessary
MTA TrainTime for booking and downloading e-tickets to Long Island, Connecticut, and Westchester/upstate New York

Above: A snap from our First Annual Picnic in 2021!
We hope you enjoy any visits to New York City and the NYC EA community. Let us know if we can ever help you get connected for your trips!
^

For the purpose of this guide, "EA NYC" or "the organizing team" will refer to the community-building organization known as "Effective Altruism New York City." Other references to the community will be talking about the community of people, organizations, and stakeholders within the local EA community in and around New York City.

^
^
^
^

32 degrees Fahrenheit isn't so bad, but if it "feels like" 15 degrees, you might want to stay inside…