Some career paths may be highly impactful but are limited in the number of positions available before they reach saturation. Other career paths have a far greater capacity for involving more people. This factor could be considered the "scale" of the career path, or to use a less commonly used phrase in EA, it could be considered to have high absorbency. I think the importance of a career path's absorbency has been undervalued in the EA movement thus far. Career choice is often framed from an individual viewpoint, but when the needs of the broader movement are considered, you sometimes end up with a different perspective.

Abstract example
Let's take the example of two careers; A and B. A is low absorbency (let's say it has capacity for two new people) but is a highly impactful career. B is high absorbency (let's say it has room for 100 people) but is a somewhat less impactful career (let's model it as half as impactful per person). If we run a simulation with 100 people considering the paths from an individual perspective, each individual might consider both careers, apply for A and inevitably 98 of them will be disappointed. I believe that in many cases, the psychological impact of rejection from career path A causes people to pursue career C (a career with no impact) rather than moving towards career B. Often they do this with the notion that they might apply for career A again in the future. In this model it's clear the optimal distribution would be two people taking job A, and 98 taking job B. If we assume that those who fail to get job A choose job C in all cases, then in this model it is interesting to note that it would be more impactful for everyone to apply for B rather than A.

Practical example
If we take this out of the abstract, we can look at commonly talked about career paths such as founding charities or other projects, and working for EA organizations. Many of the top recommended career paths in EA are very low absorbency. In fact, this is a commonly stated reason (in different terms) for why EAs are less excited about outreach. Bringing 100 new EAs on board is less impactful if only a handful of them can be utilized by the movement in top careers. Given the considerable variance in personal fit, and the relatively uncertain estimates of the impact of different career paths, it makes sense to take a more modest approach. Having some supported career paths that are both impactful and highly absorbent is similar to looking for top charities that have high ability to scale, even if their cost-effectiveness is not equal to a much smaller but far more cost-effective charity.
Examples of low absorbency career paths:
Charity entrepreneurship
Working for an effective altruism organization
AI safety researcher
Examples of high absorbency career paths:
Working in policy
For-profit entrepreneurship
Earning to give
If we put these in a simple ordered list many of the low absorption career paths might do well. But if we put them into a chart portraying ideal distributions of talent utilization across the movement per 1000 EAs as a whole, we get a very different picture.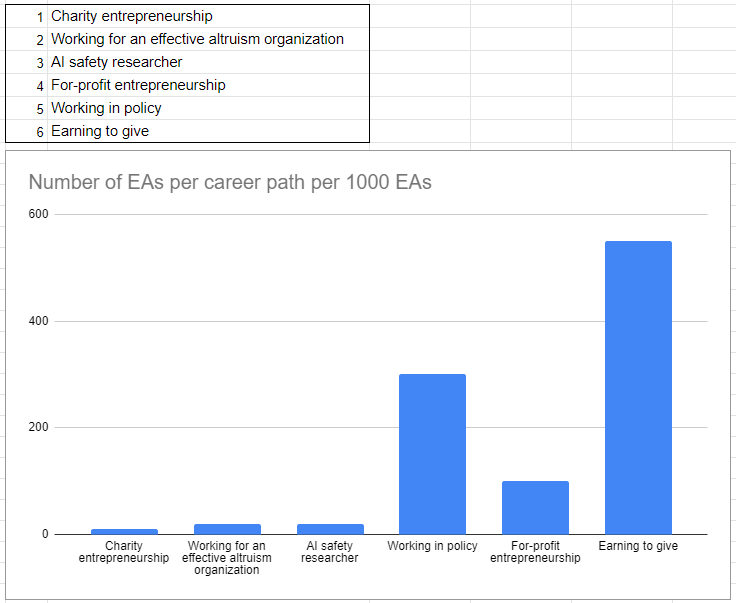 (These numbers are not necessarily the exact ratio or order I would put these in; they were chosen to deliberately highlight career paths that would differ depending on how we consider them).
Which approach the EA movement endorses will make a big difference in how excited people feel about taking different jobs. If you decide to earn to give, are you settling for job six on the list or do you see it as embracing the job that is actually the most impactful for most EAs to do? The framing transforms how a role feels. I think that we should give weight to both perspectives and include such considerations in discussions. I would not advocate for exclusive use of a chart that highlights absorbency like this, but I do think it's a useful perspective and could lead to a lot of positive outcomes.

Support for high absorbency career paths benefits low absorbency career paths
Even if a career path that has low absorbency is the most impactful by far, it still makes sense to have a broader set of recommendations. I personally think charity entrepreneurship is the most impactful career path for people who are a good fit for it, but I know that is going to be a pretty small % of even the most talented EAs. If the EA movement had a couple of respected, impactful, high absorbency careers, it would be easier to do outreach and see a broader set of people happily engaged within EA. I expect I would get more strong applications for even the fairly specific career path of charity entrepreneurship. If someone is under the impression that their impact is trivial unless they do charity entrepreneurship, they could be put off EA. If they do not get accepted to our first round they don't tend to tell their friends and connections, or skill up and apply again. On the other hand, if a related high absorbency career was also socially acceptable, approved of and supported, (say for example; for-profit entrepreneurship) then that person can potentially find a great career that makes an impact and their friends may also get into EA (maybe one of which is an even better fit for charity entrepreneurship than they were). It would also make it easier to encourage someone to apply for the CE program even if you were not confident that they would be successful. Rejection is not such a devastating blow when there are other well respected career paths available. In summary; having these paths allows better outreach and retention of EAs, creating a better and less zero-sum community dynamic.