How old is the effective altruism movement? It depends when you count from, and it's hard to pick any specific day or event because it coalesced out of a lot of different strands. Plus, since this is a movement and not just an idea, it matters when it started gathering people which is naturally very fuzzy. Roughly, I'd describe the progression as something like: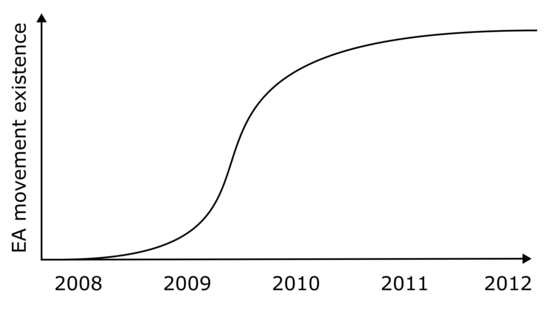 At the beginning of 2008 there wasn't an EA movement yet, while by 2012 there was one. There wasn't an instantaneous change.
Why this particular curve? Here are some historical points that anchor it to events:
One thing I'm not putting much weight on here is the founding dates of organizations. While many EA orgs have played a large role in the EA movement, the oldest became EA over time instead of starting out that way. For example, MIRI was founded in ~2000 as SIAI, but was initially wasn't something you'd recognize as EA and didn't have an associated community. It did grow in both of these directions over time, but to the extent that this helps us figure out the timeline of the movement we need to look at those later developments. Similarly, ACE could (but doesn't!) claim to have been founded in 2010 as JFA, but before merging with 80k's EAA it had a pretty different focus.