2022 has been a productive year for EA Philippines. In this report, we would like to present our accomplishments and points for improvement for the duration of our 2022 EA Infrastructure Fund grant. We hope that through this report, we are able to inform the wider EA community about the progress and potential of EA Community Building in the Philippines.
Parts I-VI are approximately a ~12 minute read. The appendix is approximately a ~16 minute read.
I. Funding Received and Financial Summary
In February 2022, EA PH received a total grant of $89,350 from the EA Infrastructure Fund, for 1 year of 2.32 FTE salary split across 5 to do community building work for EA Philippines + our student chapters.
This was how we intended the grant to be split:
Person / Budget Item

Role

Avg. EA PH FTE from Feb 2022 to Jan 2023

Elmer Cuevas
Full-Time Community Builder

0.94

Red Bermejo
Part-Time Community Builder

0.50

Brian Tan*
Part-Time Community Builder

0.49*

Janai Baril
Part-Time Communications & Events Associate

0.25

Tanya Quijano
Part-Time Health & Dev't Community Builder

0.15

EA Philippines General Grant Funding

2 Months Buffer / Runway

(i.e. if we have delays in our grant application or fundraising for the period after this grant)
We generally followed this split, and the team worked roughly at the FTE hours allotted to them, except for Brian. He reduced his FTE gradually at EA PH since he transitioned to working full-time at CEA. *He now works just 0.1 FTE as an adviser for EA Philippines, and averaged 0.21 FTE over the year for EA PH. His grant was reduced proportionally, and starting November 2022, Althy Cendaña started as a 0.5 FTE community builder for EA Philippines using the leftover money from Brian's grant, with the approval of the EAIF.
However, some months within the year required more work hours from the original FTE hours allotment. Hence, for the next grant application, we realized the need to increase FTE allotment for certain roles.

Breakdown of the General Grant Funding of $6,500 can be found in the Appendix.

The document linked above was last updated in Sept 2021 but became the rough basis for the goals for this current EAIF grant. We have started to revisit this ToC for the 2023 cycle.

We chose to focus on getting people into higher engagement categories. The Engagement Category Targets were as follows:
Create at least 4 new highly engaged EAs (as defined by CEA)
Get at least an additional 6 people to reach category 4 of EA engagement, based on the community building grant EA engagement categories (linked here if you're not familiar with them: https://bit.ly/CEACBGEACategoriesCopy)
Get at least an additional 17 people to reach category 3 of EA engagement (100 hours learning about EA)
Get at least an additional 29 people to reach category 2 of EA engagement (50 hrs learning about EA.
Results of the Community Growth are in the next section.
III. Growth in EA PH Community Membership as of December 2022
As communicated in our approved grant application, below are our tentative high-level outcomes that we ended up using for the grant period, and our target completion as of January 18, 2023. .

Rating the engagement category was done subjectively but informed by factoring in the fellowships, events, reading groups, 1:1s, conferences attended by members, personal EA content reading based on community surveys to contribute to hours of engagement, and volunteer, internships and career plans made. These numbers may be off by 5-10%, but currently is the best way we quantify these categories.
| EA Engagement Category | EAIF Grant Target | Members in this Stage, Dec 2022 | Members in this Stage, Jan 2022 | New Since Grant | % Completion |
| --- | --- | --- | --- | --- | --- |
| Highly Engaged EA (Very good understanding of EA + taken significant action) | 4 | 8 | 3 | 5 | 125% |
| 4 (100+ hrs of EA content engagement + EA played major role in their choice of current job) | 6 | 12 | 6 | 6 | 100% |
| 3 (100+ hrs of EA content engagement + medium EA action such as applying for relevant internships/jobs) | 17 | 42 | 14 | 28 | 164.71% |
| 2 (50+ hrs of EA content engagement, small EA action such as Volunteering/Donated/Made Career Plans) | 29 | 69 | 29 | 40 | 137.93% |
| 1 (10+ hrs of EA content engagement) | Not included for Grant Target | 149* | 119 | | |
| | | 280 | 168 | | |
*We are less confident on the Category 1 engagement since these people are ones we engaged within the last 1-2 years. At the time of their latest engagement, they have reached ~10 hrs of content engagement, but we're unsure if they have continued since then.

Since 2018, a total of 274 Filipinos attended an Intro fellowship organized by EA Philippines, EA Blue, or EA UPD, but only 57 people continued to join the EA Virtual Programs In-depth program, Precipice Reading Group, Career Planning Clubs or other programs / fellowships post Intro fellowship. That is only 20.8% from all EA PH and student groups Intro fellowship graduates. While this is a metric that can easily be measured and that we hope to improve on by the next grant period, it also means that most of our members are conducting their own EA content reading (e.g. via books, EA Forum posts) rather than joining organized discussion groups.
IV. EA PH Highlighted Members:
A significant portion of the community building impact of EA PH and its projects can be shown through the EA journeys of the following EA PH members:
Career progress of grantees
During the grant period, some of us grantees also had some progress in our careers, so we've written about these below:
V. Highlighted Events We Organized:
Last June 17-19, we had our first EA PH Student Leaders Retreat for our 3 Uni Groups (EA Blue, EA UPD, EA Taft)! The agenda for the retreat was patterned after the recent CEA CBG National and City Community Builders retreat last April 2022. In addition, we took advice and consulted from the organizers of the student retreats held by EA Netherlands, who also consulted with EA Germany. At the end, the first EA PH Student Leaders Retreat was attended by 28 pax, receiving an average likelihood to recommend (LTR) of 9.59/10 with average new connections formed at the retreat at ~8. The retreat also scored an average 4.86/5 as a place the participants felt welcome, and 4.86/5 as an event that motivated the participants to keep doing good.



From June to August 2022, EA Philippines conducted an introductory fellowship for professionals on effective altruism to increase our member base from early to mid-career professionals and at least have some of them become more active in EA PH. A total of 43 fellows participated in the fellowship, and 25 of those became active (attended 4 or more sessions). Of the 25 active fellows, 17 fellows completed the course. This fellowship also helped EA PH increase its professional base by 10%. Overall net promoter score of the fellowship is 9/10; Overall Fellowship Score is 8.93/10 with Improving Institutional Decision-Making and High-impact careers as favorite weeks as voted by the fellows.

Instead of running another fellowship, we intend to focus on this current cohort by having them participate in more EA events and projects for them to apply their learnings.



December 17, 2022 witnessed the last and biggest two-part event organized by EA PH, which was the Effective Giving Event (co-organized with Giving What We Can and One For the World) and the Year-End Socials. A total of 49 participated throughout the day with even guests from other EA groups visiting Manila for the holidays. It was a memorable day as members braced the Manila traffic and hard rains in order to discuss effective giving, cause-specific reading group projects and many more!



For more information on other events run, their ratings and budgets, kindly check the appendix.
VI. What We Could Have Done Better or Would Do Differently Next Time (pending 2023 grant renewal)
More structured, targeted One-on-ones with community members and career-planning assistance which can hopefully be improved with our mentorship program on pilot.
More robust volunteer-management system which is being revamped early 2023
More member-led events/activities instead of all top-down initiatives within the community. We are piloting an incentive program for community-led reading groups to work on this.
Improve on our Community Feedback mechanism as we experienced community health concerns last year. We did pilot an anonymous feedback form but it was only launched late September 2022.
Better communication between EA PH and student groups through more regular alignments as there were a few months in 2022 with less coordination
We currently still have around ~230 EA books on hand (~90 of Doing Good Better, ~90 of the 80,000 Hours book, and ~50 other EA books). We think we made a mistake here by ordering too many books and not giving most of these away over the last few months. We'll make sure to give out these books over the next few months and not to over-order in the future.
If you have any feedback or questions about this report or EA Philippines, feel free to comment them below. You can also email them to us at team@effectivealtruism.ph or fill up our anonymous feedback form. We're grateful for the support the EA community has given EA Philippines, and we hope to keep contributing to the growth and impact of the movement!
VII. The Appendix: Our Projects
These are presented in descending order of importance and in their positive effect on engagement outcomes in the grant period:
Student Group Support
This section contains some highlights with specific support provided for student group organizing. Note that this is not a comprehensive report on student group achievements, but the instances where EA Philippines provided significant and meaningful support (arranged in a chronological order).
Overall across all student organizers
Helped navigate a morale challenge of student organizers on how to deal with the aftermath of Philippine elections as effective altruists in May 2022.
Ran a 3-Day Student Group Leaders Retreat in June 2022 for 20 organizers in EA Blue, EA UPD, and EA Taft to form connections, learn about each other's progress, and discuss EA topics. Garnered a likelihood-to-recommend score of 9.59/10.
Doing weekly sync ups with student group leaders from June to September 2022 to align and provide advice on general group concerns.
Provided encouragement, advice, and support to potentially high-impact university student applicants from EA Blue, EA UPD, and EA Taft in their applications to EAGx Singapore in September 2022.
Navigated and provided advice on handling the FTX situation for the student organizers.

EA Blue
Currently 11 student organizers and 34 active members. Produced 1 HEA, 3 Category 4s, and 14 Category 3s. Some highlights below:

More support was needed by EA Blue from August 2022 onwards due to the veteran organizer taking a long-term leave of absence from university for mental health concerns. EA Philippines helped support a transition of leadership to Assumpta Cadiz.
EA Blue was renewed for a UGAP grant in October 2022 for two main organizers - Assumpta Cadiz and Samantha Ackary.
Provided advice to new EA Blue leadership as they ran an "Introduction to Effective Altruism" online talk during the university recruitment week in August 2022, which led to 51 sign ups for interest in joining EA Blue.
Helped grow to eleven (11) core organizers (from 3) to execute EA Blue operations, events, and some organizers focused on the EA fellowship. EA Philippines helped support the remaining organizers with recruiting and evaluating potentials.
Guided and provided templates with the implementation of a budget and expense tracking system.
Provided advice for the two in-person EA meetups in October 2022 and November 2022, which have garnered an average rating of 4.73/5 likelihood to recommend.
Providing past learnings, specific advice, resources, and templates for the 5th EA Blue introductory fellowship (IF05).

Note that this was postponed to the 2nd semester due to manpower challenges (see above #3). 2 new IF organizers are onboarded, a new timeline and schedule is aligned, and materials for the fellowship are in the works as of December 2022.
EA UPD
Currently 8 student organizers and 25 active members. Produced 1 HEA, 1 Category 4, and 16 Category 3s. Some highlights below:
Provided content guidance and advice for the EA UPD intro fellowship planning July to August 2022.
Supported EA UPD's Career Talks: Working in the Development sector webinar in August to September 2022 with speakers.
Provided speaking support to the EA UPD Applicant Orientation to attract 25 students new to EA.
Provided financial support and guidance to EA UPD organizer get-together, which led to better morale across the group.
Provided guidance in EA UPD application to CEA Grant Support Funding for their events expenses. Grant request was successful.
EA UPD was renewed for a UGAP grant in October 2022 for three main organizers - Andrea Castro, Jester Torres, and Chiara Gimeni.
Guided and provided templates with the implementation of a budget and expense tracking system.
Strongly encouraged student organizers to attend EA conferences, leading to ~10 attendees for EAGxSingapore and EAGxVirtual.
Supported by facilitating sessions and providing content spotlighting EA organizations in the EA UPD intro fellowship, which have 33 student participants from September to December 2022.
EA Taft
Produced 3 Category 3s.
Direct community organizing in EA Taft is on hold at this time. There remains potentially high-impact community members from EA Taft that we support and advise (e.g. Kriz Tahimic proactively organized an AI safety discussion group). However, we do not see them as the best fit for community organizing and support them instead in learning cause-specific knowledge and career advice.
Students from the Taft area who newly learn about EA are funneled to EA Blue and EA UPD introductory fellowships.
Other Student Groups
There are 1-2 student organizers outside EA Blue and EA UPD from other universities that are interested to organize, but EA PH support was prioritized to sustaining the existing student groups. We may explore seeding a new university group should both EA Blue and EA UPD have a robust continuity plan.
EAG/EAGx Coordination
In 2022, we saw Covid-19 restrictions loosen. Hence, we were able to more actively promote applications to in-person EAG/x conferences this 2022. Of course this is mainly thanks to the travel support provided by CEA's Events Team. Coordination between successful applicants were taken on by the EA PH core team, namely Brian Tan for EAG London, and Elmerei Cuevas for the rest of the in-person conferences. Coordination included advice on whether or not to apply, flights, accommodation booking advice, visa application advice, as well as Filipinos meet-ups during the conferences. This resulted in ~49 distinct Filipinos being part of the in-person conversations during the conferences.

EAGxVirtual was coordinated by Communications and Events Volunteer Jaynell Chang, who also revamped the EA Philippines GatherTown space in preparation for the virtual conference.

Breakdown of Filipinos / EA PH members in attendance to conferences this 2022 are as follows:
Conference

Date Range

No. of Filipinos/ EA PH Members
in attendance

EAG London

Apr 15-17, 2022

9

EAG San Francisco

Jul 29-31, 2022

8

EAGxSingapore

Sep 2-3, 2022

44

EAGxBerlin

Sept 16-18, 2022

3

EAG Washington DC

Sep 23-25, 2022

10

EAGxVirtual

Oct 21-24, 2022

38

EAGxRotterdam

Nov 4-6, 2022

2

EAGxLatAm

Jan 6-8, 2023

1

EAGxIndia

Jan 13-5

3
Counterfactually, we believe that attendance to EAG/x conferences specially the in-person conferences have greatly impacted our members' epistemics and career choices, with most of the 49 distinct Filipinos/EA PH members now volunteering, interning, or working for EA causes and organizations.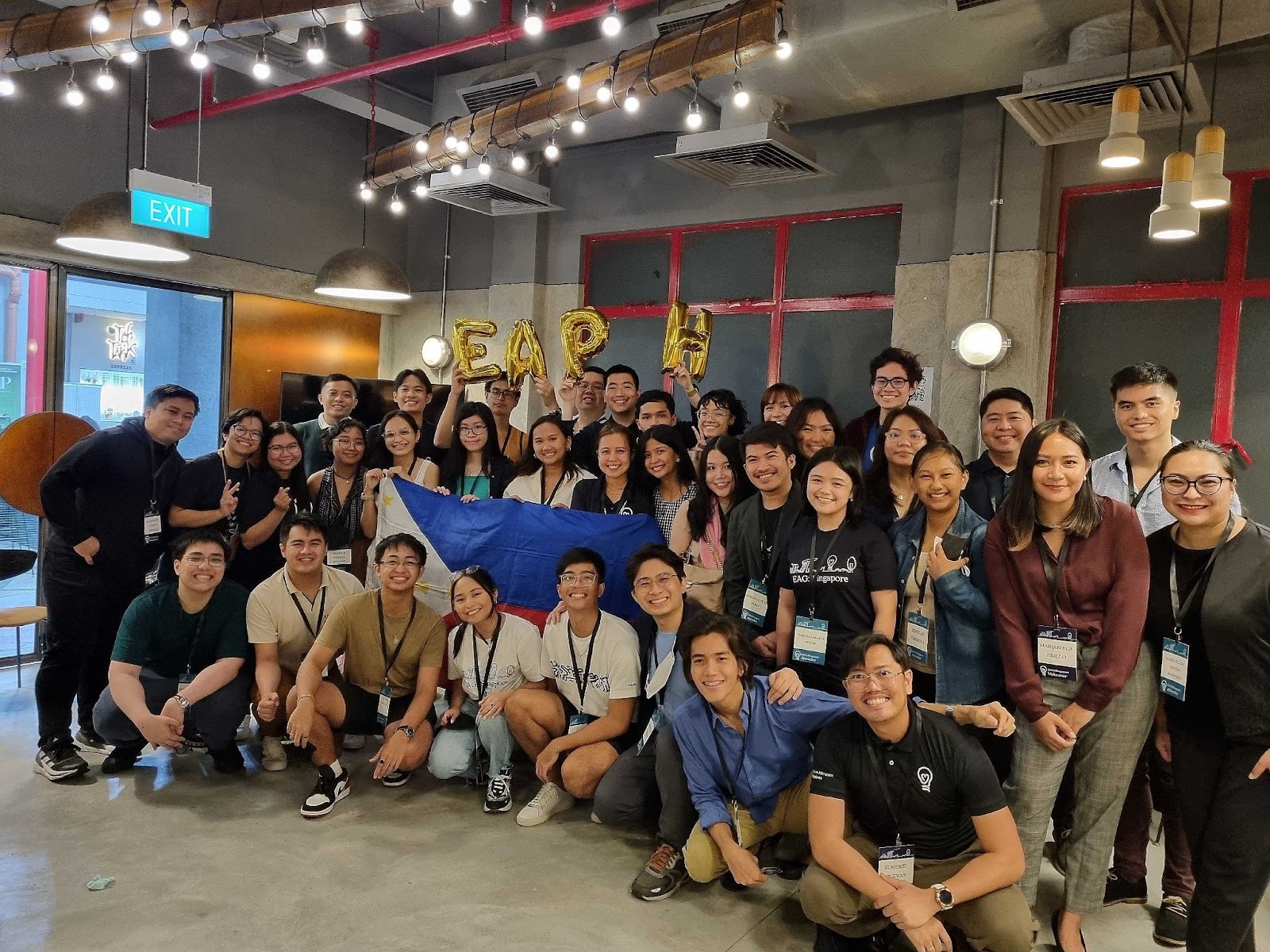 Photo above: Just some of the Filipinos/ EA Philippines members during the Filipinos Meet up at EAGxSingapore.
Events Organized since receiving the Grant
Event Organized

Date / Date Range

No of Participants

Ave Likelihood To Recommend / How Valuable was the talk?

Direct Cost (USD)

EA PH Town Hall
March 12
33 (Virtual)

4.83/5

0
EA PH x FWI x AEP Manila Meetup
April 4
25 (in-person)

4.875/5

230.20
Q&A on Philippine Elections
April 23
30 (Virtual)

5/5

0
EA PH - EAG London Echo Session + Post PH elections Processing
May 14
35 (Virtual)

4.6/5

0
Introduction to Effective Altruism Webinar
June 4
35 (Virtual)

4.7/5

0
EA PH Mental Health Charity Ideas Research Brown Bag Session
June 11
40 (Virtual)

4.72/5

0
EA PH Student Leaders Retreat
June 17-19
29 (in-person)

9.59/10

4076.69 (We applied for a separate Groups Retreat Grant via CEA Group Support Funding)
EA Philippines' Professional Fellowship Kick Off
June 25
Hybrid:
22 (in person); 20 (Virtual)

4.55/5

415.60
EA PH Professional Fellowship
July 2-Aug 20
25 fellows per week (Virtual)

9.05/10

204.66 (Facilitators Allowance)
Follow the Lead (Nutrition Month Event with PureEarth PH)
Jul 30
36 (Virtual)

4.92/5

0
Closing Event - Introductory Fellowship for Professionals
Aug 20
Hybrid:
25 (in person); 9 (Virtual)

9.05/10

403.10
oFISHal Report: Highlights of FWI Philippines in Cebu (FWI x AEP x EAPH)
Aug 27
25 (Virtual)

4.93

0
Measuring Good Better (HLI x EAPH)
Oct 1
37 (Virtual)

4.79

0
Animal Advocacy Socials for Students (AAA x AEP x EAPH)
Oct 15
23 (in person)

4/5

53.39 (AAA shouldered the venue and food costs)
Improving Institutions (EIP x EAPH)
Nov 5
24 (Virtual)

5/5

0
The How and Why of Launching a High Impact Charity (CE x EAPH)
Nov 8
19 (Virtual)

4.75/5

0
EAPH FTX Private Debrief Session
Nov 18
17 (Virtual)
0
EAPH Professional Fellows Sunset and Chill
Nov 19
25 (in-person)

9/10

236.69
EAPH Effective Giving Event + Year-end Socials
Dec 17
49 (in person)

4.5/5

513.69
In summary, across the 11 one-off virtual events conducted, we have an average attendance of 30 participants per event. For our 6 one-off in-person and hybrid events (excluding our multiple week professional fellowship and student retreat), our average attendance is 33 per session with a directly shouldered cost per participant at ~9 USD/head.

One-on-Ones
EA PH Grantees conducted a combined estimate of over ~100 one-on-ones with new and current community members from February 2022 to December 2022. Elmerei Cuevas also does 1:1s with other EA community builders from other regions fairly often to build relationships and for knowledge sharing.
The 1:1s within the EA PH community were mainly focused on: (a) member consultation about their careers; (b) queries regarding EA concepts; (c) queries on how to engage more with the community, and (d) community organizing advice and support for student groups. Unfortunately, there is no current working system of detailed tracking that is structured enough to compile for reporting. Overall, we estimate that: (a) more than half of the members that were engaged through one-on-ones, and (b) especially those engaged more than once, were those that have increased engagement with EA and those that made significant progress in their career journeys.
Given we have already established a good baseline community size, we hope to reallocate our time and energy to mentorship and career advice - hence we aim to improve on the system of tracking by the next grant period with a flexible structure that all organizers will use to measure EA progression over time (this methodology is to be tested during the EA PH career advising program).

Book Drive
We believe giving free EA related books encourages our community to learn more about how to make an impact and pursue altruistic careers. This can be especially important for people who may not have the financial resources to purchase these books.
Supported by CEA Group Support Funding and implemented initially by Brian Tan and Mikhaela Lee (from EA Blue), then continued by Red Bermejo and Pamela Radaza (from EA Blue), we began by purchasing "Doing Good Better" and "80000 Hours" in bulk and providing them as giveaways during EA events and or post-fellowship. As we saw the opportunity for books to be an avenue of learning and exploring other EA ideas, we eventually decided to provide other EA books as well (e.g. Charity Entrepreneurship, What We Owe The Future, etc.). The aim was to be an alternative to Impact Books, understanding that purchasing books in bulk is more cost-effective and that we believed that our book processing time will be shorter.
Since March 2022, we have been able to service ~100 registered orders on top of unregistered giveaways during events. We have found that roughly ½ of book requests are those newer to EA (below 30 hours of learning) and ½ are those who have invested more time in EA already - and may already be practicing EA principles in their careers. As an additional insight, more than half who ordered are from EA Philippines' student groups.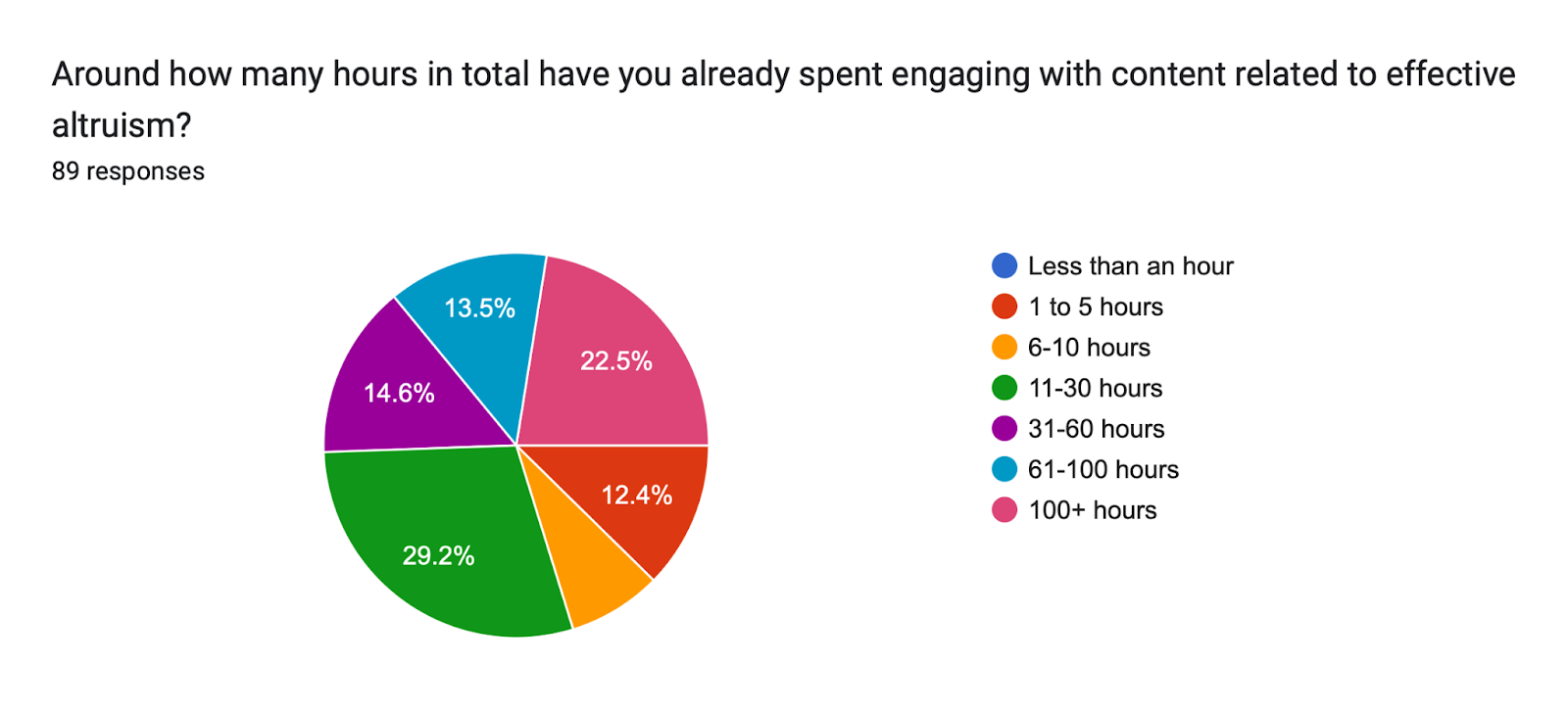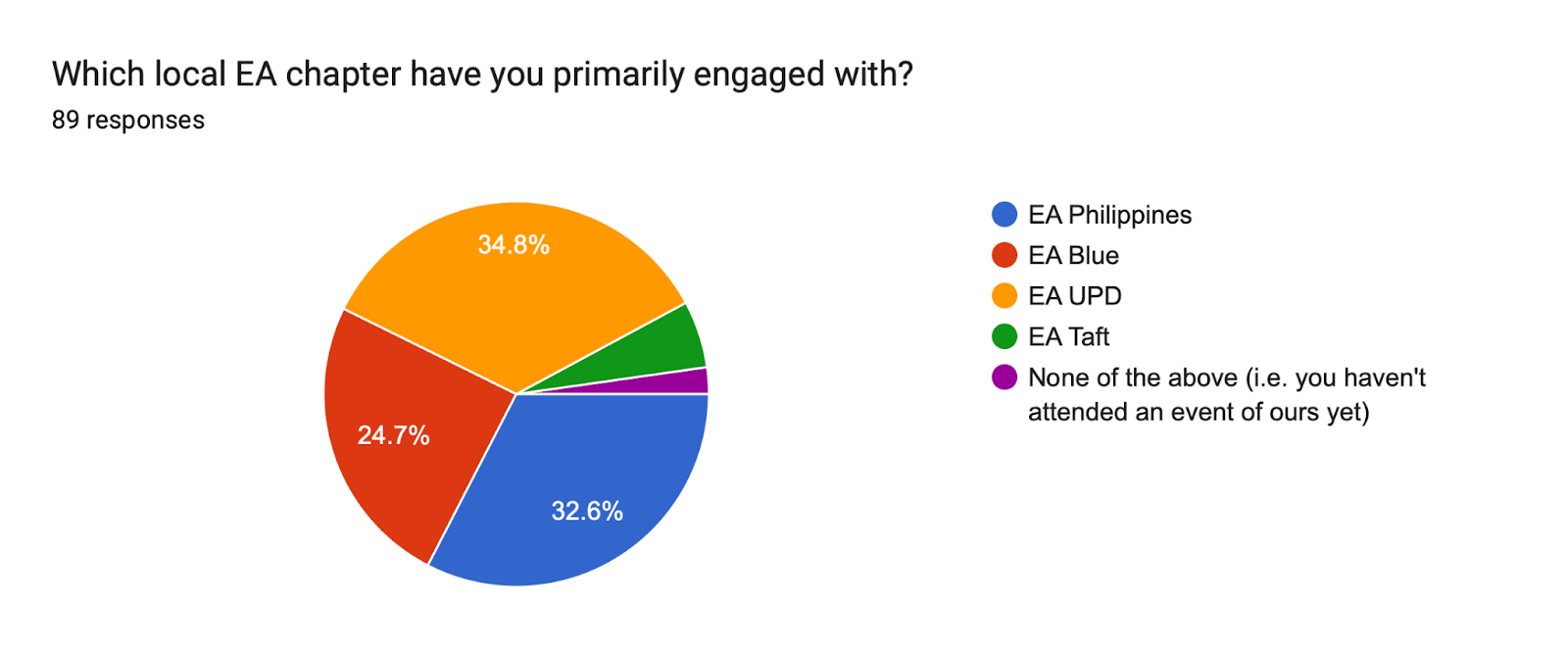 All in all, we estimate to have spent ~6.8k USD on book orders and delivery fees during this grant period to buy about 300 EA books. We currently still have around ~230 EA books on hand (~90 of Doing Good Better, ~90 of the 80,000 Hours book, and ~50 other EA books). We think we made a mistake here by ordering too many books and not giving most of these away over the last few months. We'll make sure to give out these books over the next few months and not to over-order in the future.

We hope to continue this activity this year to see how cost-effective these are in our hypothesis by: (1) asking if people read them; (2) and if significant decisions were made due to books read - or in conjunction with mentorship, other EA events, etc.
Helping organize the Community Builders in Asia Retreat
Three out of the five team members who organized the Community Builders in Asia retreat held last Aug 28-31, 2022 in Singapore were from EA Philippines. Being co-led by Dion Tan and Kirsten Angeles, the retreat had an average Likelihood to Recommend score at 9.48/10. The retreat brought 29 Community Builders from Asia, Africa, Israel to discuss topics benefiting the local communities around Asia.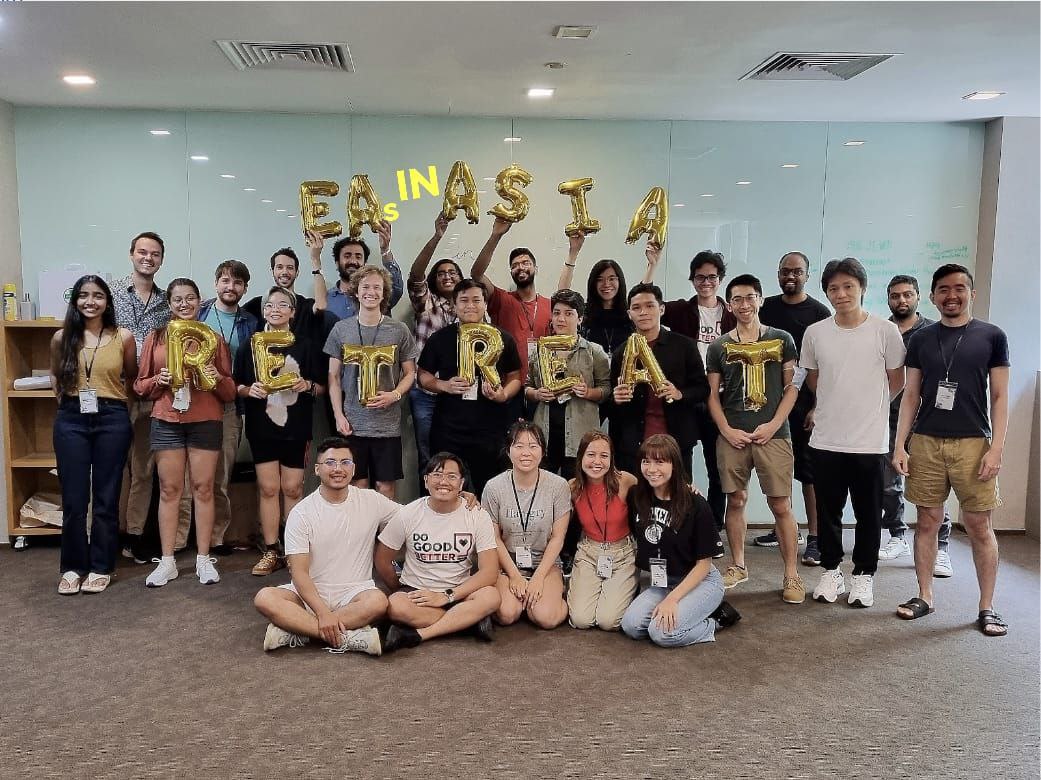 EA Philippines Newsletter
With an average of 33% open rate and 3% click rate this 2022, EA PH Newsletter subscribers continue to expand its reach since its first newsletter release in November 2020. Though the click rate is a bit low, we are looking into increasing this metric and the open rate metric. EA PH's monthly newsletter started with 349 recipients back in 2020, and has now grown to 780 by the end of 2022.
This year, we also added the Anonymous Feedback Form in the monthly newsletter for community members to raise any concerns related to EA Philippines, including on any of our projects, leaders, volunteers, or community members.

Moreover, the 2022 Community Survey results showed that 50.9% of the respondents find the monthly newsletter valuable in helping them do more good. You can check this link to see our latest newsletter and our newsletter archives.
EA Philippines Job Board
EA PH Job Board features EA-aligned opportunities from different organizations locally and globally. This year, around 200 job/internship/grant/volunteer opportunities were added in the job board. These vacancies are sourced from different EA-aligned Facebook groups, Slack channels, and job boards. Though we don't have the means to verify who has landed a job using the job board, we think that the job board is helpful as it is easy to share to the community members when they're on the lookout for opportunities. From page views between Feb 25, 2022 to Jan 11, 2023, a total of 881 views or an average of 73 views per month were made. From this, our best guess is that only 5-20% of users actually click on at least one job post per view, and the EA PH job board contributed to 10-30 additional applications for the year.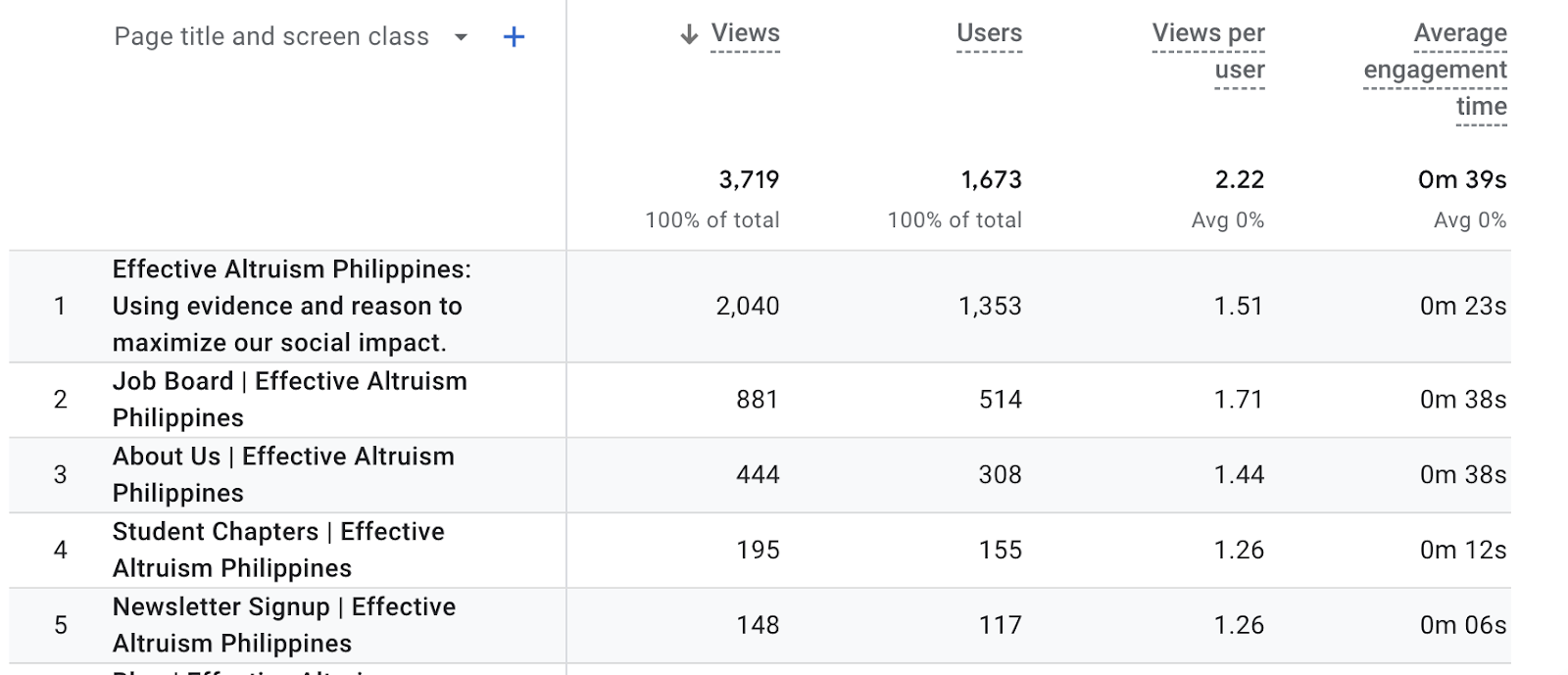 EA Philippines Social Media Engagement
As of Jan. 3, 2023, our Facebook page has reached 2,191 page followers, while our Facebook group has 693 members (with 272 of them active within the last month), and our private Slack workspace has 220 members with 53 of them currently as weekly active users. Our Instagram, on the other hand, has 318 followers so far.

Our social media is a gateway to EA-related resources and opportunities. Specifically, we mostly share updates from the EA global and EA PH community, opportunities from EA-aligned organizations, Member/Organizational Spotlight, and quotes. It's also used to direct our followers to read our newsletter, check our job board, attend EA PH events, and highlight some of our notable community members.

Our consistent posting and the use of proper hashtags also helped us grow our social media reach. Recent and relevant resources are carefully handpicked to match the interest of our audience. We also attribute the growth of our social media and the strategy that comes with it to our former volunteers Faith Lawas and Jay Chang, who are both intentional and meticulous in increasing the reach and engagement of our audience.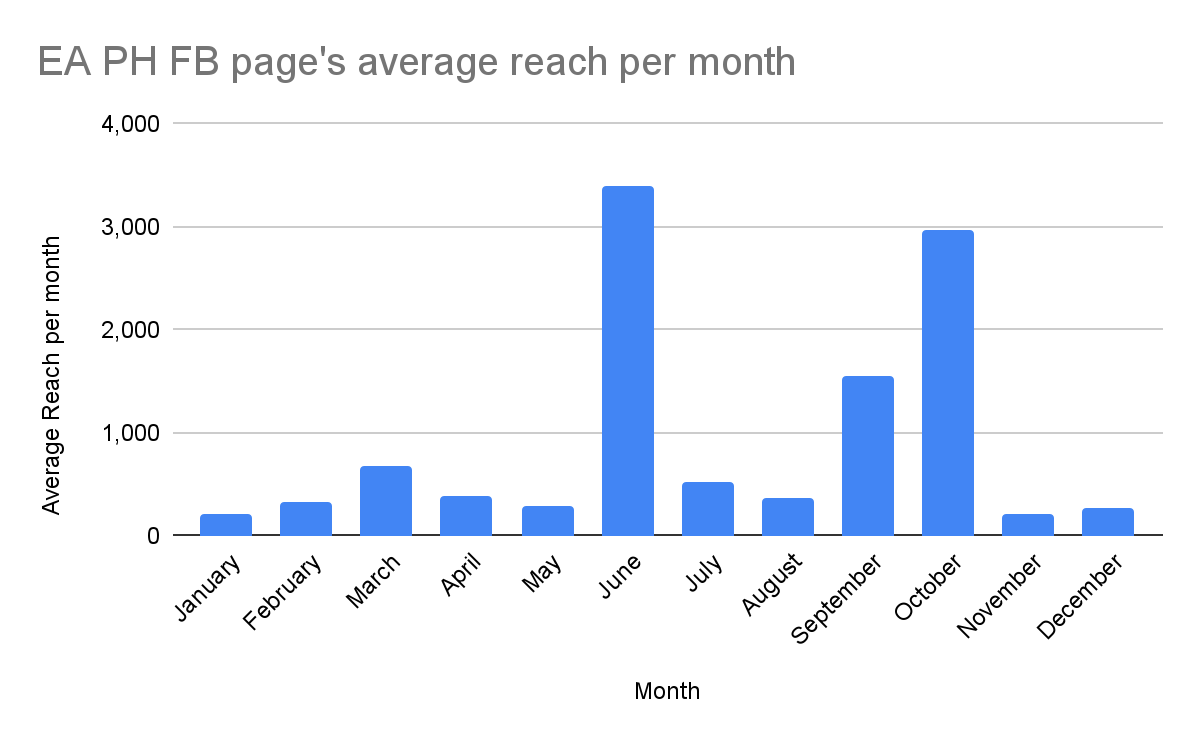 Similar to the number of posts, the average reach per month also seems to be generally increasing throughout the year, with the highest average reach per month being in the second half of the year.
It is worth noting that June, October, September and December have the highest average reach per month. It could also be a possible indication that these months have more events and activities.
In particular, the Introductory Fellowship for Professionals in June may have been a major factor in increasing the reach during that month. Posters were boosted then for the fellowship and may have helped increase our FB page's visibility and engagement, resulting in a higher reach. Similarly, boosting posts in September and October for the events with HLI and EIP could have helped increase our reach and engagement.
Revamp of EA PH's Volunteer Management System
Since 2020, EA PH has onboarded volunteers that worked on certain projects and teams within the organization. As the EA PH community continues to grow and more members volunteer with us, we realized that there is a need for a more efficient and consistent approach in volunteer management. We began by studying resources from EA Israel - Gidon Kadosh' Talk on User-centered & volunteer-oriented community building models and their Strategy Doc. We also booked a call with Ezra Hausdorff of EA Israel to consult further.

We have written a Volunteer Policy Framework for EA PH which communicates our vision and rationale for volunteering and elaborates on our policies including general policies, recruitment, feedback and evaluation, workplace violence and harassment, and resignation and termination. We have also created a Volunteer's Agreement for each volunteer which will contain the specific details of each volunteer's term with us. This document also ensures our accountability to our volunteers. These documents were reviewed by an organizational development specialist based in the Philippines.

Soft launch EA Philippines Mentor and Mentoring Program
The EA PH community is mainly composed of university students and professionals. We recently realized that our community is falling short when it comes to having the students seek professionals for career or general advice. Further analyzing this problem, we realized that there are few root causes which the community builders could address to improve one-on-ones.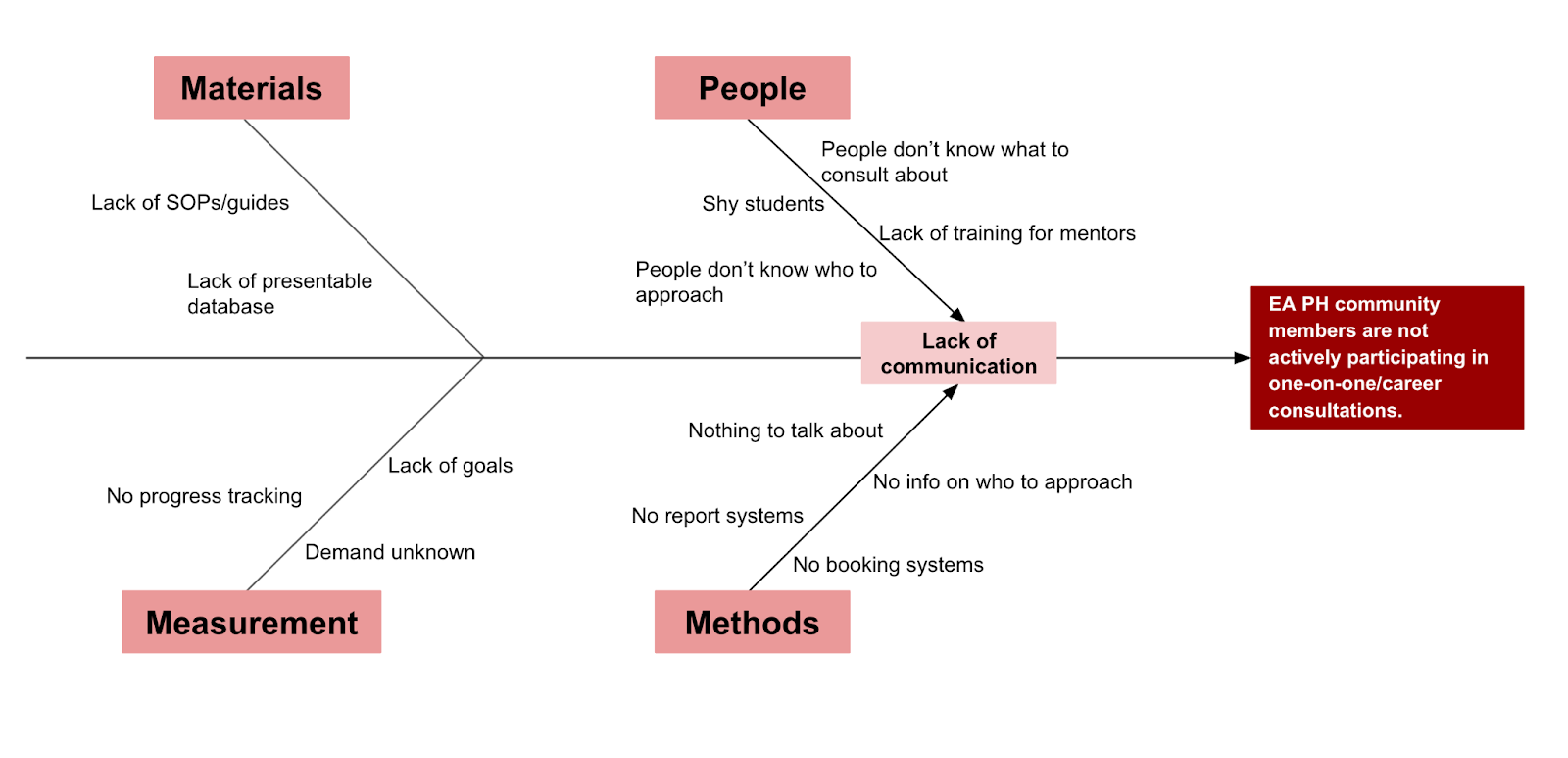 The root causes include: (1) the lack of a database of mentors available and committed to mentoring budding EAs, (2) non-existence of mentoring guide made for the local community, (3) no documentation on EA PH's side on how a successful mentorship could look like, and (4) absence of a better coordination between potential mentors and mentees. While we do not expect the mentorship program that we are currently initiating to solve all of these root causes immediately, we believe that this could be a great start which will lead to the creation of materials and methodology. Our ultimate goal is for the mentorships to continue happening without much effort from the community builders.

To begin this project, we studied mentorship program models such as Magnify Mentoring (WANBAM) and EA Israel's career consultation methodology. We came up with our version which is explained in this document. We will be conducting the project in two different formats: (1) three-month to six-month mentorship program between a matched mentor and mentee and; (2) a flexible setup wherein a mentee requests to be matched to a mentor depending on a specific concern.


Additional Notes:
General Grant Funding Breakdown
From the General Grant Funding of $6,500 from the EAIF, below are categories of costs incurred throughout the grant period. This does not count most of the costs of the student leaders retreat, as we applied for separate funding from CEA for that. This also doesn't include about $6,800 worth of EA books that we purchased using group support funding received from CEA.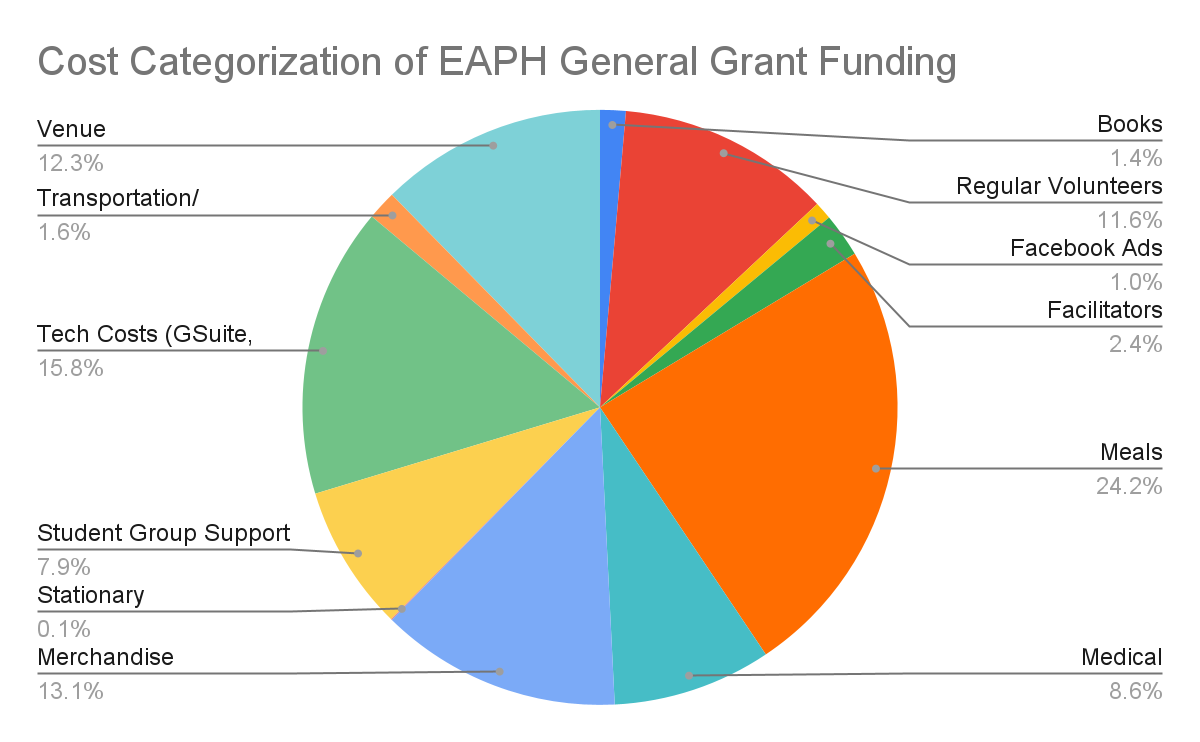 Highest cost at 24.2% of the General Grant Funding is on event meals (which for some events also covered venue costs) for in-person meet ups. We have an events section in the appendix below for more input on this. Second highest cost category comes from recurring Technology costs (GSuite, Zoom) at 15.8%. Third highest cost is one-time purchase of EA PH Shirts (as incentives for our community survey) as well as printing of EA PH pull up banners, event stationery etc.

During this grant period, EA PH paid out small allowances for facilitators for our Professional Fellowship, and for Regular Volunteers (Communications/ Events, Book Operations) who have routine tasks that keep operations running.



EAPH Member Chapter and Career Breakdown

To measure the community's growth with respect to targets set, the team conducted community surveys and personal interviews. We have metrics for prior to the grant period (Jan. 2022), around mid-way (July 2022, not shown), and towards the end of the grant period (Dec. 2022). The active member count (meaning they had at least 2 touchpoints with EA PH during the year) for each EA Engagement Category are found below: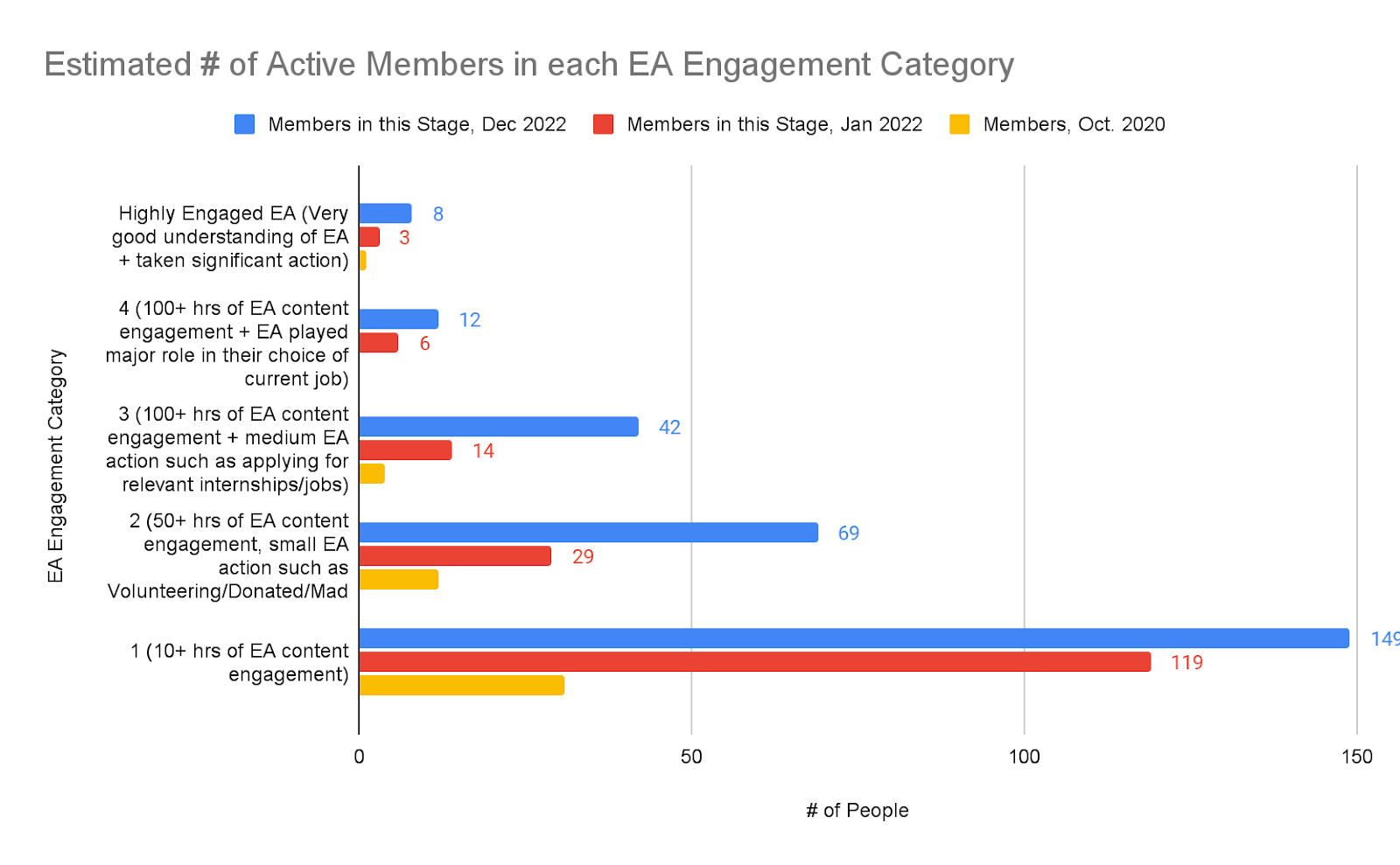 From the current 280 active members of EA Philippines as of December 2022, we wanted to break down the chapter affiliation of the members. EA Blue and EA Philippines contribute the most members as these groups have existed longer and some uni graduates from both EA Blue and EA UPD now affiliate with EA PH more than their student chapter.. EA UP-Diliman also only started conducting fellowships in early 2021.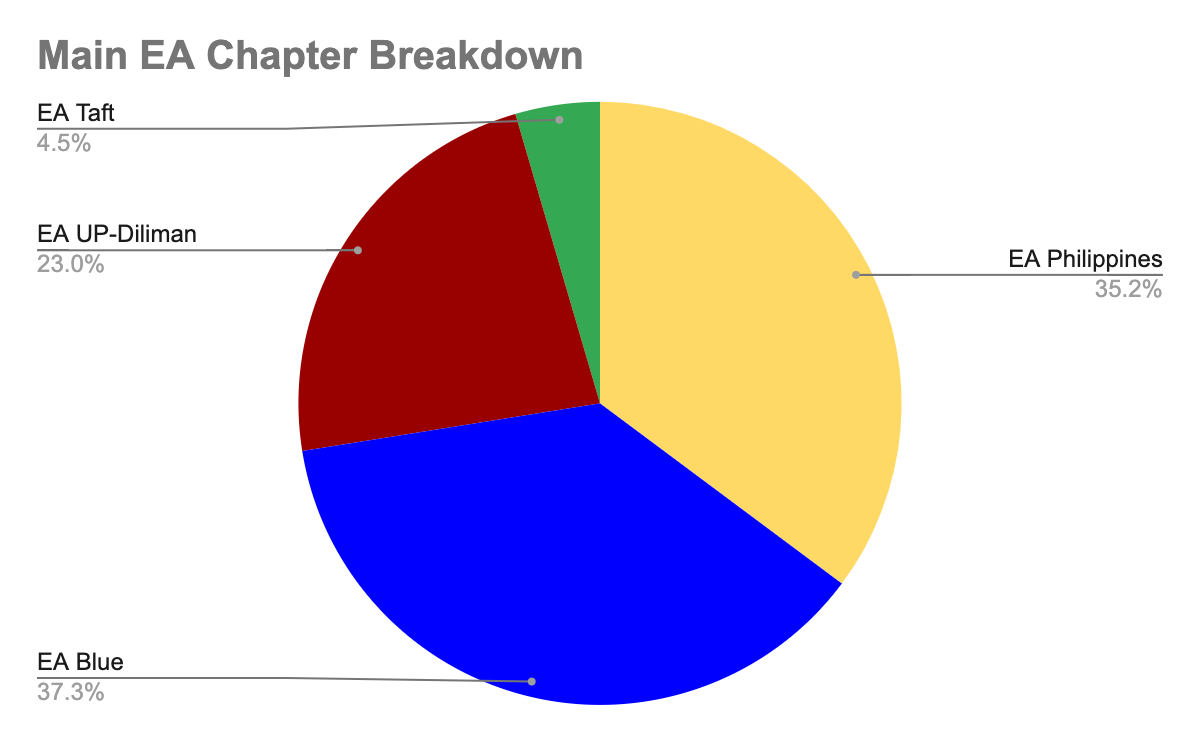 Career stages were also broken down to show growth of the segments. In January 2022, the community was 75% uni students, hence the focus to grow the professional network. While the conducted EA PH Professional Fellowship aided in the increase of professionals into the network, the continued uni outreach of EA Blue, EA UP-Diliman and EA Taft, as well as high school student members moving up to university, allowed the segment to now be at 65% of the entire community. The Green portion of the pie chart is for Phd/Law Students at 1%.