Momentum (formerly Sparrow) is a venture-backed, EA startup that aims to increase effective giving. We build donation pages that emphasize creative, recurring donations tied to moments in your life (e.g. offset your carbon footprint when you buy gas, or give to AI alignment every time you scroll Facebook) and we use behavioral science to nudge new donors to support EA charities.
Our goal is to direct $1B per month to EA causes by 2030, growing EA funding by over an order of magnitude and becoming EA's largest funding source. We believe that relying exclusively on a few mega-funders is not a robust long-term strategy for EA. Yet effective giving is quite small - there are 7.4K active EAs, and 85K people have ever donated to GiveWell. In contrast, each year, 240M Americans donate and 11M people visit Charity Navigator alone. We intend to reach a large number of people who have not yet heard of EA but are open to making highly-effective donations.
82% of VC-backed startups fail, and Momentum may be no exception. However, the potential upside of creating a sustainable funding source for EA is so great that the expected value appears high. And there's evidence that we're on the right track.
Momentum has moved over $10M with our software from 40,000 donors. In our mobile app, 87% of donations went to our recommended charities (including several longtermist ones). We have $4M in funding from both EA funders (e.g. Jaan Tallinn, Spencer Greenberg, Luke Ding) and venture investors (e.g. Mark Cuban, Eric Ries, On Deck), making us one of a handful of VC-backed EA startups. Our campaigns have received widespread attention from celebrities (Peter Singer, John Legend, MLK III) and the press (e.g. NYT, BBC, and Quartz).
Our team recently grew from 3 to 9, and we have 6 more openings in product, growth, engineering, etc. For the right person, this could be very high impact and a great place to work. We'd love to hear from you - email ari@givemomentum.com or apply here.
A huge thank you to Jade Leung, Ozzie Gooen, Aaron Gertler, Rebecca Kagan, George Rosenfeld, and Bill Zito for feedback. All opinions and mistakes are our own.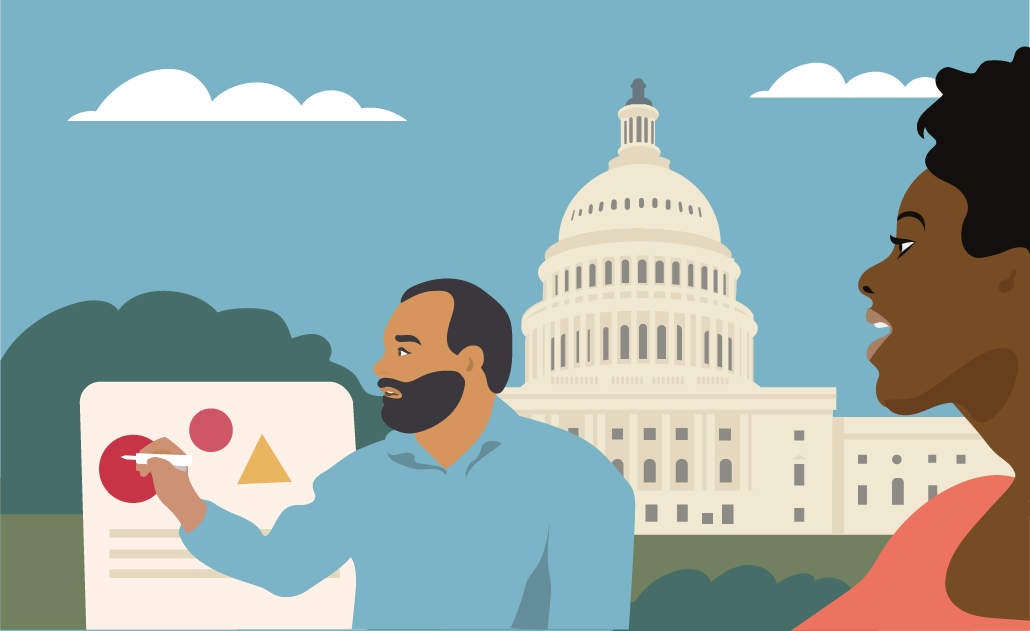 Table of contents
The product
To increase the number of EA donors, we need to reach people outside of EA and encourage effective giving. We reach new donors by providing donation pages to a wide range of charities (regardless of effectiveness) that they market to their audience. After donors check out we offer a portal that encourages additional effective donations.
Step 1: Reach donors with our donation pages
To reach donors outside of EA, we give charities free donation pages built in their brand (like this one or this one) that they put on their website - like Shopify but for nonprofits. Our page helps the charity acquire more recurring donors (who give 7x more) by tying personal actions and global events to automatic donations. You might give 5% to clean water when you buy a coffee, donate to BLM with each police shooting, or donate to stop Trump every time he tweets.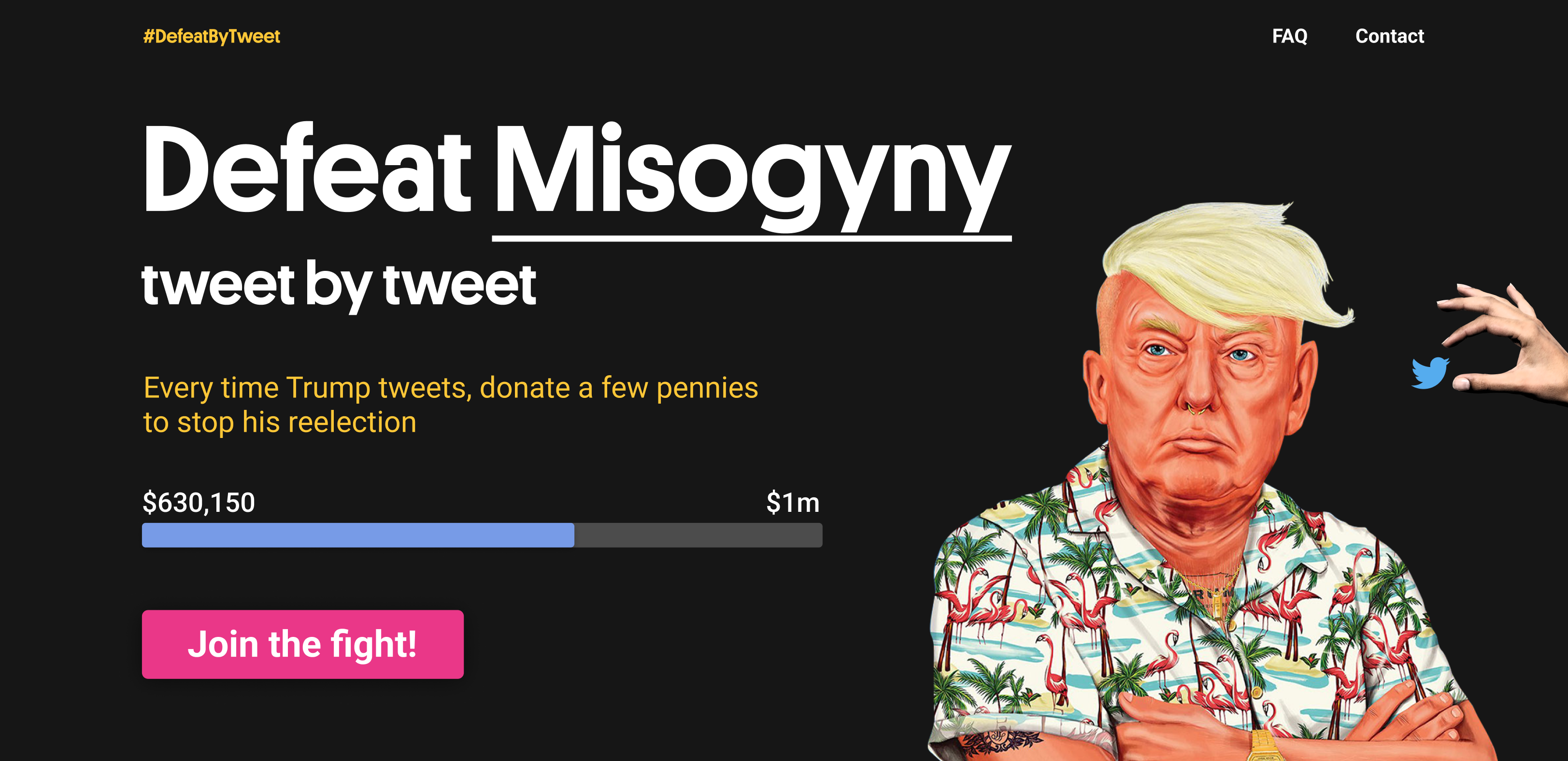 We saw success with Defeat by Tweet (97% of 40K donors were recurring), so it looks promising that we can beat the industry average of 10% recurring. Since increasing the number of recurring donors increases donation volume so much, charities leverage their marketing resources to direct traffic to their page.
Step 2: Nudge effective giving with our donor portal
To increase effective giving, we give donors a portal that encourages supporting effective charities. After the donor checks out on a donation page, we guide them (on the confirmation page or via email) to log in to the portal to track their giving, edit their donations, and see their estimated impact (e.g. lives saved, papers published, etc).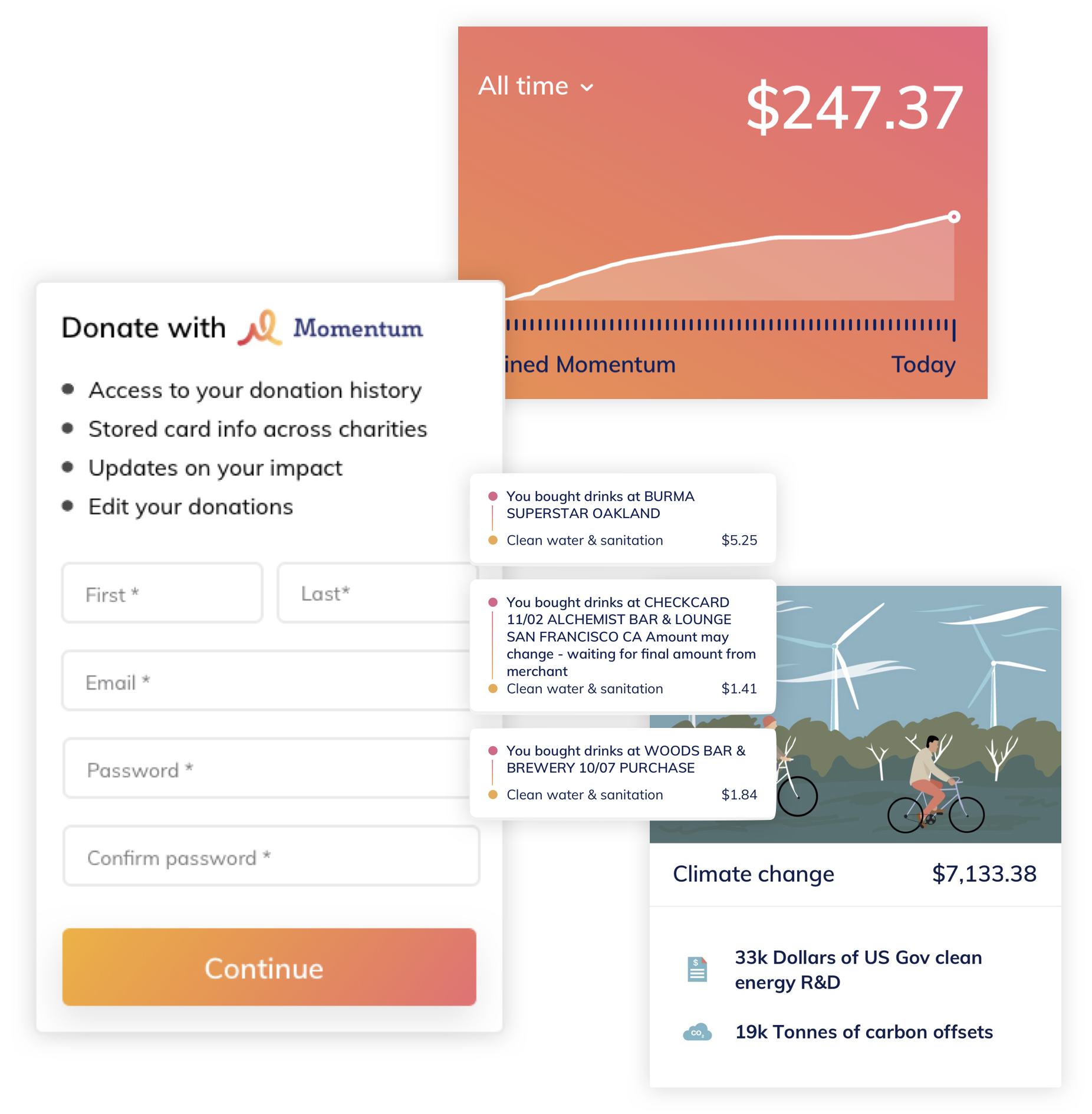 Critically, we nudge donors in the portal to support effective charities. Most people do not have fixed donation budgets, so they are open to making additional effective donations on top of their original donation. To encourage this, we build portfolios of highly-effective charities (e.g. 'Good Technology' or 'Poverty') using evaluations from groups like Open Philanthropy, GiveWell, and Animal Charity Evaluators. We employ best practices from donation psychology, such as defaults, personalization, and social proof (and it seems to work, including for longtermist charities). For example:
A Red Cross donor likely values disaster prevention, so the portal might suggest preventing the next pandemic by giving to biosecurity with every 1K COVID cases.
A values quiz gives an animal lover a portfolio of charities, like a local shelter and Humane League (mixing familiar with effective, similar to Giving Multiplier).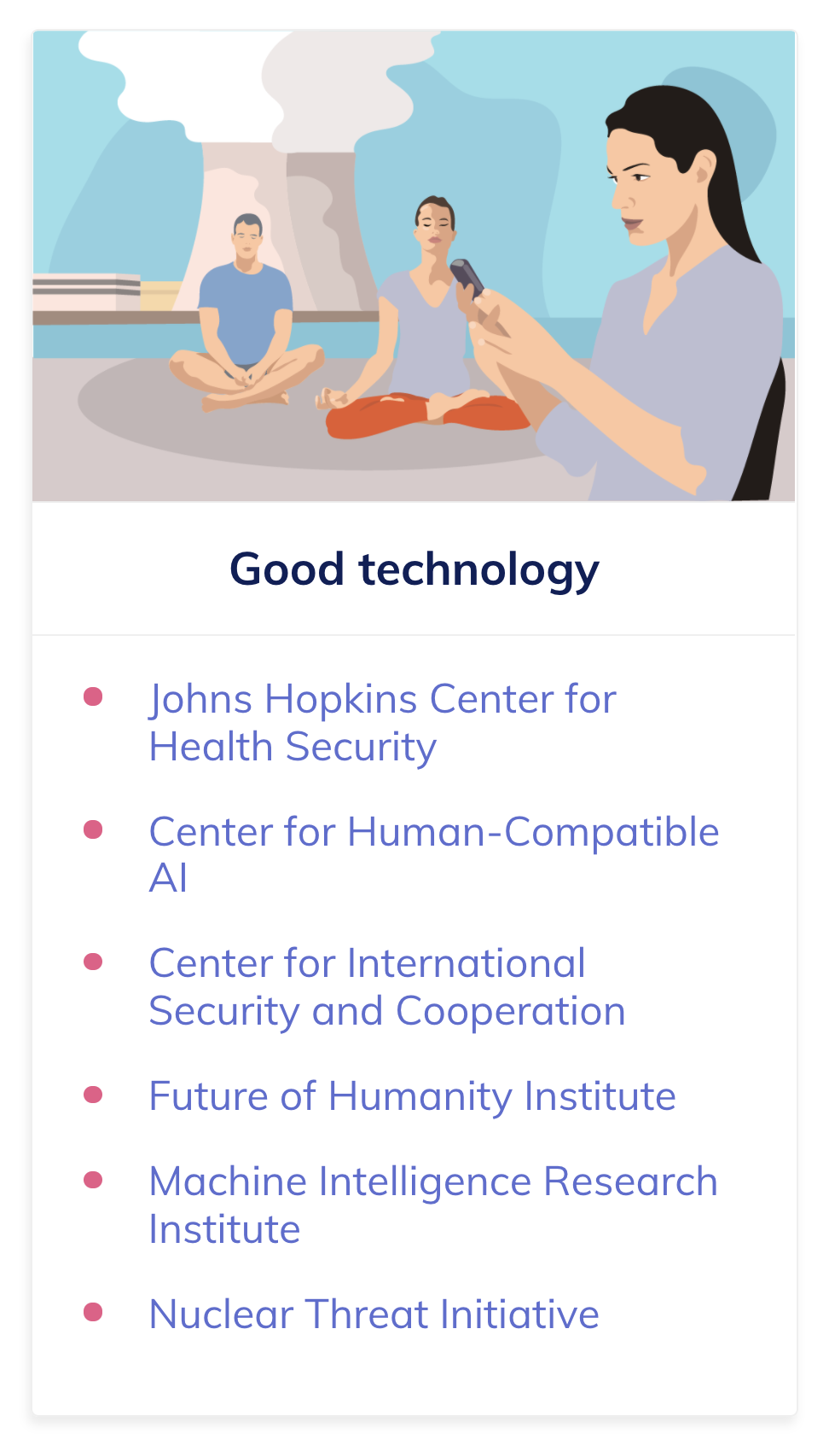 Impact
Momentum aims to increase funding for effective causes by an order of magnitude; we'll evaluate the impact of this work using the INT framework.
Importance
EA hopes to tackle the largest problems facing humanity. While there currently is a funding overhang, we are just scratching the surface of discovering high-impact opportunities. As long as EA continues to scale, funding needs will accelerate.
However, it's unclear if funding can continue to grow at its current rate. Most funding comes from a few mega-donors, which may prove hard to reliably scale. Recruiting mega-donors is erratic, and Ben Todd suggests funding growth may slow in 5 years.
Furthermore, overly relying on a few funders bears mission risk. Open Philanthropy often encourages grantees to diversify their funding sources, as funder diversity is important for organizational and movement health. Diversifying funders would make EA more robust:
It protects against the risk a funder's financial situation changes (a worry given how much of the movement's money is tied up in illiquid crypto and tech stock).
It prevents any single funder's preferences from creating unintended pressure or dramatically influencing movement priorities. This may be critical for the movement to avoid ideological stagnation.
There are too few EAs for individual members to substantially scale EA funding, at 7.4K members growing 14% a year. We may need to look beyond this group. Americans alone give $450B per year; while most donors will never become committed EAs, many are open to making effective donations. Momentum reaches these donors and helps them give to highly-effective charities using behavioral science.
Our scale can be modeled by asking: how large is the target market (market size), What portion will Momentum capture (market share), and what portion will go to EA-aligned charities (activation rate)? This can be calculated as:
Effective donations = [Market size] X [Market share] x [Activation rate]
Market size: Americans give $450B per year. However, only ~$120B is from small-dollar donors. Our best estimate gives a $75B target market in the US.
Market share: Market leaders often capture over 40% of the market, but many successful startups capture under 10%. Shopify (a good analog) has captured 32%.
Activation rate: In our discontinued mobile app recommended charities got 87% activation. We estimate our new pages will get~50% (but greater market share).
As an upper bound, capturing 40% of a $120B market with 87% activation would mean $41B/yr to effective charities. More realistically, capturing 30% of $75B with 50% activation would mean $11B/year. $4B/year would still 10x current EA funding.
How likely are we to achieve that? That's a big question and the full analysis is outside the scope of this post, but a back-of-the-napkin Fermi estimate is a 5% chance the platform directs over $500M/year to EA and a 1% chance it directs over $5B/year.
With so many open questions, it may be helpful to note other possible paths to impact:
We hope to create an on-ramp towards deeper involvement in EA, providing a journey eventually guiding some donors to 80,000 hours, etc. Research shows that behavior change drives attitude and identity change.
Directing a meaningful portion of giving may help shift the nonprofit ecosystem away from its focus on overhead, encouraging organizations to prioritize evaluating and increasing their impact.
The proceeds from Momentum's market cap can be donated once liquid.
Neglectedness
Motivating effective giving at scale appears neglected within EA. Many are focused on the current funding overhang, and few are working towards creating sustainable funding growth. Furthermore, the movement is better at identifying funding opportunities than motivating people to donate there. These are two fundamentally different efforts. Facts and information are essential to determine where people should donate, but behavioral science research has repeatedly found that they play a much smaller role in actually driving behavior change. Despite this, expected value calculations and logical premises remain one of EA's primary motivational tools.
Of the organizations that are working on scaling funding, many (e.g. Longview Philanthropy, Giving What We Can) prioritize generating substantial buy-in and lifelong commitment. Others (e.g. EA Funds, GiveWell) are tailored for already committed donors. Momentum's work complements the current movement: we are rapidly scaling giving by motivating new donors. Our founders have backgrounds in behavioral science and met researching effective donation psychology with Dan Ariely.
Tractability
Momentum has meaningful, early evidence of tractability. From an inside view, the key questions are about reaching new donors and nudging them to effective charities:
40K donors: The discontinued mobile app didn't reach many donors before the pivot, but our new donation pages have. In just three months, our pilot page acquired 40K donors (5x the EA movement) and Momentum has moved $10M to date (and growing). We consider this strong evidence for market share.
87% nudged: In the mobile app, 87% of dollars went to our recommended charities, and some campaigns directed 10-35% of funds to longtermism. Our new donor portal is under development, so the activation from donation pages is unknown. We expect some drop, but consider this evidence that donors are open to recommendations. We predict ultimately seeing around 50% activation (with wide confidence intervals), which could mean $11B/year for EA.
From an outside view, we've received significant non-profit and for-profit interest:
Venture-backed: We've raised $4M in funding. We're backed by top venture capital firms and angel investors like Mark Cuban, Eric Ries (The Lean Startup), Elizabeth Yin (500 Startups), Michael Vaughan (ex Venmo COO), Tim Kendall (ex Pinterest President), Betaworks, OnDeck, Shrug Capital, Contrary, and Adjacent.
Support from EA: We've also received funding from mission-aligned investors like Jaan Tallinn, Luke Ding, Spencer Greenberg, Total Portfolio Project, and Peter Groenen. Peter Singer is on our advisory board.
Press coverage: We've been featured in publications like NYT, BBC, NPR, ABC, Quartz, and The Chronicle of Philanthropy.
Celebrity coverage: Our campaigns have been promoted by a wide range of celebrities like Mark Ruffalo, Olivia Wilde, Andrew Yang, Corey Booker, Peyton List, Noah Centineo, MLK III, and the founders of BLM.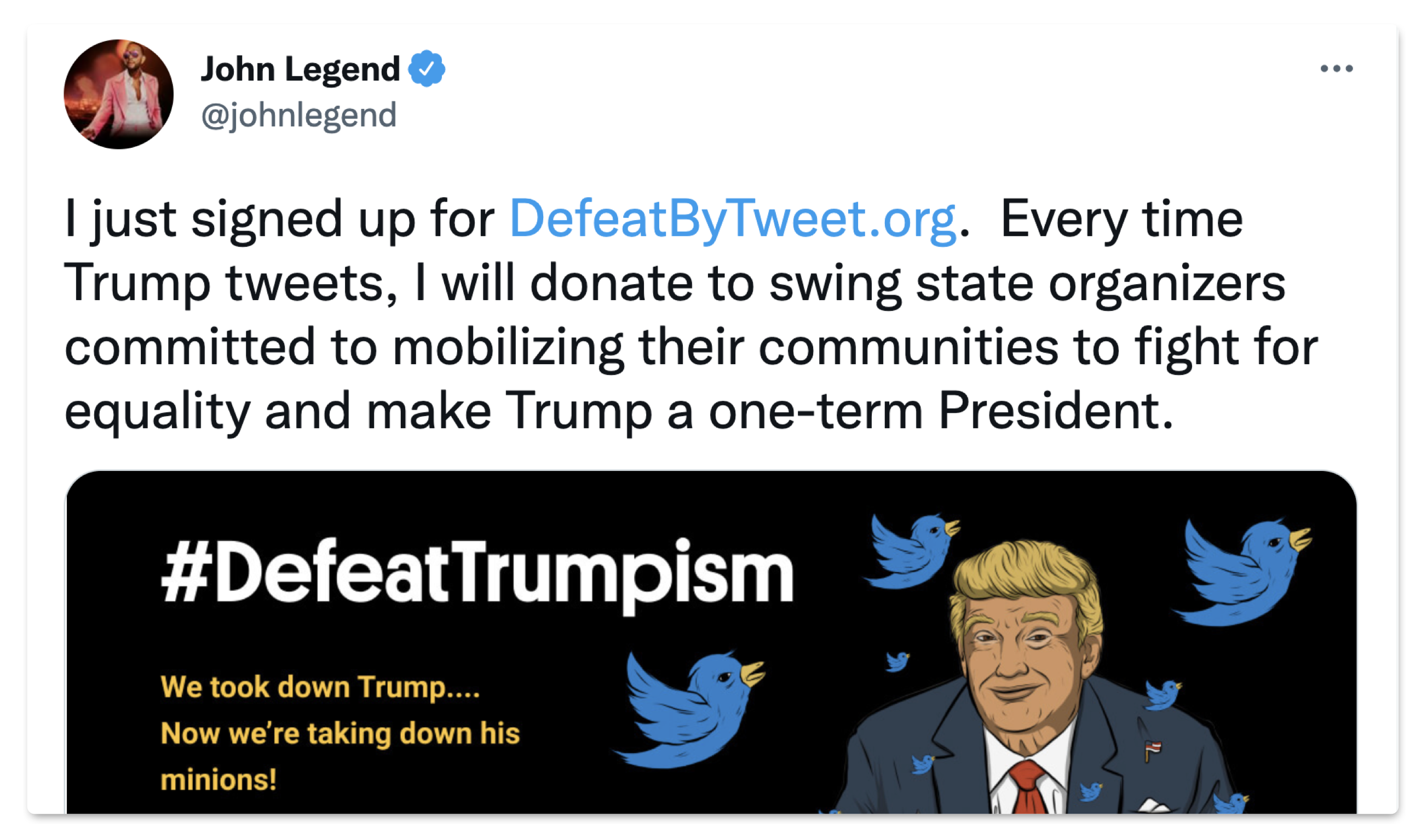 Working at Momentum
You can have outsized impact
Momentum has the opportunity to create a large, sustainable funding source for the EA movement. For the right person, joining at this early stage could be extremely high-impact - a single employee could make the difference between success and failure. There are few places where your work can have such outsized, counterfactual impact.
It's a great place to work
In addition to having high impact potential, Momentum is also a great place to work:
We tackle hard problems: Many EAs (especially software engineers) worry about working somewhere they may not develop their skill-set or be intellectually challenged. As a growing tech startup, Momentum has a long list of interesting problems waiting to be solved. We have complex architectural challenges on the backend, unanswered product dilemmas to research, and countless growth channels to explore. We need talented people who want to solve hard problems.
We have a strong team: Momentum is rapidly growing our team: we've hired 6 of our 9 team members in the last 6 months, and we're hiring another 6 in 2022. We hire both for deep mission alignment and exceptional talent. 7 of our team members were independently involved with EA before joining. We have decades of combined experience in software engineering, research, nonprofit fundraising, and sales at places like Y Combinator, Google, and EA Hub. We're serious about hiring great people and care about supporting you once you join. We prioritize mentorship, feedback, training, reflection, and personal development, helping you both grow at Momentum and prepare for your career to come.
We pay well: We know that finding great compensation can be a challenge for EAs entering direct work. Momentum offers market rates for a seed-stage startup in San Francisco. That's less than you'd make at Facebook or Google, but more than you'd make most places. Furthermore, your equity has a much higher potential upside than it does at a large company. We also offer perks like free meals and gym memberships, and will even sponsor visas for the right candidate.
We open doors: Working at a small, unknown organization can be a resume risk, but Momentum's credentials make it a valuable addition. Even if Momentum fails, no one will fault you for joining a rapidly growing startup backed by Mark Cuban with 40K users. If we succeed, few things look better than being an early employee at a successful startup. Momentum will also build your network; whether that's embedding you in the Bay Area EA community, introducing you to successful founders and investors, or helping you meet charities. Momentum sits at the intersection of technology and direct work, so it opens doors in both areas.
We're building something new: The opportunity to build something from the ground up is rare. You can meaningfully affect our chance of success and help shape the company culture. Given our stage, we prioritize hiring competent, aligned employees, and empowering you to make a difference. You'll be given both more responsibility and more autonomy than at larger companies.
Reasons not to work at Momentum
If you have extremely short AI timelines: If you have extremely short timelines on AGI development and can contribute to AI safety, you probably shouldn't work here. Momentum's impact is greater in worlds with longer AI timelines. That said, if you're unsure how to contribute to AI safety, a startup enables rapid skill development in areas valuable for the EA movement.
If you predict funding will outpace funding needs: If you think EA funding will continue to grow at its current rate or don't think we'll discover bigger funding needs in the future, Momentum is less valuable. It's important to consider the chance that EA continues to attract mega-funders or that there is mass adoption of effective giving without Momentum.
If you don't think we'll succeed: Perhaps you think charities won't use our donation software, or we won't manage to nudge effective donations. The impact may not outweigh the risk in your expected value estimate, or you may just want to work on something that's more certain.
If you're not excited about startup culture: Early-stage startups aren't for everyone! You need to be comfortable with ambiguity, able to take initiative, and open to moving quickly. If you prefer a slower-paced environment with a clearly defined path laid out for you, Momentum may not be the right place to work.
FAQs
Why work at Momentum if EA isn't funding constrained? This is a great question given the recent influx of cash in the movement. The current EA bottleneck is finding projects to fund, but this seems unlikely to remain the case in the future. A more sustainable funding source than mega-donors is needed for EA (more here).
Is Momentum neartermist? Nope! People often worry that Momentum will only direct money to global health and well-being. In fact, Momentum's leadership leans longtermist, and we're cause agnostic as a company (among EA causes). We recommend charities in AI safety, animal welfare, biosecurity, global health & well-being, and more. Some campaigns have directed 10-35% of donations to longtermism, and we believe we could raise this number (e.g. by creating managed funds that allocate money where the impact is greatest, similar to EA Funds).
Is working at Momentum higher impact than earning to give? Our rough Fermi estimates put the counterfactual expected value of a strong engineer joining the team at $5M/yr to effective charities (varies widely by role). That's from direct impact alone, before factoring in donating your equity. If you currently donate a few hundred thousand per year or less, we think working at Momentum is higher impact in expectation. It's a harder question if you donate over $1M a year.
How do you make money? We give our software to nonprofits for free and make money from an optional, donor-set tip. Research shows pay-what-you-want pricing can be more profitable than fixed pricing, and we reached profitability before our last round. And the more people donate, the more our investors make, so for-profit pressure encourages greater impact.
Why are you for-profit? We considered starting as a non-profit but concluded we're better positioned for impact as a for-profit. First, it lets us raise money more quickly. Second, it helps us to attract talent (with equity and market-rate salaries). Third, it helps us harness efficient market forces for impact (by aligning our mission with for-profit incentives). And of course, we took Founder's Pledge.
Why did you discontinue your mobile app? We discovered (the hard way) that there isn't enough demand from donors for a B2C mobile app, so donor acquisition was challenging. People typically donate in response to an ask and don't often have a burning desire to give otherwise. That's why we pivoted to working with those who do have a burning need - charities looking to fundraise.
We're hiring
What we look for
In general, you're probably a good fit for our team if you are:
Mission-aligned: This likely isn't a barrier here. Active EA involvement helps but isn't required (2 of 9 team members hadn't heard of EA before joining).
Talented: We often hire people who have relevant industry experience, but we also hire people who are smart and learn quickly.
A cultural fit: We tend to move fast and break things! We want people who are comfortable with uncertainty, willing to test things, and able to update quickly.
Excited about SF: We're based in San Francisco and work in person. We value in-person collaboration, spontaneous conversations, and a close-knit team. We can help with visas, but you'll need to relocate if you don't live here.
Open roles [Updated as of July '22]
You can see all of our roles here, but we'd love to hear from you even if you're not a perfect fit for anything listed. We're currently actively recruiting for:
Designer: We're hiring our first in-house designer. We're looking for a UX/UI designer to create product and web designs working closely with our growth and product teams.
Get in touch
This post probably doesn't come close to answering all of your questions, and we certainly don't expect you to be fully persuaded! Don't hesitate to get in touch regardless - we welcome questions and push back, and we'd love to discuss it with you.
If you're interested in learning more, you can write a comment, send an email to ari@givemomentum.com, or apply to an open role. We can't wait to meet you!