Summary
I've seen strong advocates of Green Growth both in- and outside the EA community but I'm skeptical: to my understanding, decoupling GDP from CO2 emissions cannot happen as fast as we need it, and decoupling GDP from resource use doesn't seem likely. Here, I argue that in wealthy nations, we should remain GDP agnostic (be rather indifferent to it growing or shrinking) and rather focus on what matters: fulfilling social needs and improving wellbeing as well as staying within planetary boundaries and caring about ecosystems. Therefore, I name some potential policies to implement and answer some misunderstandings and counterarguments. I finish by concluding that pursuing future growth in rich countries can have devastating consequences and that we should focus on reaching a consensus about whether or not Green Growth is possible so that, if it turns out it's not, we can pursue good alternatives and avoid collapse.
Introduction
In the EA community, I've come across both people who defend Green Growth and argue against Degrowth (here, here, here) as well as the opposite (by talking to people; I couldn't find posts defending it). Here, I'd like to present my skeptical view on Green Growth and open the conversation for alternatives to the growth imperative. I'll use the term Post-Growth to acknowledge the recognition that, on a planet of finite material resources, extractive economies and populations cannot grow indefinitely and we should therefore shrink our energy and material throughput without really caring about whether GDP grows or not (i.e., be GDP agnostic).
The question of whether Green Growth is possible is mostly about whether it's possible to simultaneously have a growing economy while CO2 emissions and material use decline (AKA 'absolute decoupling').
Decoupling GDP from CO2 emissions
It seems that absolute decoupling between GDP and carbon emissions is possible to achieve, as it has already happened in several developed countries (in the graph below you can see how, in the UK, while GDP per capita has increased, consumption-based CO2 per capita (i.e., taking into account outsourcing of production) has decreased).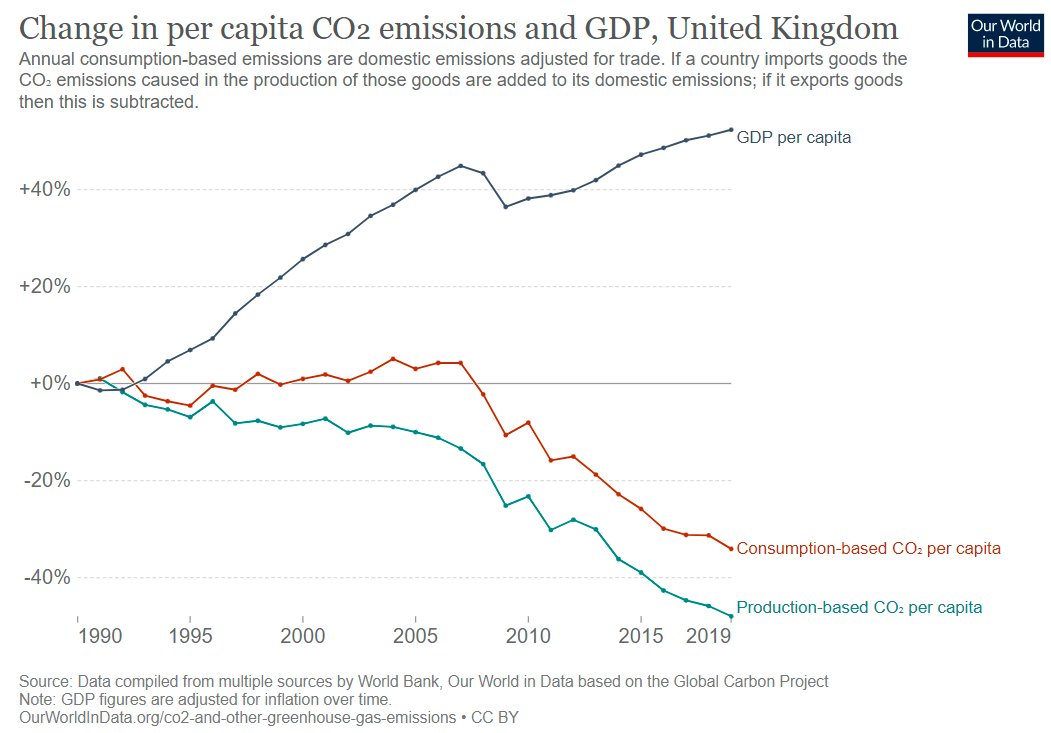 The problem is that CO2 emissions need to be reduced dramatically to stay within 1.5 or 2ºC of warming (and the pledges made in the Paris Agreement are not enough).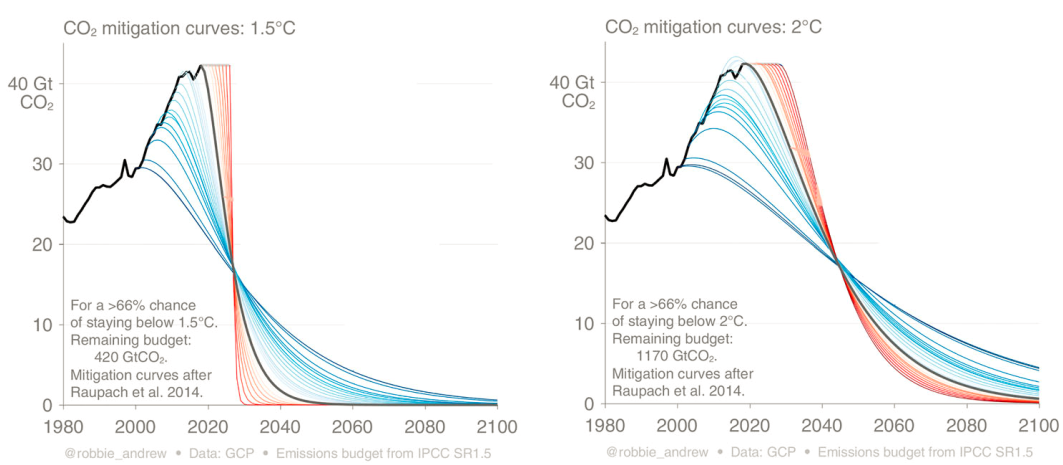 Which means that, if our transition to low-carbon energy has looked like the first part of the following graph until now, we'll need a rather sharp transition in the near future. (see some forecasts for the transition here)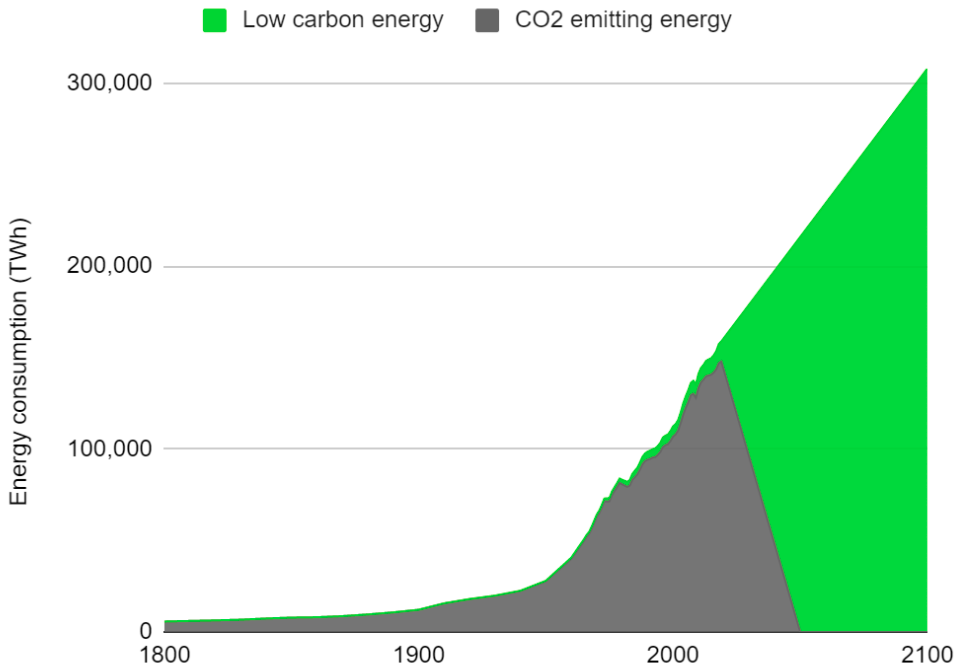 According to Hickel (I haven't really dug into the issue myself), many proposed solutions are not as promising as they once seemed, as they'd either take too long to materialize to be of much help now, be too risky, or both. New nuclear plants would take very long to get up and running; fusion will just take too many decades; solar radiation management through aerosols injected into the stratosphere has too many side effects; and Bioenergy with Carbon Capture and Storage (BECCS) has also too many side effects and reduced scope. What about renewables? A major issue here is the materials needed for building the infrastructure: resource extraction for many materials will have to increase manyfold in the next decades (especially for the lithium used in batteries). With these extraction levels, it seems we'll run out of materials and we'll have a lot of ecological and social problems due to overextraction: deforestation, biodiversity loss, contamination of soils and water…
A counterargument I've encountered is that we'll invent new technologies that will save us (new means of energy extraction, new types of batteries, new ways of reducing solar radiation and CO2 in the atmosphere…). Maybe… but thinking that this will happen soon enough for all the areas in which we need such solutions seems too optimistic for me – forecasts showing this can happen fast enough are welcome and will cheer me up :)
So, absolute decoupling between GDP and carbon emissions seems possible but not soon enough globally to stay under 1.5 or 2ºC nor without too many negative consequences, if we continue to grow our energy demand at existing rates.
Decoupling GDP from resource use
While it's quite obvious why we need to reduce carbon emissions, it may be necessary to first briefly justify why reducing resource use is important: because of resource scarcity and environmental degradation.
Resource Scarcity
In a planet of finite resources, we can't continue extracting materials at the current or at a higher pace forever. The question becomes: for how long can we continue?
"The general consensus is that many of the largest and most accessible ore bodies have already been developed. Recently-discovered ore bodies tend to be smaller in size, to have lower rates of mineralization, and to be located deeper underground … [However,] new discoveries of metals and minerals have thus far kept pace with demand" (Kirsch 2020). There isn't a specific consensus on when we'll reach the largest production of different minerals after which it'll decline ("peak minerals") and there's a shortage of quality studies regarding material scarcity, but some experts warn about sand scarcity (which has associated social problems), peak phosphorus (but see a discussion here), and shortage of other elements happening soon.
The relationship between finite resources and economic and population growth was already studied by computer simulations in 1972 in the famous report The Limits to Growth. According to Wikipedia, "The report concludes that, without substantial changes in resource consumption, "the most probable result will be a rather sudden and uncontrollable decline in both population and industrial capacity". Although its methods and premises were heavily challenged on its publication, subsequent work to validate its forecasts continue to confirm that insufficient changes have been made since 1972 to significantly alter their nature." Herrington (2020) modeled different scenarios and concluded that if we want to avoid decline/collapse (under their understanding of the terms), business-as-usual (i.e., pursuing economic growth) is not possible, even when paired with unprecedented technological development and adoption, and that the only solution would be a transformation of societal priorities together with technological innovations specifically aimed at furthering these new priorities.
In addition, scarcity may create or exacerbate social problems: "The United Nations Environment Programme (UNEP) suggests that in the last 60 years, at least 40 per cent of all intrastate conflicts have a link to natural resources" (source).
But scarcity may not be the biggest problem. Declining ore grades does "not only [increase] the costs of production but also the environmental costs of extraction, as more earth and rock need to be processed per quantity of ore recovered" (Kirsch 2020).
Environmental Degradation and Planetary Boundaries
While the conversation about environmental protection very often goes around climate change, this is just one out of several planetary boundaries the transgression of which "may be deleterious or even catastrophic due to the risk of crossing thresholds that will trigger non-linear, abrupt environmental change within continental-scale to planetary-scale systems" (Rockström et al., 2009). The other planetary boundaries identified are:
Biosphere integrity: number of species going extinct every year
Land-system change: % of land surface converted to cropland
Freshwater use: global human consumption of water
Biogeochemical flows: excessive nitrogen and phosphorus used as fertilizers
Ocean acidification
Atmospheric aerosol loading
Stratospheric ozone depletion
Novel entities: concentration of toxic substances, plastics, endocrine disruptors, heavy metals, and radioactive contamination in the environment
Out of the 8 (at least, partly) quantified planetary boundaries, 6 have already been crossed (at least, for one of the indicators) on a global level as of 2022, although some countries have crossed them much more than others.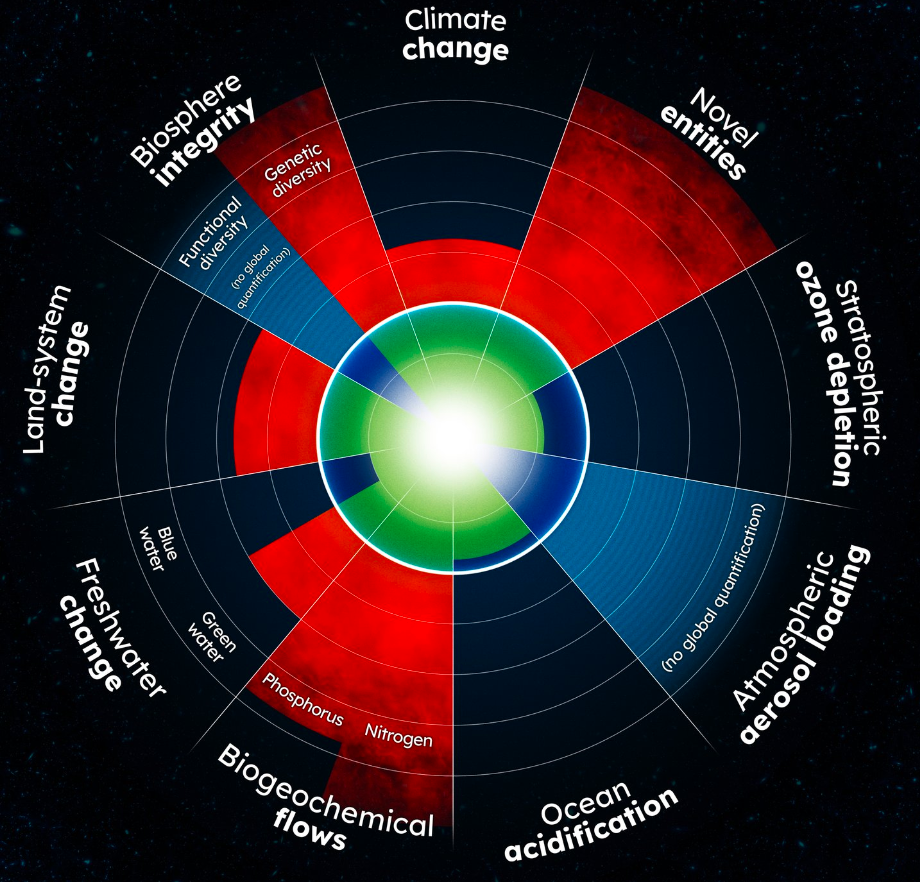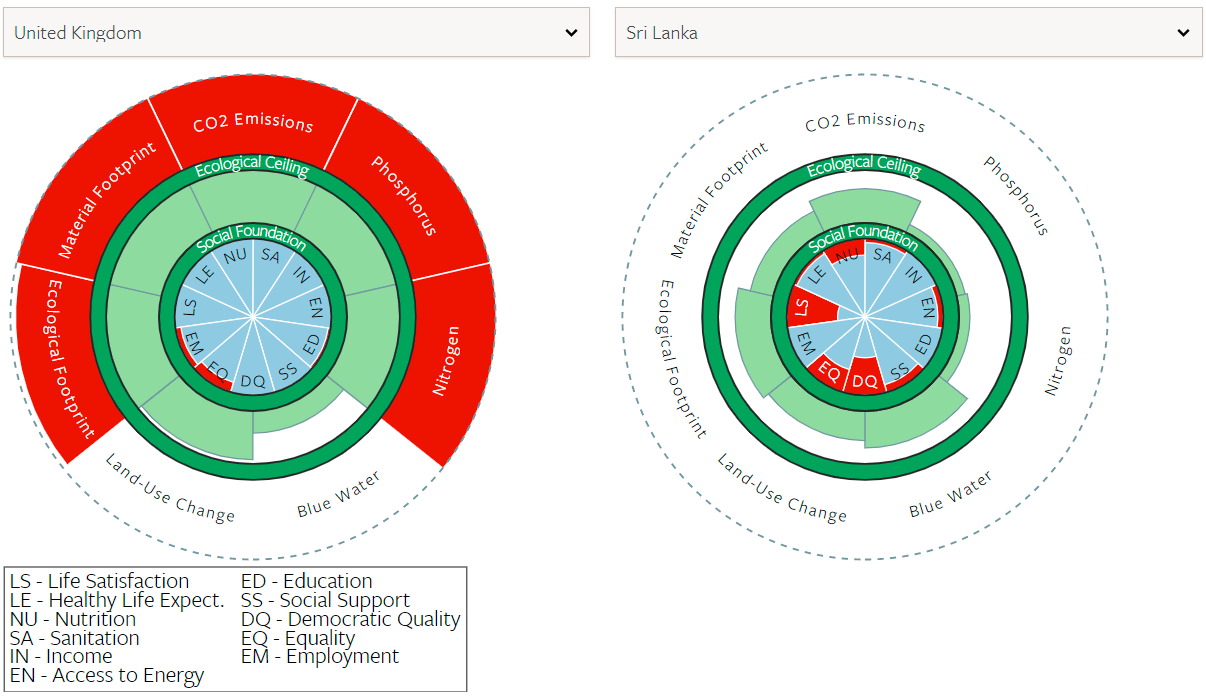 Material extraction may lead to deforestation, biodiversity loss, and pollution of soils and water, among other problems. At the current levels of extraction, this is already happening too much, so it's hard to imagine that if we continue growing our material needs, we can get back within the safe boundaries.
What if nature doesn't have intrinsic value to me? We humans and other sentient beings are dependent on being within safe planetary boundaries (e.g., if our environment becomes polluted, our air and food are also polluted), so it seems reasonable to me that you should still care about these boundaries.
Decoupling
In contrast to the decoupling from CO2 emissions, here, historical trends show us that, even in rich countries, while GDP has gone up, Material Footprint (which accounts for all of the material resources used to produce the goods consumed in a country) has gone up at the same (or even higher) pace – so, no decoupling so far.

And it doesn't seem to get better in the future by looking at the predictions made by the UN Environmental Program (UNEP). Even by assuming both increases in resource efficiency and an ambitious climate policy (which would entail a resource extraction tax and a very high tax on carbon ($573 per ton) plus rapid technological innovation supported by the government – an overly optimistic scenario assuming limiting global warming to 2ºC), resource extraction nearly doubles even in Europe and North America from 2015 to 2050.

So, it seems that absolute decoupling won't happen. But why? Aren't there ways to reduce Material Footprint? Let's look at some of them:
Improving efficiency
Improving efficiency seems an obvious solution: producing goods with less material. However, there're a few issues:
Consumption doesn't decrease because higher efficiency decreases prices, which leads to higher consumption (known as the rebound effect or the Jevons Paradox; see section 3.2 here for more on first-, second-, and third-order rebound effects on material and energy use)
Physical limits and the fact that the low-hanging fruit has already been exploited: as mentioned above, due to declining ore grades, today, for many metals, about 3 times as much material needs to be moved for the same quantity of metal than a century ago. For absolute decoupling to take place in rich countries, each unit of production will need to be produced using just a fraction of its current resource inputs, and for some crucial materials, the trend just seems to go in the opposite direction.
Shifting from manufacturing to services
One could think that services seem less resource-intensive, but in reality, they aren't, as they require much infrastructure for buildings and transportation, technology, etc. (see section 3.4 here for more on "the underestimated impact of services"). This, and the fact that people use the money earnt in services to buy material goods, may be key reasons why historical trends show no absolute decoupling in countries that have transitioned from manufacturing to services.
Circular economy
Reusing and recycling more are important strategies to implement but are by far not enough (e.g., most of the materials used cannot be recycled, as many materials are used for food and energy production, building infrastructure, or are waste from mining). Moreover, a circular economy is mostly incompatible with growth:
Material goods would last longer, which would limit growth because we'd need to buy fewer of them
There'd be increasing costs due to internalization, which would limit growth since it requires externalization
Cap on annual resource use and waste
This is actually a very good idea and would entail products of better quality which last longer. The issue is that for this to drive growth at 3%, products have to be 3% 'better' per year, which doesn't make much sense:
Will we really benefit from having clothes or furniture that are many times better?
Do we want to pay many times more for products just to drive growth?
In the end, if products last much longer, we'll consume less of them, which would limit growth.
In summary, I'm skeptical about Green Growth: absolute decoupling between GDP and CO2 emissions cannot happen fast enough, and between GDP and resource use is not possible because, despite reducing material use being possible, this would entail less GDP growth or would even reduce GDP (so, you cannot name it 'decoupling').
(see section 3.6 here for more on why we have "insufficient and inappropriate technological change" to achieve decoupling: "Simply put, technological progress is (1) not targeting the factors of production that matter for ecological sustainability and not leading to the type of innovations that reduce environmental pressures; (2) it is not disruptive enough as it fails to displace other undesirable technologies; and (3) it is not in itself fast enough to enable a decoupling that is absolute, global, permanent, large and fast enough.")
A recent German survey found that "environmental protection specialists predominantly express a preference for growth-critical concepts (a-growth/post-growth and degrowth) as compared to green growth." But do we need growth in rich countries, after all?
Do we need growth in rich countries?
Over the past centuries, as our economy grew, we've seen great improvements in poverty, education, democracy, and health.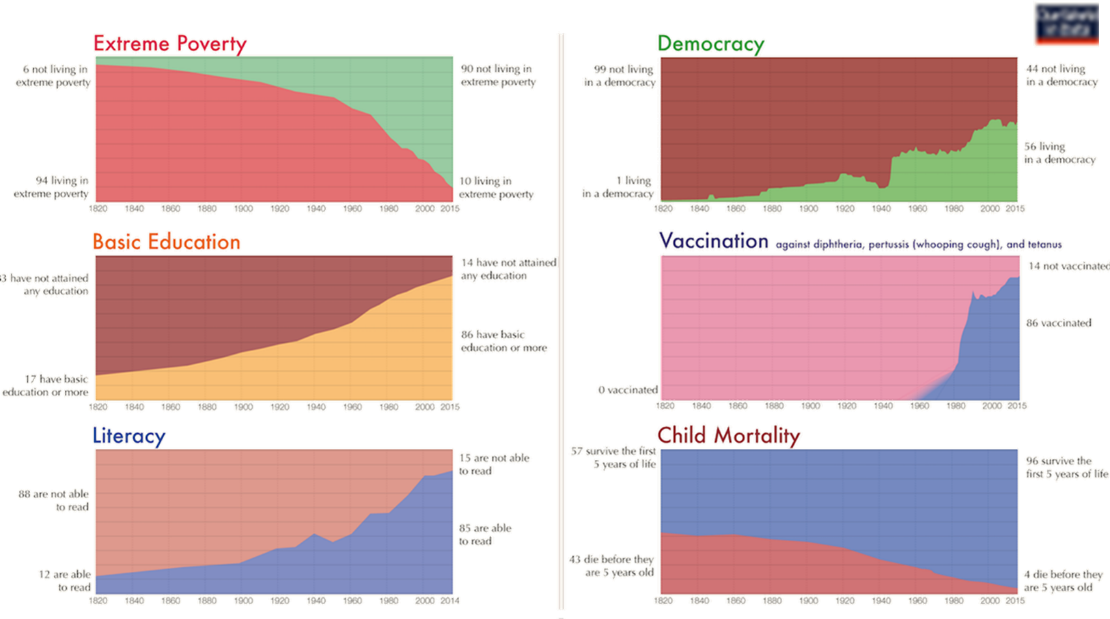 And also at present: higher GDP is correlated with better social indicators.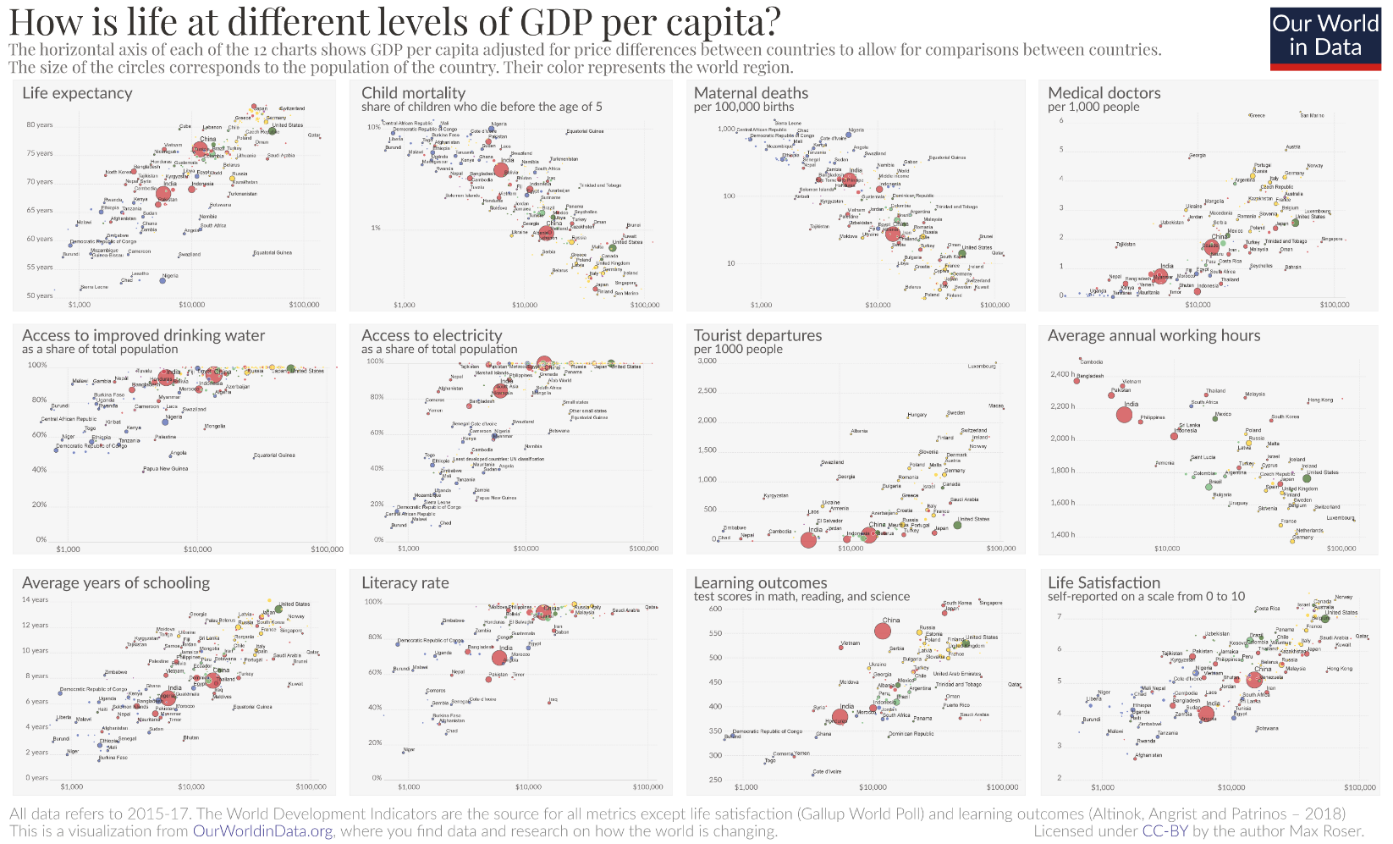 So, it seems that one way of improving social outcomes is having a growing economy. I guess we'd agree that underdeveloped nations need to grow economically. But what happens after the economy of a country has grown so much? Do rich countries also need to grow?
Both life expectancy and learning outcomes are better with increased GDP per capita. However, many countries have achieved a higher life expectancy than the US with a fraction of its GDP per capita (note that the x-axis is plotted logarithmically, so there're countries in which the average citizen lives longer than the American one with half, or less, of the income). And same for education: many countries have achieved better outcomes than the US with a fraction of its GDP per capita. (Yes, comparing countries' performance to the US' may be cherry-picking, but the point is that it's possible to achieve good outcomes without a big income, so let's learn from the best performers.)

Across nations, log GDP per capita is also highly correlated with life satisfaction. But several countries have higher life satisfaction than the US with much less of its GDP per capita: Costa Rica, for instance, has similar life satisfaction than the US with 1/3 of its GDP per capita.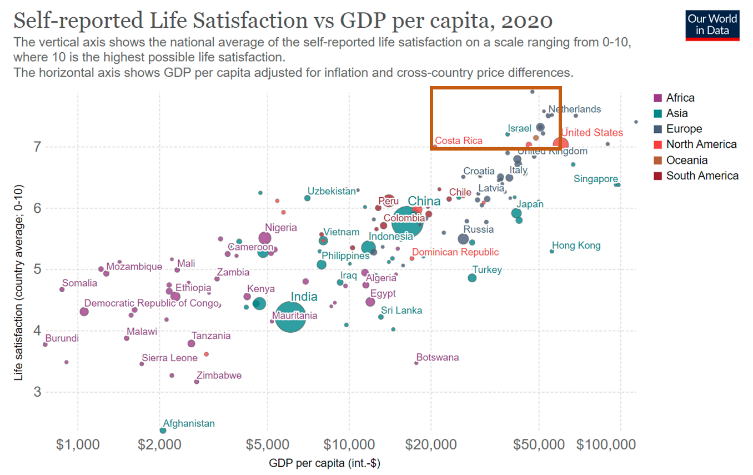 If what we care about is subjective wellbeing, I think we should care less about GDP (of rich nations) than the graph above could suggest (as also discussed by Michael Plant), because of three reasons:
Many rich nations, as they get richer, their share of happy people doesn't seem to increase (but often declines) (Easterlin Paradox).

If we take life satisfaction as measured with the Cantril ladder (an index that ranges from 0 to 10, representing the worst to the best possible life for you, respectively), GDP per capita is important but, as shown in the World Happiness Report, several other aspects have a much higher influence: both on a global level and by looking at relatively happy regions (citizens of both Nordic and Latin American countries are more satisfied with their life than predicted based on their log GDP per capita), it's clear that what matters the most is social support and good institutions with good welfare.

Subjective wellbeing is not just about 'life satisfaction': other measures of it are even less related to GDP, such as positive and negative affect (i.e., emotions experienced on a daily basis; see figure above), happiness (when people are asked "Taking all things together, how happy would you say you are?"), or how meaningful one's life is.
So, if we want to fulfill social needs and improve subjective wellbeing, why not target these directly instead of pursuing overall growth? That's the focus of Post-Growth/alternatives to the growth imperative.
Post-Growth/Alternatives to the Growth Imperative
In Hickel's words (he actually uses the term "Degrowth", but not with the connotation of reducing GDP):
It is about reducing the material and energy throughput of the economy to bring it back into balance with the living world, while distributing income and resources more fairly, liberating people from needless work, and investing in the public goods that people need to thrive. It is the first step toward a more ecological civilization. Of course, doing this may mean that GDP grows more slowly, or stops growing, or even declines. And if so, that's okay; because GDP isn't what matters. Under normal circumstances, this might cause a recession. But a recession is what happens when a growth-dependent economy stops growing: it's a disaster.
We can pursue this in an organized manner to avoid disaster by:
Scaling down throughput (i.e., the amount of material and energy flowing through the economy) by introducing taxes or caps on resource use, emissions, and waste, internalizing costs (i.e., paying the real social and environmental costs of products), ending planned obsolescence (so that products last longer), cutting advertising, or scaling down ecologically destructive industries (such as fossil fuels, intensive animal farming, airlines, arms, or single-use plastics)
Re-distributing money on a national level (by taxing resource use, pollution, wealth, and marginal income more, increasing welfare or introducing a Universal Basic Income) as well as from rich to poor nations (e.g., by internalizing costs including paying fairer wages to producers and paying to offset the environmental impact of production, which tends to happen in the Global South)
Abandoning GDP as a measure of progress and replacing it with a more holistic alternative including social and environmental indicators (such as the Genuine Progress Indicator), and focusing public policy on improving it
There's much potential criticism and skepticism to the measures outlined, and I'm not expert enough to defend whether there're good chances that these measures can be implemented without too many bad consequences. It's a very important discussion but not the focus of this post (and as I mention below, I encourage research and debates on implementable Post-Growth strategies). The point I want to make here is that the alternatives (business-as-usual or try to pursue Green Growth) will lead us to a catastrophic recession (after all, we live in a finite planet), so to avoid it, we need a plan.
I've seen some criticisms of alternatives to the growth imperative (which are often based on misunderstandings), so I'd like to answer them here shortly:
The focus is on the wrong thing, namely GDP, and shrinking it would make us worse off → As I understand it, we should remain GDP agnostic and, with well-implemented strategies (regarding more welfare/UBI, internalizing costs, focusing more on social indicators…), to me, it seems plausible that we won't be worse off.
If GDP shrinks, we'll suffer just like in a recession triggered by a financial crisis or a pandemic → It's actually the opposite: it's planned, and it decreases only ecologically and socially destructive sectors while it increases welfare and environmental protection (and it can indeed be a measure to avoid a crisis).
Poor nations would suffer unintended consequences because they rely heavily on exports to rich countries → In fact, poor nations will benefit from it because as we internalize costs, they'll get a fair salary and get compensated for environmental costs.
Massive unemployment will result from decreases in production → This can be avoided by shortening the working week, and the decrease in income (less than expected if we also redistribute money better) wouldn't matter because we wouldn't need to pay as much thanks to more welfare or a Universal Basic Income. (Unemployment might indeed rise in nations which rely on industrial production (e.g., garment-exporting countries) and tbh I'm not sure what strategies may work here.)
A leave-it-to-the-market approach will bring things back to balance and solve the issue → This approach doesn't seem to work in the current system, as products are not accurately priced by the market due to subsidies and cost externalization. In addition, planetary boundaries and natural ecosystems might collapse in a non-linear way, making it too late if we wait until we get there to act.
The general population won't accept these changes → If we raise awareness in the general population about the problems we're likely to face and the alternative which may be worse (future collapse) (if that's indeed the case, as I'm arguing here) as well as provide information about the effectiveness and implications of the proposed policies, resistance may shrink. The European Environmental Agency calls for "growth without economic growth" in a democratic manner. In addition, as we've seen during the pandemic and with advanced technologies taking some jobs, we have the capacity to adapt our economies, especially when facing extreme situations.
Final words & next steps
By not following the growth imperative, we aim at avoiding an ecological collapse and its associated economic collapse.
Possible outcomes of such a collapse would be:
Disruption of ecosystem due to transgressing planetary boundaries (e.g., extinction of many species)
Conflicts due to resource scarcity (which do happen, although I've been told the book Why We Fight gives arguments why this is unlikely to happen, but I haven't read it myself)
Forced migration due to climate change and wars
Destruction of humanity's long-term potential
What are the probabilities?
It depends on how techno-optimist you are, but I consider it almost inevitable (unless we stop growing), sooner or later (since we have finite resources, infinite growth is not possible)
We're dependent on many resources, so the probability that one becomes too scarce and this causes trouble seems quite high
I think it's worth paying more attention to this potential problem, and it appears to me to be relatively neglected as well (or rather, often criticized). Both in the EA community as well as outside of it there seem to be people advocating for Green Growth while others defend it's not possible and advocate for alternatives. Ideally, we should reach a consensus about whether or not Green Growth is possible:
How realistic are the optimistic views that technology will be able to deliver, fast enough, green energy, mitigate climate change, and bring us back under all the remaining planetary boundaries?
How likely is it that we won't run out of any crucial resource in the next century (thanks to new sources or new materials and technologies discovered, including asteroid mining, but also considering things that may artificially exacerbate the problem such as international conflict)? [see some discussion on this post where Robert Wiblin argues against working on resource scarcity]
On a planet of finite resources, it doesn't seem like we can continue growing indefinitely – Under business-as-usual, when would we reach plateau/collapse?
Do we have good forecasts for that? Why haven't we reached a consensus yet? Would such a consensus be possible? If so, how? And after having reached a consensus, if it turns out we should advocate for being GDP agnostic rather than for growth:
Which policies do and which do not work for fulfilling our social needs while staying within planetary boundaries?
If GDP does (at least, temporarily) shrink, can we still fight poverty and provide welfare, or will our quality of life decrease?
How to receive citizen support for the implementation of such policies?
How to avoid side effects (e.g., poor nations that depend on rich ones, or some nations that continue growing getting too powerful)?
Given that, to me, Green Growth seems quite unrealistic and the stakes are high, I feel the case for alternatives to the growth imperatives is stronger than leaving it to optimistic techno-dreams. That's why I decided to write this post to share my concerns, listen to arguments against them, and encourage EAs to work on that.
Further resources
[This section was contributed by Johannes Schubert]
To learn more about the Green Growth vs. Post-Growth/Degrowth debate:
To learn more about practical applications and ways to get involved (mainly based in Europe):
Thanks to Malte H, Johannes Schubert, and a couple of others (who prefer not to be named) for comments on an earlier draft of this post.