This cross-post from my personal blog explains why I think democracy will probably recede within the next several centuries, supposing people are still around.
The key points are that: (1) Up until the past couple centuries, nearly all states have been dictatorships. (2) There are many examples of system-wide social trends, including the rise of democracy in Ancient Greece, that have lasted for a couple centuries and then been reversed. (3) If certain popular theories about democratization are right, then widespread automation would negate recent economic changes that have allowed democracy to flourish.
This prediction might have some implications for what people who are trying to improve the future should do today (although I'm not sure what these implications are). It might also have some implications for how we should imagine the future more broadly. For example, it might give us stronger reasons to doubt that future generations will take inclusive approaches to any consequential decisions they face.[1]
Introduction
There's a strange new trend that's been sweeping the world. In recent centuries, you may have noticed, it has become more and more common for people to choose their own leaders. Five thousand years after states first emerged, democracy has been taking off in a big way.
The average state's level of democracy over the past two hundred years. States with sub-zero scores are more autocratic than democratic.[2]
If you follow politics, then you've probably already heard a lot about democracy. Still, though, a quick definition might be useful. In a proper democracy, the state's most important figures are at least indirectly chosen through elections. A large portion of the people ruled by the state are allowed to vote, these votes are counted more-or-less accurately and more-or-less equally, and there's no truly serious funny business.[3]
Proper democracies are something new. For most of the past five thousand years, dictatorship has been the standard model for states. We don't know much about the first state, Uruk, but the most common theory is that it was a theocracy ruled by a small priestly class. Monarchy emerged a bit later, spread across the broader Near East, and then stuck around in one form or another for thousands of years.
Many archeologists suspect these little bowls were used to ration out grain to people doing forced labor. They are also by far the most common artifact found around Uruk, which is often taken as an ominous sign.
In other parts of the world, small states with noteworthy democratic elements have emerged from time to time. Certain small states in Greece, as the most famous example, were borderline-proper democracies for a couple hundred years. However, if there was any trend at all, then the trend was toward more consistent and complete dictatorship. States with noteworthy democratic elements tended to lose these elements over time, as they either expanded or fell under the influence of larger states.[4] No sensible person living one thousand years ago would have predicted the recent democratic surge.
It's natural to wonder: Will this rise in democracy last? Or will democracy turn out to be only a passing fad—something like the Ice Bucket Challenge of regime types?[5]
Let's suppose, to be more specific, that one thousand years from now people and states still at least kind of exist. How surprised should we be if democracy is no more common then than it was in the year 1000AD?
An Outside View
One way to approach this question is to think hard about history, political science, economics, the future of technology, and all that. Another way to approach the question is just to look at the long-run trend.
The trend, again, is roughly this: Democracy was very rare for about five thousand years, then became common over the course of about two hundred years. There was also a period of major backsliding in the middle of its recent rise.
At first glance, this pattern is not very reassuring. Two hundred years of history normally says very little. There are plenty of examples of social trends that reversed themselves after only a couple hundred years. The famous trend toward greater democracy in Ancient Greece, as an especially pointed example, pretty much burned out after a few centuries.
As a very different example, consider the rise of witch-hunting in early modern Europe. Toward the beginning of the sixteenth century, the practice took off very quickly. Tens or even hundreds of thousands of people were killed. By the early eighteenth century, though, the practice had essentially vanished again. Over a couple hundred years, the cultural wave rose and then broke.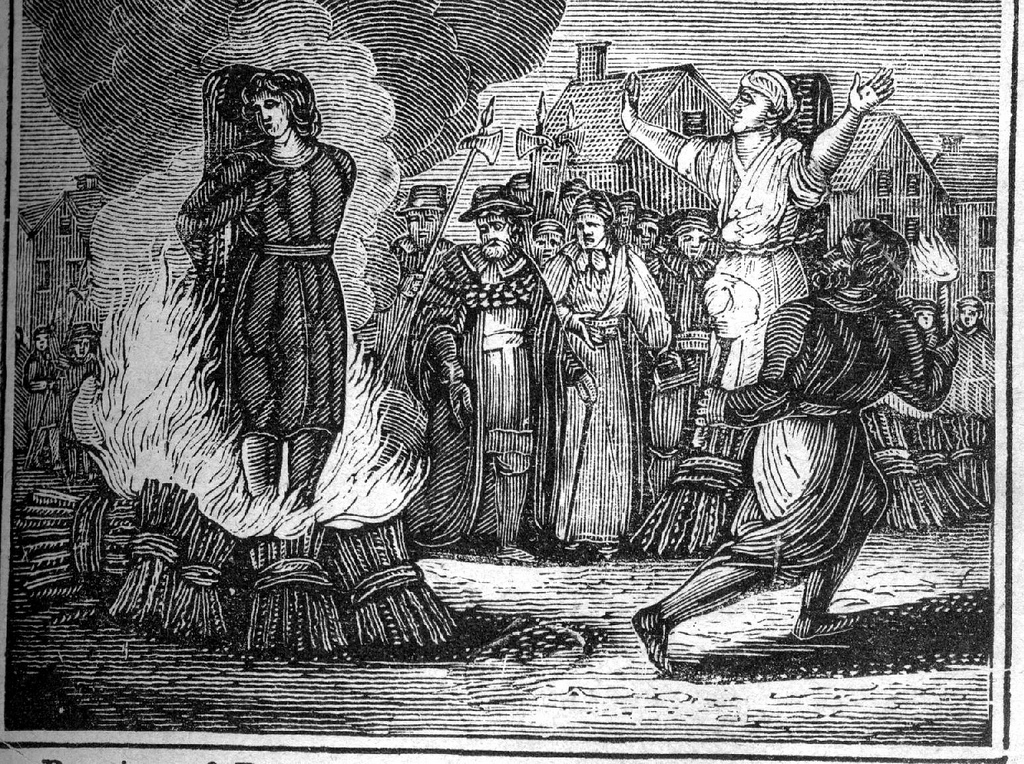 Around 1500AD, Europeans started doing a lot of this. A couple centuries later, they thought better of it.
Some trends have survived for longer without reversals. For example, after nearly two thousand years, the spread of Islam and Christianity still have not been reversed. Some aspects of Ancient Egyptian and Near Eastern religion also seem to have survived for thousands of years. Certain very foundational trends, like the rise of states itself, also show no signs of reversing.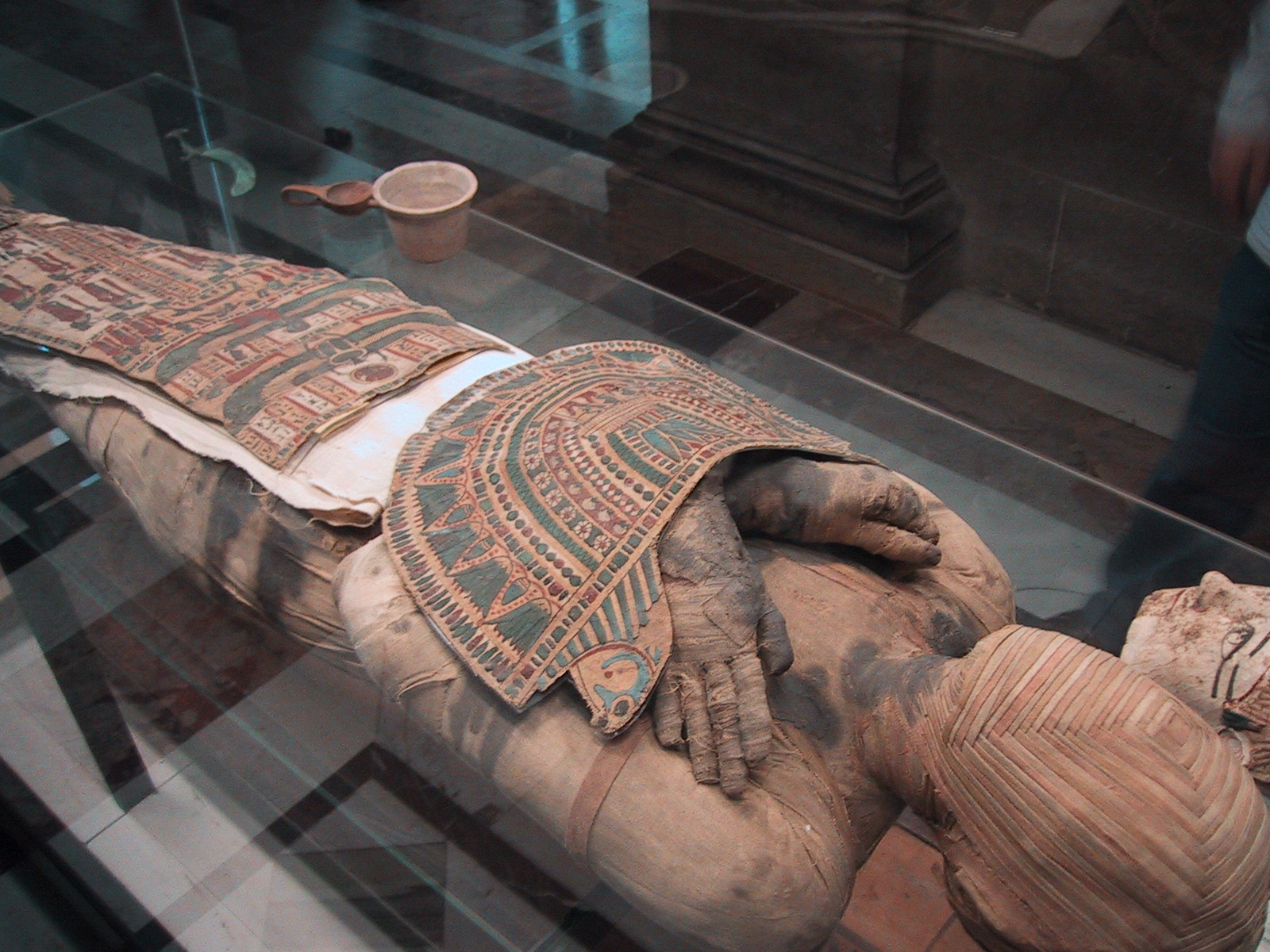 For about three thousand years, mummification was an important cultural practice in Egypt. Then nearly everyone became Christian.
Ultimately, if all we knew about the spread of democracy is that there has been a two-century trend, then I think that any strongly optimistic take would be a mistake. Democracy could keep spreading and then stick around. We know, though, that centuries-long social trends often reverse themselves.[6] We also know that dictatorship has been the standard mode of government for nearly all of recorded history.
Why So Much Democracy, All of a Sudden?
Of course, there are theories about why democracy has taken off. We probably shouldn't trust any of them too much, since they are very hard to confirm. Still, so long as we keep their limits in mind, they can help us make slightly less blind predictions about the future of democracy.
One popular group of theories points the finger at industrialization. The Industrial Revolution began at roughly the same time as the rise of democracy. Looking across different countries, there is also a clear statistical link between industrialization and democratization. It is natural to wonder whether modern economic conditions are somehow more conducive to democracy than pre-modern conditions were.
Daron Acemoglu and James Robinson (A&R) have developed one influential economic framework for thinking about democratization. They argue that elites have a natural resistance to democracy, because democratization involves giving up power and subjecting themselves to policies favored by commoners. This resistance can decline if elites become less afraid of the policies that commoners support. It can also decline if elites become more afraid of revolts by disaffected commoners.[7][8]
A&R suggest that industrialization helps to harmonize the policy preferences of common people and elites. In pre-industrial economies, the wealth of elites tends to be tied up in huge tracts of land. They allow or force farmers to work the land, while taking a large portion of what these farmers produce. Elites essentially do not work, beyond their military service, or contribute much to economic growth. Income polarization is unsurprisingly extreme. In this economic context, it is natural for ordinary people to take an interest in radical land redistribution. Demands for land reform have been a cornerstone of populist movements in agrarian societies.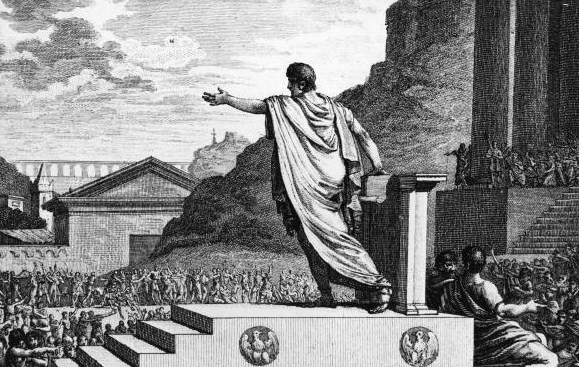 The Roman tribune Gaius Gracchus advocated for land reform and the expansion of voting rights. The etching of him running for his life, a bit later on, was only available in a small image size.
In an industrial society, by contrast, it is more difficult and disruptive to confiscate the sources of elite wealth. Capital is both less divisible and more mobile than land. For example, forcibly dividing ownership of a large car factory is messier and more likely to reduce its output than forcibly dividing up a tract of land. If radical distribution is on the table, then car manufacturers can also threaten to build their factories elsewhere or to simply not build them at all. Landowners cannot really make an equivalent threat. In addition, in an industrialized society, levels of income polarization tend to be lower. These factors may make ordinary people less likely to demand extreme levels of redistribution.
Furthermore, elites in industrialized societies should be less bothered by moderate redistribution. Economic development tends to increase the value of having an educated and entrepreneurial workforce. Popular redistributive programs such as tax-funded primary schools therefore begin to benefit elites too. Industrial elites ultimately have less reason to worry about the policies that voters will demand.
At the same, these elites have more reason to worry about what will happen if they refuse democratic reforms. For one thing, industrialization tends to be associated with urbanization. Urban populations likely find it easier to coordinate and form up into crowds that can credibly threaten centers of power. For another thing, the early stages of industrialization seem to be associated with a greater reliance on mass armies. Armed and mobilized commoners are in a better position to threaten elites. They can also exert pressure simply by resisting conscription unless they receive political concessions. Finally, political turmoil of any kind may cause more economic damage in industrialized societies than in agricultural societies. Lengthy and complex industrial supply chains allow the damage to compound.
In summary, compared to landed aristocrats, industrial elites have less to fear from democracy and more to fear from standing in its way. The Industrial Revolution has helped democracy to spread by softening elite resistance.[9]
There are a lot of historical cases that this story can't explain on its own.[10] There are also some obviously important factors, especially cultural factors, that the general A&R framework ignores. I do suspect, though, that the story captures some respectable portion of the truth.[11]
Automation and Democracy
At first glance, some aspects of the above story are reassuring. Unless something goes horribly wrong, like full-on nuclear war or worse-than-anyone-thought climate change, most developed states are very unlikely to deindustrialize in the coming centuries. We should expect a lot of the recent economic changes that have supported democracy to stick.
On the other hand, we should not imagine that the economies of developed states will stay frozen in amber. Changes will keep coming — and some of these changes might push states back toward dictatorship. I feel especially nervous about the long-run impact of automation.
Most AI researchers believe that automated systems will eventually be able to perform all of the same tasks that people can. According to one survey, the average researcher even believes that this milestone will probably be reached within the next century-and-a-half. I'm unsure whether this particular estimate is reasonable. I do agree, though, that something like complete automation will probably become possible eventually.[12] I expect human labor to lose nearly all of its value once it becomes cheaper and more effective to simply use machines to get things done.[13]
If human labor loses its value, then this strikes me as bad news for democracy. It would seem to eliminate most of the incentive for elites to accept democratization. If the suppression of protests can be automated, using systems that are more effective than humans, then public revolt would become much less threatening. Striking and resisting conscription would also, obviously, become totally obsolete as a method of applying public pressure. Elites would have weaker incentives to make any concessions at all.
Furthermore, it seems to me, elites would have more to lose from democracy. In a world without work, the two central forms of income would be welfare payments and passive income from investments. We should not be surprised if there is a huge lower class that depends on welfare payments to survive. Demands for radical redistribution might then become more common, for a few reasons: income polarization would be higher, redistribution would be simpler and less disruptive, and wealth levels would become extremely transparently divorced from merit. More moderate forms of redistribution would also stop benefitting elites at all. The resources and freedoms of common people would simply have no connection to economic growth.[14][15]
The Valley of Democracy
One perspective on our place in history is that we are living in the little valley between industrialization and widespread automation. This valley has just the right conditions for democracy to flourish. When we leave the valley, though, we will once again be entering territory where democracy can hardly grow at all.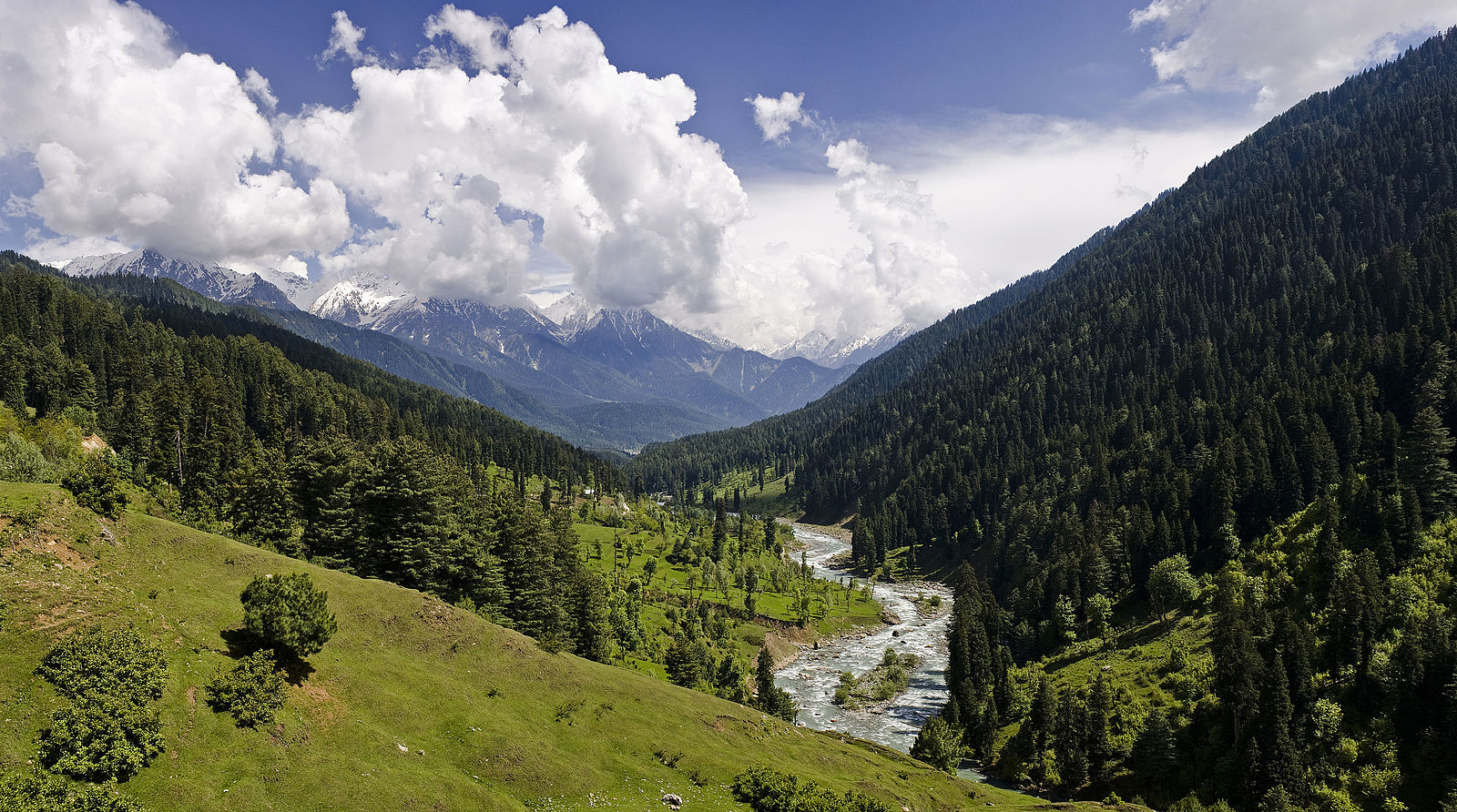 Of course, maybe whatever economic changes are coming will be fine for democracy. No one can make confident predictions here. Still, if I had to bet, I would bet against democracy. If we put aside economic theories and simply note the extreme rareness of democracy, throughout nearly the entire history of states, then a major decline in democracy seems more likely than not. If we take economic theories into account, then the analysis becomes much murkier. To my mind, though, this analysis is not reassuring. We should mourn democracy if it dies, but we shouldn't be surprised.[16]
Thank you, especially, to Allan Dafoe for conversations on the political impact of AI.
---