Latest Update: On Nov 24 at 1:01pm PT, the matching fund pool was increased to $600,000. Check the realtime dashboard to see how much is still available to allocate.
Of the first $250,000 in matching funds, more than 82% went to nonprofits you all donated to:

Donation Match Terms
This year, starting on November 1, Every.org is offering a very attractive $250,000 true counterfactual donation match. (Realtime dashboard of remaining funds.)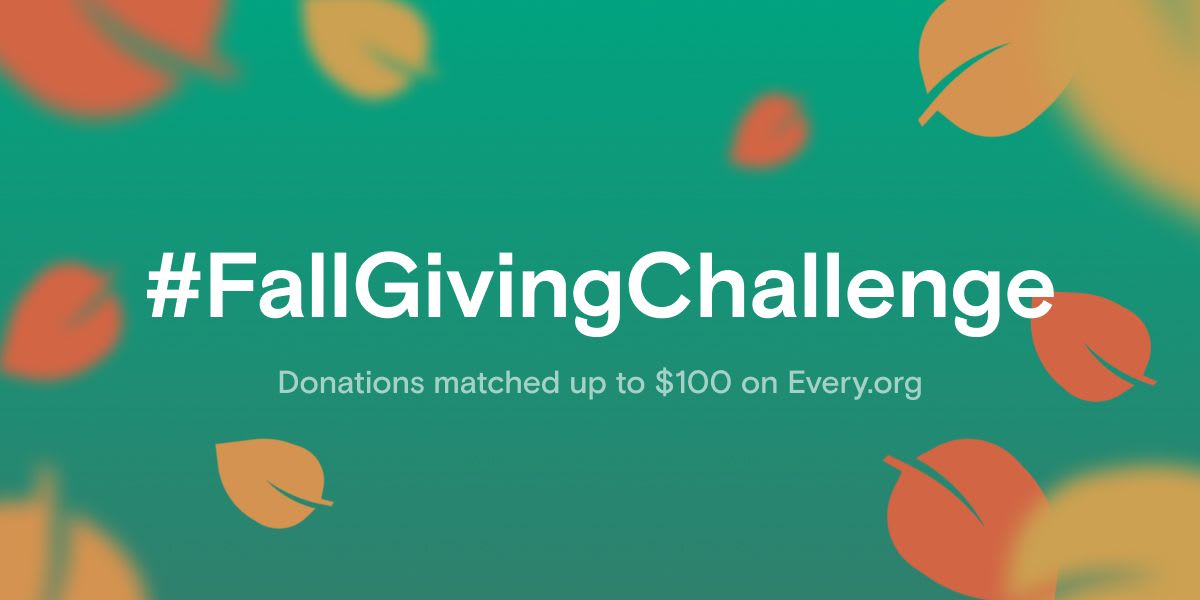 Every.org will match the first donation you make to each US 501(c)(3) nonprofit you give to 1:1 up to $100 per donor per nonprofit.

Currently, Every.org will contribute an extra $10 to your donation if you click to share your donation after donating. This might change (what it was originally).
The Match Terms in Every.org's words:
A donor can support multiple nonprofits, but only the first donation they make to each of those nonprofits will be matched. If someone makes two $50 donations to the same organization, then only the first $50 would be matched. If someone makes a $1000 donation, then only the first $100 is matched. If someone makes ten $100 donations to different organizations, then all ten donations will be matched.
Steps to Participate
Join with: https://www.every.org/join/@william.kiely?c=gg25 (If you're a new user, this will give you and I $25 in giving credit in addition to the match described above (Update: I believe this new user incentive was removed by Nov 24), plus help me track how many EAs participate in the match so I can share the information with the community.)
Check the live dashboard to see if there are remaining matching funds.
If so, donate $100[1] to a nonprofit of your choice (to get your donation automatically matched 1:1)
After donating, click one of the links to share your donation (to get the extra share incentive, currently +$10)
Repeat steps 3 and 4 for every nonprofit you want to support!
FAQ Answers
Everyone can participate, regardless of country, even if you already joined last year.
Fees are low, so donate by card if it's easier for you. Or if you'd prefer to eliminate all fees you can do so by connecting your bank account.
Tax receipts: You can get these easily in your account on your My Giving page.
If this sounds familiar...
It's because 198 of you participated in a previous donation match sponsored by the same Every.org after seeing the post Make a $10 donation into $35 in December 2020.
We successfully directed $4,950 in matching funds to highly effective nonprofits during that match. It was quite popular because it only took ~3 minutes for each person to direct $25 in matching funds. I'm hopeful that even more of you will participate in Every.org's current match since it's just as easy and yet the limits are much higher.
---
You can donate less than $100 and still get matched, but note that you will forfeit your ability to get the full match for that nonprofit, even if you donate again. Per the terms: "If someone makes two $50 donations to the same organization, then only the first $50 would be matched." ↩︎