Summary
I recently created a visual map of biosecurity. It covers my interpretation of foundational biosecurity interventions. The map is designed to broadly answer "what are people working on in biosecurity?"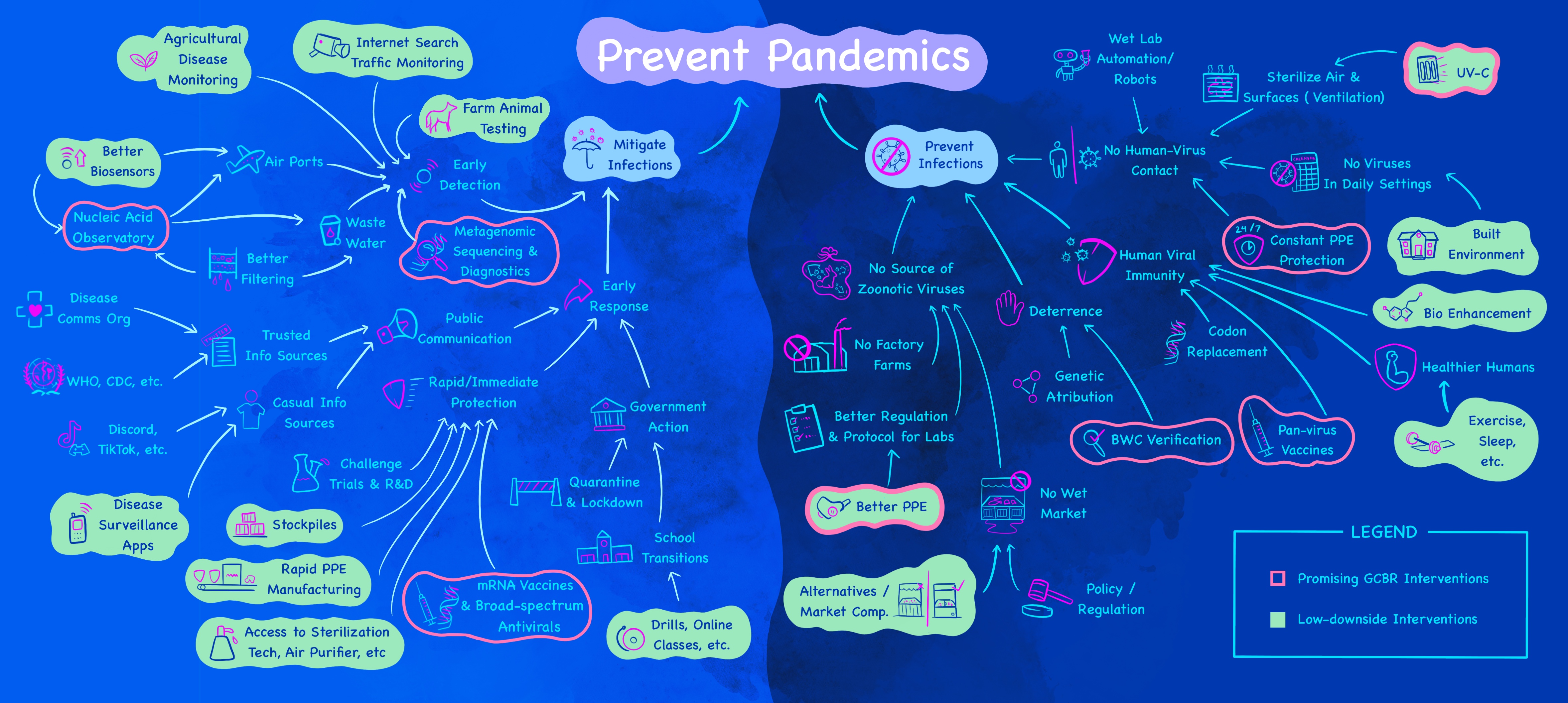 (Link to a larger, higher resolution image)
'Low-downside Interventions' are interventions that are on the lower-risk side. These might be good discussion topics or companies to work on. 'Promising GCBR Interventions' are interventions with general consensus among biosecurity experts for being effective at preventing catastrophic pandemics.
Not all interventions are made equal. Some are much more effective than others, but I've included the 'less-promising' interventions all the same. I didn't want my biases (or the biosecurity community's biases, for that matter) about what is and isn't promising to obscure solutions from a first-principles breakdown.
Though I consulted experts and peers, all final decisions were ultimately mine and may differ from the biosecurity community. The rest of the post will go over my rationale for certain decisions.
GCBR vs. Covid-scale pandemics
This map covers preventing pandemics, not just the catastrophic ones, but also the Covid-scale ones which might occur more frequently.
EA focuses a lot on global catastrophic biological risk (GCBR) pandemics. This seems pretty important given its neglectedness and potentially catastrophic impact. I've outlined the interventions that I think would be promising for GCBRs.
At the same time, many in biosecurity consider the effects of AI to outweigh those from biorisks (the magnitude is usually 10-100x). Progress in alignment is influenced by factors like international cooperation, institutional distrust, and nuclear conflict. All of these factors are affected by Covid-scale pandemics, whether through decreases in trust, sudden scarcity of resources, or armed international conflict. Considering the possible detrimental effect of even small-scale but more frequent pandemics, it seems worth exploring interventions focused on this scale. There may be more low-hanging fruit than we imagine.
Mitigate-Prevent breakdown
I decided on a two-factor framework of Mitigate-Prevent because I think it covers the space of interventions well and because it resulted in a nice visual. Part of this framework is Survive which involves bunkers and food resilience. I didn't include it because I wanted more emphasis on preventing diseases from becoming pandemics in the first place, which is much more important than escaping to a bunker. If we're escaping to bunkers, then it's likely that we've lost. That said, I could imagine creating another map that covers this axis of resilience.
Thoughts on some specific interventions
Agricultural disease monitoring and farm-animal testing
Factory farms practically incubate viruses due to the high concentration of animals. Because diseases can pass from animals to humans, more vigilance here could be an effective preventative measure. Wet markets experienced pushback for being viral breeding grounds, and it's about time that factory farms undergo the same scrutiny.
In addition to worrying about human and animal infection, crops are also vulnerable. Agricultural practices are monoculture in nature, meaning there is a lack of genetic diversity in the crops grown. Blights exist, and countries are surprisingly dependent on a few sources of food. Monitoring agricultural diseases through runoff water or random sampling seems worth consideration.
Bioenhancement
By bioenhancement, I mean health and performance-boosting drugs. Most people have a negative connotation with drugs, but there's evidence that supplements like caffeine pills, melatonin, and ashwagandha are relatively safe and effective (though this is not an endorsement of any of those products). Ultimately, bioenhancement means giving humans better control of their biology, whether through continuous glucose monitoring, increased alertness and productivity, or reduced anxiety. Increased productivity and reduced anxiety are multiplier effects for working on interventions, and it's possible that some bioenhancement interventions will increase our viral resistance, much in the way that better sleep makes people far less prone to disease and sickness.
Policy and regulation
All of these interventions can benefit from better policy or regulation, but some interventions are more dependent than others. For example, it's really hard to reform the BWC without engaging with the policy side of things. I think most people should at least test their fit in policy, whether through a brief research position at a think tank or through learning about different people's experiences working in policy.
Far-UVC
Far-UVC is a specific spectrum of UV light at a wavelength of about 220nm. It's shown promise for being safer on human cells than regular UV light, allowing use for (limited) sterilization of surfaces and killing pathogens in the air. I think far-UVC has good potential for mitigating pandemics, but there's a lot more research that needs to go into this field. It's possible that it isn't as safe as many people claim and that its impact is constrained.
Closing thoughts
I hope this gives a clearer picture of what the field of biosecurity is broadly working on and excited about. I want to highlight that the process of creating the visual map was quite simple and replicable. In my case, I just went on Fiverr to hire a graphic designer, and I proceeded to give suggestions and revision notes. I think it's seriously worth considering doing something similar if your cause area or idea would benefit from a clear visual or map.
I encourage people who are interested in learning more to reach out to people in the biosecurity space! Feel free to send me an email at james218.lin@gmail.com. I'll try my best to answer questions or point you in the direction of someone who knows more than me.
Many thanks to Aman Patel, Chris Bakerlee, Dewi Erwan, Jonas Sandbrink, and Will Bradshaw for their thoughts on improving the graphic and input on specific biosecurity interventions.