I think EA Global should be open access. No admissions process. Whoever wants to go can.
I'm very grateful for the work that everyone does to put together EA Global. I know this would add much more work for them. I know it is easy for me, a person who doesn't do the work now and won't have to do the extra work, to say extra work should be done to make it bigger.
But 1,500 people attended last EAG. Compare this to the 10,000 people at the last American Psychiatric Association conference, or the 13,000 at NeurIPS. EAG isn't small because we haven't discovered large-conference-holding technology. It's small as a design choice. When I talk to people involved, they say they want to project an exclusive atmosphere, or make sure that promising people can find and network with each other.
I think this is a bad tradeoff.
...because it makes people upset
This comment (seen on Kerry Vaughan's Twitter) hit me hard:
A friend describes volunteering at EA Global for several years. Then one year they were told that not only was their help not needed, but they weren't impressive enough to be allowed admission at all. Then later something went wrong and the organizers begged them to come and help after all. I am not sure that they became less committed to EA because of the experience, but based on the look of delight in their eyes when they described rejecting the organizers' plea, it wouldn't surprise me if they did.

Not everyone rejected from EAG feels vengeful. Some people feel miserable. This year I came across the Very Serious Guide To Surviving EAG FOMO:
Part of me worries that, despite its name, it may not really be Very Serious...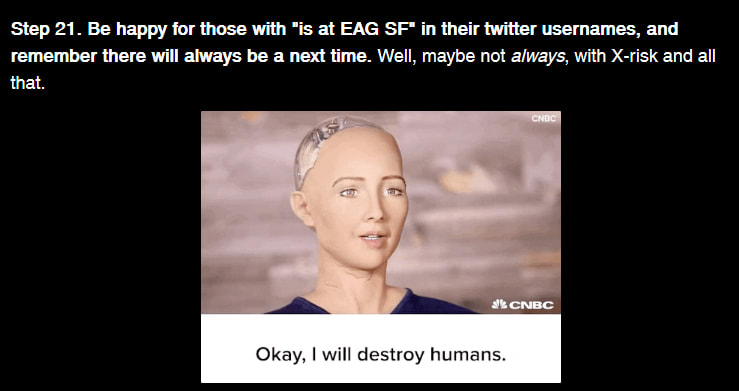 ...but you can learn a lot about what people are thinking by what they joke about, and I think a lot of EAs are sad because they can't go to EAG.
...because you can't identify promising people.
In early 2020 Kelsey Piper and I gave a talk to an EA student group. Most of the people there were young overachievers who had their entire lives planned out, people working on optimizing which research labs they would intern at in which order throughout their early 20s. They expected us to have useful tips on how to do this.
Meanwhile, in my early 20s, I was making $20,000/year as an intro-level English teacher at a Japanese conglomerate that went bankrupt six months after I joined. In her early 20s, Kelsey was taking leave from college for mental health reasons and babysitting her friends' kid for room and board. If either of us had been in the student group, we would have been the least promising of the lot. And here we were, being asked to advise! I mumbled something about optionality or something, but the real lesson I took away from this is that I don't trust anyone to identify promising people reliably.
...because people will refuse to apply out of scrupulosity.
I do this.
I'm not a very good conference attendee. Faced with the challenge of getting up early on a Saturday to go to San Francisco, I drag my feet and show up an hour late. After a few talks and meetings, I'm exhausted and go home early. I'm unlikely to change my career based on anything anyone says at EA Global, and I don't have any special wisdom that would convince other people to change theirs.
So when I consider applying to EAG, I ask myself whether it's worth taking up a slot that would otherwise go to some bright-eyed college student who has been dreaming of going to EAG for years and is going to consider it the highlight of their life. Then I realize I can't justify bumping that college student, and don't apply.
I used to think I was the only person who felt this way. But a few weeks ago, I brought it up in a group of five people, and two of them said they had also stopped applying to EAG, for similar reasons. I would judge both of them to be very bright and dedicated people, exactly the sort who I think the conference leadership are trying to catch.
In retrospect, "EAs are very scrupulous and sensitive to replaceability arguments" is a predictable failure mode. I think there could be hundreds of people in this category, including some of the people who would benefit most from attending.
...because of Goodhart's Law
If you only accept the most promising people, then you'll only get the people who most legibly conform to your current model of what's promising. But EA is forever searching for "Cause X" and for paradigm-shifting ideas. If you only let people whose work fits the current paradigm to sit at the table, you're guaranteed not to get these.
At the 2017 EAG, I attended some kind of reception dinner with wine or cocktails or something. Seated across the table from me was a man who wasn't drinking and who seemed angry about the whole thing. He turned out to be a recovering alcoholic turned anti-alcohol activist. He knew nobody was going to pass Prohibition II or anything; he just wanted to lessen social pressure to drink and prevent alcohol from being the default option - ie no cocktail hours. He was able to rattle off some pretty impressive studies about the number of QALYs alcohol was costing and why he thought that reducing social expectations of drinking would be an effective intervention. I didn't end up convinced that this beat out bednets or long-termism, but his argument has stuck with me years later and influenced the way I approach social events.
This guy was a working-class recovering alcoholic who didn't fit the "promising mathematically gifted youngster" model - but that is the single conversation I think about most from that weekend, and ever since then I've taken ideas about "class diversity" and "diversity of ideas" much more seriously.
(even though the last thing we need is for one more category of food/drink to get banned from EA conferences)
...because man does not live by networking alone
In the Facebook threads discussing this topic, supporters of the current process have pushed back: EA Global is a networking event. It should be optimized for making the networking go smoothly, which means keeping out the people who don't want to network or don't have anything to network about. People who feel bad about not being invited are making some sort of category error. Just because you don't have much to network about doesn't make you a bad person!
On the other hand, the conference is called "EA Global" and is universally billed as the place where EAs meet one another, learn more about the movement, and have a good time together. Everyone getting urged not to worry because it's just about networking has to spend the weekend watching all their friends say stuff like this:



Some people want to go to EA Global to network. Some people want to learn more about EA and see whether it's right for them. Some people want to update themselves on the state of the movement and learn about the latest ideas and causes. Some people want to throw themselves into the whirlwind and see if serendipity makes anything interesting happen. Some people want to see their friends and party.
All of these people are valid. Even the last group, the people who just want to see friends and party, are valid. EA spends I-don't-even-know-how-many millions of dollars on community-building each year. And here are people who really want to participate in a great EA event, one that could change their lives and re-energize them, basically the community trying to build itself. And we're telling them no?
...because you can have your cake and eat it too.
There ought to be places for elites to hang out with other elites. There ought to be ways for the most promising people to network with each other. I just don't think these have to be all of EA Global.
For example, what if the conference itself was easy to attend, but the networking app was exclusive? People who wanted to network could apply, the 1500 most promising could get access to the app, and they could network with each other, same as they do now. Everyone else could just go to the talks or network among themselves.
Or what if EA Global was easy to attend, but there were other conferences - the Special AI Conference, the Special Global Health Conference - that were more selective? Maybe this would even be more useful, since the Global Health people probably don't gain much from interacting with the AI people, and vice versa.
Some people on Facebook worried that they wanted to offer travel reimbursement to attendees, but couldn't afford to scale things up and give 10,000 travel reimbursement packages. So why not have 10,000 attendees, and they can apply for 1,500 travel reimbursement packages which organizers give based on a combination of need and talent? Why not make ordinary attendees pay a little extra, and subsidize even more travel reimbursements?
I don't know, there are probably other factors I don't know about. Still, it would surprise me if, all things being considered, the EA movement would be worse off by giving thousands of extra really dedicated people the chance to attend their main conference each year.
At the closing ceremony of EA Global 2017, Will MacAskill urged attendees to "keep EA weird"
I don't know if we are living up to that. Some of the people who get accepted are plenty weird. Still, I can't help thinking we are failing to fully execute that vision.